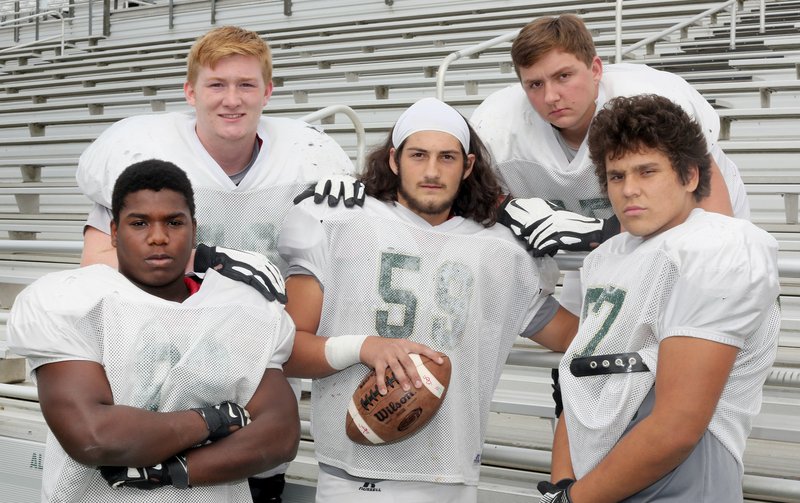 NWA Democrat-Gazette/DAVID GOTTSCHALK Alma High School football offensive line Darion Crawford (from left), Levi Prestidge, Nick Archer, Zac Henson and Eli Aleck Tuesday, October 16, 2018, at Airedale Stadium on the campus in Alma.
ALMA -- Alma coach Doug Loughridge didn't have much problem keeping his players engaged following an 0-3 start that included a season-opening loss to rival Van Buren.
"Even after that first loss to Van Buren, the only thing we couldn't do was go undefeated," Loughridge said. "All of our other goals were still attainable. "We had to keep preaching that we're not living in the moment, we're living in what we've got ahead of us."
At a glance
SCHOOL Alma
POSITION Offensive line
THE PLAYERS Alma's starting offensive line consists of left tackle Zac Henson, left guard Eli Aleck, center Nick Archer, right guard Darion Crawford, and right tackle Levi Prestidge. Archer is the only junior in the group.
NOTABLE Chris Smith is in his second year as offensive line coach at Alma. He is a former Charleston Tiger who continued his football career at Bacone College in Muskogee, Okla. … Henson is a former tight end who moved to tackle last season and made all state. … He's receiving recruiting attention from some smaller colleges in Arkansas. … Crawford is Alma's smallest starting lineman but he leads the Airedales with 20-plus pancake blocks. …. Collectively, the Airedales up front have helped Alma average 157 yards rushing and 146.1 yards passing per game.
ON THE WEB For more on this story see the video at nwadg.com.
https://youtu.be/Ja-4QiMg08Q
Fifty-two days after losing to Van Buren for the first time in eight years, Alma will face Harrison tonight in what will likely be for the championship in the 5A-West Conference. Harrison (7-0, 4-0) is No. 4 and Alma (4-3, 4-0) No. 8 in Class 5A in this week's Hootens.com rankings.
Alma has leaned heavily on its offensive line during a four-game conference winning streak that includes victories over Vilonia, Farmington, Morrilton, and Clarksville. That strategy is not surprising considering the starting lineup consists of four seniors and junior center Nick Archer (6-foot-2, 240 pounds). College prospect Zach Henson (6-4, 270) and Levi Prestidge (6-2, 250) are the tackles while Eli Aleck (6-2, 240) and Darion Crawford (5-8, 203) work the inside and can get to the outside from the guard positions.
"We knew coming into this year our offensive line was going to be our strength," Loughridge said. "We had a new quarterback and whatever we did, we knew we had to build off those guys."
Loughridge's confidence in the group wasn't always so high. There were struggles and inconsistencies along the front last year when the Airedales dropped to 7-5. But the four returners who were overwhelmed at times last season have developed into a cohesive unit along with the addition of Archer at center.
"A receiver can have a solo route and a quarterback has different things he has to do," said Chris Smith, who is in his second year as the offensive line coach at Alma. "But on the line, it's got to be five guys doing the job together. We've really been able to do that as a unit. Last year, any scheme we'd throw at them they'd get confused. But they've gained a lot of experience and they can come off the field now and make the adjustments themselves."
Even in an era dominated by Spread offenses, Alma can pound opponents with an old-school approach that emphasizes ball control. The proof is in the statistics where Alma averages 157 yards rushing and 146.1 yards passing on the season.
Senior Keegan Rosebeary (6-1, 205) leads a balanced Alma attack with 508 yards rushing and six touchdowns on 85 carries. The ability to run the football has been especially important during this season of wet weather and rain is in the forecast again for tonight.
"It feels good when we do our job right," Prestidge said. "That happens when one of our receivers catches a pass for a good gain or a running back cuts through a hole we made and rushes for a long distance."
Henson and Prestidge are best friends, which helps with cohesiveness and leads to spirited competition among the offensive lineman.
"We always help each other, push each other on and off the field," Prestidge added. "Sometimes, we get into it a little bit because we push each other so hard. But it's very important we all get along."
The play of Henson and Prestidge will be doubly important tonight because both also start on the defensive line. The Goblins have a prolific offense powered by Gabe Huskey, a junior who has already eclipsed 1,000 yards rushing for the second consecutive season. Ball control will be even more important for Alma against Harrison and Huskey, who gained 161 yards in a 40-7 win over Greenbrier last week to push his rushing total to 1,061 yards on the year.
"As long as we can keep the ball and keep it away from (Huskey), the better off we'll be," Loughridge said. "Because any time he can touch it, he can go the distance no matter where he's at. I put my faith in those five guys up front to allow us to run the football."
Alma is convinced nonconference games against Van Buren and Springdale High, two Class 7A schools, and Class 6A Russellville prepared the Airedales for their Class 5A showdown with unbeaten Harrison. A large crowd is expected for Senior Night at Airedale Stadium tonight to see if Alma can pull the upset and continue its turnaround from an 0-3 start.
"We have trust each other and trust our coaches," Archer said. "If we do that, we know we can beat them."
Sports on 10/19/2018
Print Headline: PREP FOOTBALL: Ground And Pound
Sponsor Content