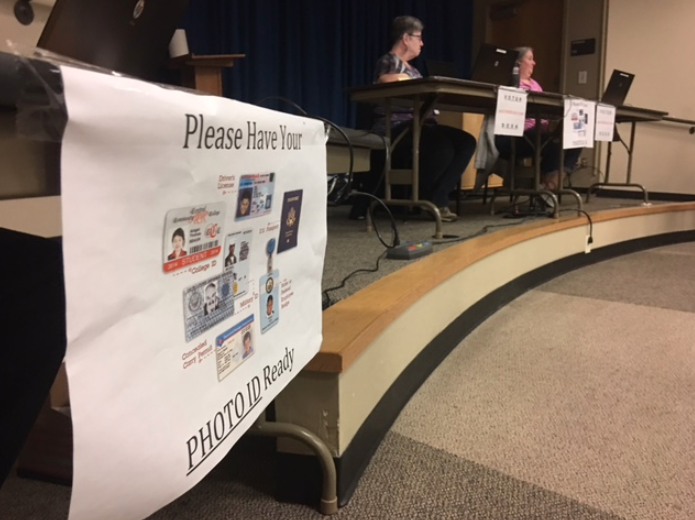 A sign at an early voting location at Laman Library at North Little Rock instructs voters that they must show identification to cast ballots. ( Staton Breidenthal)
Early voting started today for Arkansas' general election for federal, state and local offices. Secretary of State Mark Martin's office declined to predict a turnout in this midterm election.
The state's number of registered voters has increased to 1.782 million for the 2018 general election, up from 1.759 million in the 2016 general election, according to Martin's office.
"As far as turnout, no big prediction really," Martin spokesman Chris Powell said Monday morning.
"While primary turnout tends to vary, general election turnout has been pretty consistent in recent cycles. Going back to at least 2004, general election turnout has been around 65 [percent] in presidential years and around 50 [percent] in midterms."
[2018 ELECTIONS: Full Democrat-Gazette coverage + complete list of city/county races across state]
In the general election, Arkansans will be electing four congressional representatives, seven state constitutional officers, a state Supreme Court justice and state lawmakers. They will also be deciding the fate of proposed ballot measures that would raise the state's minimum wage by $2.50 an hour to $11 an hour by 2021, allow the state to issue licenses for four full-fledged casinos and require photo ID for voters to cast ballots.
A 2017 state law already requires voters to present a photo ID to cast ballots.
Under Act 633 of 2017, voters who fail to present photo ID may cast provisional ballots. They must either sign a sworn statement attesting to their identities or present the required IDs to their county election commissioners or clerks by the Monday after the election. If the voter takes those steps and no other reason is found to discount his ballot, his vote will be counted.
[RELATED: Democrat left off ballot in 1 Arkansas county]
Accompanied by his father, mother, wife and son, Democratic gubernatorial candidate Jared Henderson of Little Rock cast an early vote on Monday morning and said he planned to visit each of the state's four congressional districts today.
"I am really proud of the race we have run," he said afterward. "We are just going to have to see. This is the most unpredictable election of our lives. We don't know who is going to turn out and who is going to stay home."
Republican Gov. Asa Hutchinson hasn't determined when he will vote, said Hutchinson spokesman Jamie Barker.
"The governor is basically doing his day job today," Baker said, after campaigning in Northwest Arkansas on Saturday and Sunday.
Sponsor Content