Journalist freed in Syria now in Turkey
TOKYO -- A Japanese journalist freed after more than three years of captivity in Syria said Wednesday that he is safe in neighboring Turkey.
Japanese Foreign Minister Taro Kono said Japanese Embassy officials met with the freelance journalist, Jumpei Yasuda, at an immigration center in southern Turkey near the border with Syria.
Yasuda was kidnapped in 2015 by al-Qaida's branch in Syria, known at the time as the Nusra Front, after contact with him was lost in June that year. A war monitoring group said he was most recently held by a Syrian commander with the Turkistan Islamic Party, which mostly consists of Chinese jihadis in Syria.
"My name is Jumpei Yasuda, Japanese journalist. I have been held in Syria for 40 months," Yasuda said in English in comments broadcast by Japan's NHK public television. "Now I am in Turkey. Now I am in safe condition. Thank you very much."
NHK said the video was shot inside the immigration center and was released by the government in Turkey's Hatay province.
News of Yasuda's release came late Tuesday from Qatar, which helped in obtaining his freedom along with Turkey and other countries in the region, Japanese Chief Cabinet Secretary Yoshihide Suga said.
Typhoon slams U.S. islands in Pacific
Super Typhoon Yutu was crossing over the U.S. Commonwealth of the Northern Mariana Islands producing damaging winds, flooding and high surf.
Maximum sustained winds of 180 mph were recorded around the eye of the storm, which passed over Tinian and Saipan early today, the National Weather Service said.
On Wednesday night, the National Weather Service in Guam issued warnings of possible destruction of homes and other buildings. "Collapse of some residential structures will put lives at risk," the update said. "Airborne debris will cause extensive damage."
Meteorologist Matthew Foster in Honolulu said Yutu is moving quickly enough that the main concern will be the strong winds, not huge amounts of rain that have been associated with other recent hurricanes.
A super typhoon would be the equivalent of a Category 4 or 5 hurricane.
A typhoon warning was in effect for Saipan, Tinian and Rota and a tropical-storm warning was in place for Guam and other southern islands.
Hurricane Willa cuts off Mexican towns
MAZATLAN, Mexico -- Emergency workers struggled Wednesday to reach beach towns left incommunicado by a blow from Hurricane Willa, and the storm continued to force evacuations over fears of flooding even as it dissipated over northern Mexico.
There were no immediate reports of deaths or missing people, but the storm's 120 mph winds damaged a hospital, knocked out power, toppled wood-shack homes and ripped metal roofing off other houses in the Sinaloa state municipality of Escuinapa.
The worst damage was expected to be in the handful of coastal communities that were cut off by road and without communications.
Workers were trying to remove toppled power poles and trees blocking the road.
In the farming neighborhood of Pueblo Nuevo, neighbors cried when describing how the wind swept up their tin roofs and wooden house frames while they took shelter under their heaviest furniture.
In neighboring Nayarit state, Gov. Antonio Echevarria asked the federal government to send a helicopter, boats and rescue equipment, and said the state is trying to evacuate people in communities at risk of flooding.
The National Hurricane Center in Miami said the storm rapidly lost force Wednesday morning and dissipated over northern Mexico.
It peaked as a Category 5 storm Monday with winds of 155 mph over the Pacific.
Afghans clog road to protest raid deaths
KABUL, Afghanistan -- An Afghan official said hundreds of villagers have blocked a major highway in eastern Nangarhar province to denounce the killings of civilians during a military operation against militants there.
Wednesday's rally took place on the road linking the provincial capital, Jalalabad, and the Torkham border crossing with neighboring Pakistan.
The Nangarhar governor's spokesman, Attahullah Khogyani, said an investigation is underway to find out exactly how many civilians have been killed in the Rodat district.
The Rodat clashes are the second this week that have claimed civilian lives.
Villagers in Surkh Rod carried five bodies of their people to the district governor's office, claiming they were killed during a nighttime raid by Afghan forces.
Both the Taliban and Islamic State militants are active in eastern Afghanistan, including in Nangarhar.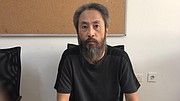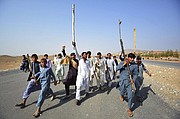 A Section on 10/25/2018