At first glance, the hearts look like they could be made from Play-Doh.
In fuchsia, cobalt, chartreuse and bone-white, about a dozen hearts are scattered over a low table in an upstairs room at Arkansas Children's Hospital in Little Rock. They are very small -- somewhere between the size of a strawberry and a plum -- and some are wrapped in frondlike veins and arteries.
But these aren't ordinary anatomical models. Each heart is a 3-D printed replica of an organ found inside a young patient, turning fuzzy images from scans or screens into objects doctors and families can touch.
"To be able to hold it in your hand -- it's just so cool," said Dr. Renee Bornemeier, a cardiologist, director of the hospital's Fetal Heart Center and a University of Arkansas for Medical Sciences pediatrics professor.
With the acquisition of an advanced 3-D printing unit earlier this year, Arkansas Children's Hospital joins a handful of hospitals and research facilities around the country that are turning to 3-D printing to help plan surgeries.
It's part of an overall embrace of 3-D printing technology in the medical sector, which an Allied Market Research report projects will be a $2.3 billion industry by 2020. Models, prosthetics and implants made by 3-D printers are all becoming part of doctors' tool kits.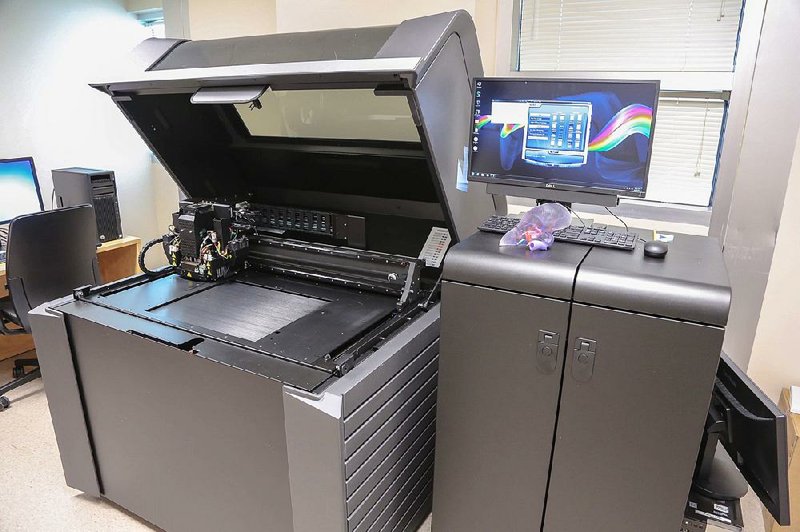 A 3-D printer used by Arkansas Children's Hospital to print organ replicas to assist in planning surgeries is shown Friday.
Heart models can illustrate abnormalities -- like one heart Bornemeier picks up, featuring a hole a pinky finger could fit through -- and help surgeons visualize approaches before making a cut.
"This is really a brand-new, cutting-edge technology that we are using in a creative new way," said cardiologist Dr. Markus Renno, who works at the hospital and is an associate professor of pediatrics at UAMS. "It's not cost-effective to do it for every patient, but we have found value in using it for certain patients and helping us to make a decision about the best surgery."
A donor contribution helped the hospital earlier this year acquire a 3-D printer made by Minnesota-based manufacturer Stratasys. To date, about 20 hearts have been printed.
The models are created from resins that the hospital's 3-D printing specialist, Eric Braden, said can be prohibitively expensive -- a football made of the material would cost about $2,000 to produce, he estimates -- but the actual printing process is fairly pedestrian.
"It prints sort of like an inkjet printer," he said. "It just prints one color layer at a time through little nozzles, exactly the same as your cheapo Walmart printer does, except it freezes [the materials]. It uses light to harden it into plastic as it goes."
Renno said there's a time commitment to making the hearts, which is part of why it can't be done for every surgery.
CT and MRI scans can take days to gather, doctors have to label anatomical structures in scans using the software program that creates a 3-D printer file, and the actual printing process takes between 12 and 24 hours.
The process also isn't completely precise because "artifact," or interference on images -- such as from a metal implant, like a stent -- can distort scans and make interpreting them for the printer a bit of an art form.
But what comes out is accurate enough to change surgeons' planned approaches, making surgeries more efficient so patients spend less time under anesthesia or on bypass machines, and helping doctors educate patients' families.
"We get used to looking at images of the heart all day long. But for families, this is their baby," Bornemeier said. "It really is helpful for them to be able to look at something -- especially a case that may be a very difficult case or have potential for complications -- so they can better appreciate what the surgeon's going to encounter in there, and why things may be harder to do."
At another Arkansas hospital, 3-D printing technologies have found a place in the UAMS Medical Center plastic and reconstructive surgery department.
Associate professor Dr. Jennings Boyette said he "often" uses 3-D printed models to assist with complex facial reconstructions, helping him reshape eye sockets and cheekbones.
"We can 3-D print [a patient's] skull so that I can hold it in my hand, and I can then shape dental implants, or plastic implants, to fit the three-dimensional shape that I need," he said. "It's easier, and more accurate, for me to do that on that model than it would be for me to just kind of make it out of thin air."
There is no 3-D printer on-site at the University of Arkansas for Medical Sciences, so images are sent to a printer in Colorado or sometimes to Belgium, he said. The process takes about a week.
Boyette said advancements in 3-D modeling and printing are helping surgeons craft prosthetics (such as a nose) and improve their precision.
"We're always limited by our ability to shape things exactly like they need to be shaped. ... [3-D modeling and printing are] really making it to where we don't all have to be Michelangelo-level sculptors," he said.
As 3-D printing programs develop, the goal within many departments is to build up a database of models of common lesions, where "it might not be little Johnny's heart, or baby Susan's heart, but it's the same thing," Renno said.
This kind of collection already is in the works at OSF HealthCare's Jump Training, Simulation and Education Center in Peoria, Ill.
The Peoria research center has 3-D printed about 100 hearts over six years, said Dr. John Vozenilek, chief medical officer for OSF Innovation Group and a pediatric cardiologist who now curates a National Institutes of Health library of 3-D printed hearts.
Because congenital heart disease cases can be highly individual, it's useful to be able to look at them in three-dimensional space and observe where patients fit into "myriad" patterns, Vozenilek said.
The models also are valuable training tools. As children die of congenital heart disease less frequently (thanks to new therapies), that has meant fewer organs available for aspiring doctors to learn from.
"The historic specimens ... like the ones that you would find in a classic anatomy lab at a medical school, are degrading, because they were stored in formaldehyde and they're just physically falling apart," Vozenilek said.
New developments in materials mean students might someday train to operate with 3-D printed devices, which he said will have much less of the "Hollywood special effect" vibe of old silicone models.
The next frontier in 3-D printing is implants that are made out of biologic material, such as the patient's own cartilage.
That technology has been advancing a bit more slowly than some medical professionals anticipated, Boyette said. The question is not so much what's technically possible, but what crafting materials won't break down in the body over time.
The pace of progress, however, hasn't prevented researchers from setting ambitious goals.
The San Diego-based company Organovo is working to develop 3-D printed tissue that someday could be implanted in the liver or kidneys. The Buffalo Grove, Ill., biotech startup BIOLIFE4D aspires to 3-D bioprint an individualized, functional heart from a patient's own cells.
Last year, a team at the Swiss science and technology institute ETH Zurich developed a 3-D printed silicone heart, with working left and right ventricles, that "beats" for 30 minutes at a time, more accurately mimicking real function than present-day artificial hearts, a news report from the school said.
And straightforward 3-D printed models, like those currently in use at Arkansas Children's Hospital, may eventually be supplanted by virtual reality.
The same kinds of scans that produce 3-D printed model organs can be fed into and displayed in virtual reality, and Renno said there is a virtual-reality program at the University of Arkansas at Little Rock that the hospital is considering collaborating with.
Vozenilek notes that there already are virtual-reality programs at Boston Children's Hospital and at Nationwide Children's Hospital in Ohio.
He said it's "just super-exciting" to see virtual reality, 3-D printing and other innovations being adopted.
"People would theorize that it was possible," he said. "But to take a surgeon, introduce a new technology like this, have them adopt it so readily and have it have a patient care impact, is pretty remarkable."
A Section on 10/29/2018