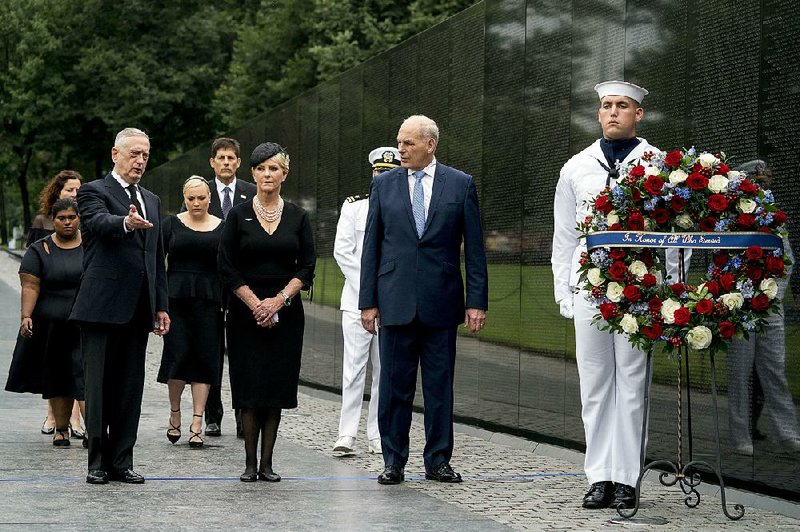 Cindy McCain, John McCain's widow, prepares to help place a wreath at the Vietnam Veterans Memorial on Saturday in Washington. Defense Secretary James Mattis (left), White House Chief of Staff John Kelly (second from right) and McCain family members join in the ceremony.
Former Presidents George W. Bush and Barack Obama on Saturday led a final, public farewell to John McCain at a solemn memorial service in Washington, praising the senator from Arizona as the embodiment of America at its best.
"So much of our politics, our public life, our public discourse, can seem small and mean and petty, trafficking in bombast and insult, in phony controversies and manufactured outrage. It's a politics that pretends to be brave and tough but is in fact born of fear," Obama said Saturday. "John called on us to be bigger than that. He called on us to be better than that."
Bush said that if the country is "ever tempted to forget who we are" or grows weary of its cause, "John's voice will always come as a whisper over our shoulder: We're better than this. America is better than this."
The service at the Washington National Cathedral also featured tributes from globally known figures such as former Secretary of State Henry Kissinger. Yet the 17-minute eulogy by McCain's 33-year-old daughter Meghan was among the most powerful.
She tearfully recounted McCain's bravery in battle and his endurance as a prisoner of war, but she focused on his role as a loving father and her pride in being his daughter. She included barely veiled rebukes of President Donald Trump, who repeatedly clashed with McCain and whose absence from the service was conspicuous.
"We gather here to mourn the passing of American greatness. The real thing, not cheap rhetoric from men who will never come near the sacrifice he gave so willingly, nor the opportunistic appropriation of those who lived lives of comfort and privilege,'' Meghan McCain said.
"The America of John McCain has no need to be made great again because America was always great," she said. With that line, applause echoed through the cathedral.
The president was not invited to the service, according to The New York Times. As the event was underway, Trump left the White House for the Trump National Golf Club in Loudoun County, Va.
Trump's daughter Ivanka Trump and his son-in-law, Jared Kushner, both White House advisers, were among the mourners at Saturday's memorial service.
The animosity between McCain and Trump had been mutual, and they clashed often. During the 2016 presidential campaign, Trump -- who received draft deferments during the Vietnam War -- disparaged McCain's former prisoner-of-war status, saying he preferred people who weren't captured. The president in the past year has repeatedly criticized McCain for not providing the last vote needed in the Senate to pass a repeal of the Patient Protection and Affordable Care Act.
After McCain's death, the American flag at the White House was lowered to half-staff and then raised to full position after a little over a day. Trump agreed to return it to half-staff after a barrage of criticism.
"I disagreed with many of the things that I assume he believed in. With that being said, I respect his service to the country," Trump said in an interview Thursday.
McCain asked Obama and Bush to speak at his memorial service, and they gave personal testimony that overcoming rivalries and partisan politics was not only possible but good for the country. Both men had denied McCain's presidential aspirations. But they spoke of reconciling with him during personal moments in the years that followed.
Obama, who defeated McCain in the 2008 presidential election, admitted to a "certain surprise" when McCain called to ask him to speak at his service. But he said he came to realize it demonstrated the senator's iconoclastic personality, disdain for self-pity, largeness of spirit and mischievous streak.
"After all," Obama said, "what better way to get a last laugh than to make George and I say nice things about him to a national audience?"
The former president noted that despite their differences, he and McCain shared a commitment to overhauling immigration and campaign finance laws, and he praised the senator for his fidelity to American principles like the rule of law and a free press.
Obama spoke of the long talks he and McCain had almost weekly in the Oval Office and of the senator's understanding that America's security and influence came not from "our ability to bend others to our will" but from universal values such as the rule of law and human rights.
"We never doubted the other man's sincerity or the other man's patriotism, or that when all was said and done, we were on the same team," Obama said.
Bush defeated McCain for the Republican presidential nomination in 2000 in an acrid primary campaign, and the two clashed regularly over the next eight years, perhaps most notably over the issue of torture.
Bush acknowledged their tense history but said it eased after he left office. "In recent years, we sometimes talked of that intense period like football players remembering a big game," he said. "In the process, rivalry melted away. In the end, I got to enjoy one of life's great gifts: the friendship of John McCain. And I will miss him."
Bush recalled McCain as a champion for the "forgotten people" at home and abroad and said his legacy will serve as a reminder, even in times of doubt, of the power of America as more than a physical place but as a "carrier of human aspirations."
TRIBUTES IN D.C.
McCain died Aug. 25 at age 81 after a battle with brain cancer. The senator's remains will be interred today at the U.S. Naval Academy Cemetery, next to his longtime friend and 1958 academy classmate, Adm. Charles R. Lawson.
McCain served since 1983 in the U.S. House and Senate, including being elected to six Senate terms and rising to become a senior voice on defense and foreign policy.
Former President Bill Clinton and 2016 Democratic presidential nominee Hillary Clinton were among the thousands of relatives, friends, members of Congress and staff, and other U.S. and international leaders on hand Saturday to remember and mourn the irascible lawmaker and courageous POW.
The memorial was preceded by honors Friday at the Capitol rotunda. Vice President Mike Pence represented the executive branch at that ceremony. McCain was the 35th American to have the honor of lying in state or honor at the rotunda.
"On behalf of a grateful nation, we will ever remember John McCain served his country, and John McCain served his country honorably," the vice president said.
House Speaker Paul Ryan called McCain, who spent 5½ years in captivity as a prisoner of war in Vietnam, "one of the bravest souls our nation has ever produced."
Thousands of people waited for hours in the heat outside the Capitol on Friday to pay their respects to McCain. The line snaked through barricades on a street near the entrance. Many stood with umbrellas to shield them from the sun.
The motorcade carrying McCain's body from the U.S. Capitol to the cathedral paused at the Vietnam Veterans Memorial, where his widow, Cindy McCain, placed a ceremonial wreath. She is viewed as a potential choice to be appointed by Arizona Gov. Doug Ducey to serve as an interim successor to her husband until a special election is held in 2020.
The honorary pallbearers were a who's who of the senator's life and across-the-aisle friendships, including former Vice President Joe Biden; former Mayor Michael Bloomberg of New York; actor Warren Beatty; and a bevy of current and former senators, advisers, fundraisers and friends. A prominent Russian dissident, Vladimir Kara-Murza, was also included, underscoring the senator's long-standing opposition to the authoritarian government of Russian President Vladimir Putin.
The events, a sort of metaphor for McCain's hopes for the country, was, in a way, "the last great gift that John McCain gave America," said former Sen. Joe Lieberman, who was considered by McCain as a running mate in 2008. McCain instead chose former Alaska Gov. Sarah Palin. But she, a populist firebrand with similarities to Trump, was not invited to any of the services.
McCain had long urged the Senate and the polarized nation to recognize the humanity even in bitter political opponents. McCain's request for speeches by the former presidents, to some, represents that ideal.
Since Congress approved the National Cathedral's charter in 1893, it has been the location for funerals or memorial services for almost all U.S. presidents as well as other prominent Americans, including astronaut Neil Armstrong in 2012 and newspaperman Ben Bradlee in 2014. The last farewell held there for a U.S. senator was in 2012, for Daniel Inouye of Hawaii.
Information for this article was contributed by Billy House and Laura Litvan of Bloomberg News; by Laurie Kellman, Lisa Mascaro and Zeke Miller of The Associated Press; and by Peter Baker of The New York Times.
A Section on 09/02/2018
Print Headline: Ex-rivals praise McCain's ideals; Obama, Bush lead tributes at memorial service in D.C.
Sponsor Content