RUSSELLVILLE -- I know something about you. I know that you are reading this.
And since you're reading this, I'm hoping you get it. Maybe you're holding the newspaper in your hands, touching the pages, scanning the black on the white, feeling the power of words. Or maybe you're reading online. Maybe you found this article on a friend's Facebook page. Maybe the words are tiny and digital, fitting neatly in the palm of your hand, cellphone size.
However you're doing it -- you're reading. And that means you belong to the consumer demographic that justifies the existence of bookstores. You are the market.
In Stephen King's beautiful memoir On Writing, he defines books as "uniquely portable magic." King is an undisputed master of fiction. He gets it. He has felt the magic. He has made the magic. But what about you? Why are you reading? What are you reading?
And the more profitable question: Where do you buy your books?
Bookstores serve a subset of the market that not only wants to read the magic but to own it. In the past 20 years, major chains dominated bookselling: Hastings, Barnes & Noble, Books a Million, Borders. Between 1995 and 2000, the number of independent bookstores in the United States plummeted 43 percent, according to the American Booksellers Association.
Today, however, small independent bookstores are making a comeback. The association reported a 35 percent growth in the number of independent booksellers between 2009 and 2015, from 1,651 stores to 2,227.
Why?
According to Emily Young, co-owner of Dog Ear Books in Russellville, "The future of indie bookstores is already starting to show itself as a resurgence."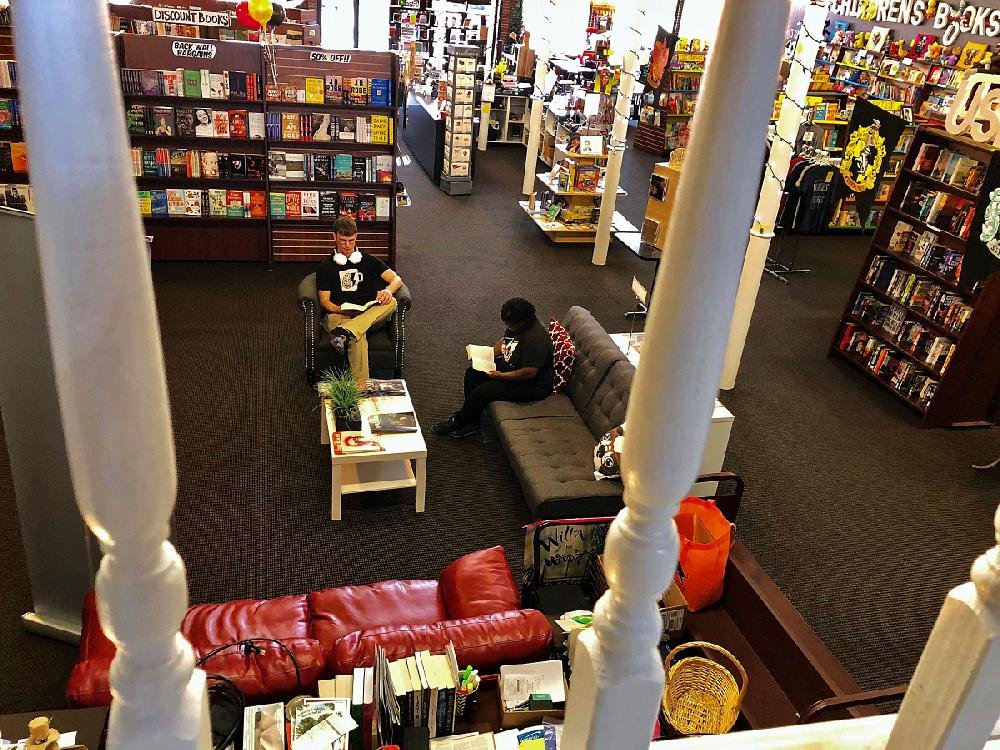 Seen from a balcony study area Aug. 28, David Peterson (left) and Denise Head enjoy the lounge area at Dog Ear Books.
STARTING SMALL BUSINESSES
Young is a 30-something graphic designer who sports tattoos and flannel shirts. She also has a knack for starting up small businesses (recently, she opened a "garage arcade" in Russellville's historic downtown district).
People like her are the spark. The reason that selling books seems to be back in style.
I'm from Russellville. I grew up going to Hastings, wandering my way down the aisles, glancing toward the magazine section, trying to sneak a peek at the glossy collection of Playboy magazines.
There was another bookstore in Russellville back in those days, Vintage Books. There were no magazines on the shelves that I remember, no Playboys. Instead, there were just books, shelves and shelves of them, stacked so high, so deep, it was like visiting a museum for the first time and seeing dinosaur bones.
Lynn Wiman and her husband, Steve, opened Vintage Books, a used bookstore specializing in rare and out-of-print books, nearly 20 years ago. For Lynn that store was the culmination of a dream she'd had since birth.
"I was born with a passion for books," she says. "I was a book collector from a young age, read all the books in the town library by the sixth grade. My grandmother asked what was wrong with me, why I talked like a Philadelphia lawyer when I was 6."
Lynn's bookstore story started right after she turned 39. She found Lawrence Brandenburg's store, Snooper's Barn, in Fort Smith and worked for books, literally, splitting time between her day job as a social worker and her new venture into the world of bookselling.
"I asked him if I could work for him for free on Saturdays. He said, 'No, but if you'll work for me, I'll pay you in books.'"
480 BOXES OF BOOKS
After five years, she had 480 boxes of books and decided it was time to open her own store. She settled in Russellville, met her future husband (Steve happened to be a contractor), and they went about renovating a small store at 602 E. Parkway Drive, with just enough space in back where they could also live (a trick she picked up by visiting bookstores in Europe). Within a year, Vintage Books was ready to open.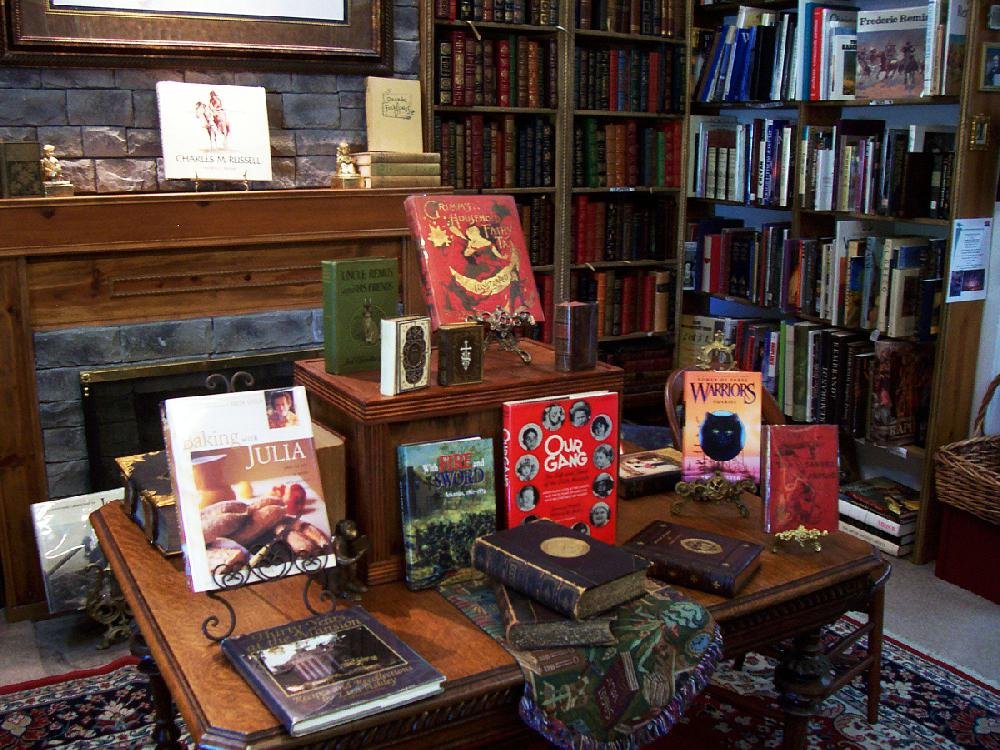 Vintage Books' rare and collectible books section resembled a private library.
Lynn and Steve sold books together, dishing out the magic and serving as a hub of thought and literature in the heart of the River Valley. In 2016, after Steve endured an open-heart surgery and could no longer lift the heavy book boxes, they decided it was time for retirement. They still sell online and even own their original building, using it to house all the books they've collected over the years.
When asked about the country's recent upswing in indie bookstores, Lynn Wiman had this to say:
"People want a local bookseller, a local farmer, a local banker, a person and a group to connect with, an intelligent, forward-thinking community to be a part of, intimate and authentic."
In other words, she knows the power of people.
NEW VENTURE
Emily Young's store, Dog Ear Books, has a different origin story, but there remains a focus on community, a focus on people. "I realized [Russellville's] downtown needed a good communal hub, where people could just enjoy our city, learn new things, pass the time, and find out about local goings-on."
Dog Ear Books opened in the fall of 2016 (the same year Vintage Books and Hastings closed their doors for good). It's on Main Street, in one of the largest buildings Russellville's downtown has to offer. She co-owns Dog Ear Books with her mother, Pat Young, a retired schoolteacher.
"I knew opening a bookstore with my mom would be a perfect culmination," Emily Young says. "I wanted to make memories that could last a lifetime."
Like Wiman, Pat Young was always an avid reader. "As a child, books were my best friends. I believe very strongly in encouraging young readers because reading unlocks the doors to freedom and opportunity," she says. "I love that we have the chance to help kids grow into avid readers through our bookstore."
Kids are taught that reading is good. Reading is powerful. Yet, if you were to survey your family, your friends, how many would have read a book in the last month? According to a 2018 study by the Pew Research Center, 28 percent of American adults age 50 and older have not read a book in the last year.
Why then, do we continue to see more indie bookstores opening across the nation?
"Book lovers are the essence of our future," Wiman says. "Book lovers are the ones you want for neighbors."
In her two decades of owning and operating Vintage Books, she has had to deal with only one bounced check. "Can any other business in the world, except a bookstore, boast that?"
"People that read," she adds, "they are the foundation of our world, the hope for our future."
THE COMPETITION
But what about the actual business of selling books? The money. The bottom line. In reality, how do indie bookstores compete with the massive stock, reach and convenience of Barnes & Noble and Amazon?
"Amazon isn't going anywhere," Emily Young says. "And that's OK, convenience is nice and that's all some people can afford. But if you like having a book hand-sold to you by a book lover like yourself, and want to support the industry as a whole, buying a book locally is worth every penny."
It's funny the way things work. Russellville is my hometown. We've always had a bookstore, be it Hastings or Vintage Books, and now Dog Ear Books -- there has always been a home for readers. But the business of selling books, as with any business, is cyclical.
Young is very aware of that cycle, but on a much larger spectrum. "The big-box bookstores put the little guys out of business. The online bookstores started putting the big box guys out of business. Then the little guys jumped back in to save the day," she says. "Now we're in this awesome time when indie bookstores are thriving."
It is an awesome time to be a reader. It has always been an awesome time to be a reader. Not just because reading can open up new doors, educate and entertain, but most importantly because books are magic. They let you explore places you never knew existed, let you walk a mile in someone else's shoes -- a trek we all could stand to take more often.
Wiman knows the power of reading. Knows it well. "I was a child who lived in a small rural town in Arkansas," she says. "But because of books, I became a child of the world."
Eli Cranor received the 2017 Robert Watson Literary Prize from Greensboro Review. He's currently at work on a novel. For more information visit elicranor.com. If you have a favorite bookstore, or own a bookstore, please send pictures and quotes to eli.cranor@gmail.com or tweet @elicranor #BookstoresMatter
ActiveStyle on 09/03/2018