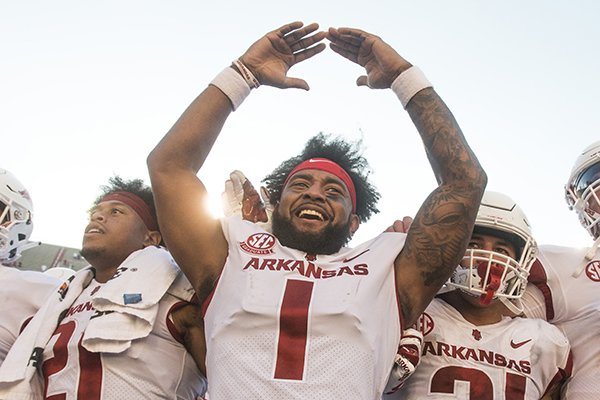 Arkansas players celebrate after defeating Eastern Illinois Saturday, Sept. 1, 2018, at Razorback Stadium in Fayetteville. ( Ben Goff)
FORT COLLINS, Colo. -- Nine Arkansas Razorbacks caught passes in last week's opener against Eastern Illinois, but surprisingly Jared Cornelius wasn't one of them.
Cornelius, a fifth-year senior, has 79 career receptions for 1,163 yards and 10 touchdowns to lead all current Razorbacks.
After missing the final nine games last season because of an Achilles tendon injury, Cornelius returned to the field against Eastern Illinois, but the only time he touched the ball was making a fair catch on a punt return.
In 32 snaps at slot receiver, Cornelius didn't have any passes thrown to him.
"I told Jared the other day at practice, 'Hey, man, there are times that defenses are going to play certain ways that open up one receiver and that's going to be you, or they're going to cover you and it's going to open up other guys,' " Razorbacks offensive coordinator Joe Craddock said. "This offense is about taking advantage of what the defense is giving us. I didn't feel like they were giving us a lot of throws to Jared's position.
"We don't try to force it to just one guy. Our offense naturally throws the ball around and I was very pleased to see a lot of positions catching the ball from a receivers standpoint."
The University of Arkansas beat Eastern Illinois 55-20 with wide receivers Jordan Jones (5 catches for 132 yards and 1 touchdown) and La'Michael Pettway (5-93, 2 TDs) leading the passing game. Chase Harrell, a graduate transfer from Kansas, had four receptions for 60 yards.
"That's what you want to see out of your guys," Cornelius said. "We have so many playmakers. You can try to stop one of us. It's only going to open up the rest of the guys."
Senior Jonathan Nance -- the Razorbacks' leading receiver last season with 37 catches for 539 yards and 5 touchdowns -- also didn't have a catch against Eastern Illinois, though he did have one long gain negated by a holding penalty.
"A lot of it is the rotation," Arkansas Coach Chad Morris said. "We had two receivers right at 100 yards, so one day it may be this receiver and the next day it may be the other receiver. That's the glory of this offense, the ball is going to be spread around quite a bit.
"It was unfortunate that we had the third down [pass to Nance] called back, but I was proud to see when we did have the shots called, the guys made the plays."
Jones said the Razorbacks have the depth for several receivers to have 100-yard games.
"The ball just finds one position more than the other sometimes," he said. "It just happened to be me and La'Michael showing speed. Anybody in this room can make those same type plays."
Cornelius said he wasn't upset about not having a reception.
"When you don't play football for a year and you're watching your team have a rough time, you could care less about how many touches you're getting a game," Cornelius said. "I wasn't a huge target just because of the defense they were playing.
"Just moving around, getting in the huddle, getting on the field felt good."
Cornelius said Eastern Illinois had a nickel back and safety in coverage on him.
"It's not a coverage you see in the SEC a lot," he said. "Some of the bigger defenses aren't going to play that coverage. So, that's not going to be an everyday thing, not catching any balls in a game."
Cornelius smiled when asked if he expects to make some catches against Colorado State tonight.
"Oh you know, I can't disclose the game plan," he said. "Hopefully, I get in the mix a little bit.
"It's all about game planning and scheming the defenses that we play. Colorado State plays a totally different defense, so I wouldn't be surprised if it's two more guys that are making headlines."
Sports on 09/08/2018
Print Headline: Senior looks to get thrown into mix
Sponsor Content