After you meet Bentonville-based developers Dave and Jenny Marrs, it is both easy to believe and difficult to understand how the two came to find themselves in the unusual position of starring on their own HGTV show. Debuting in January, "Almost Home" is a reality television show that will follow the duo as they renovate and rebuild historic houses in the Northwest Arkansas area.
It's easy to see why they were as irresistible as catnip to network executives: Dave is handsome, Jenny, beautiful -- but both are approachable in a down-home way. They're charismatic, too. Dave says a lot with just a few sincere words, and Jenny tells engaging stories with joy and heart and enthusiastic hand gestures. They're both eminently watchable.
Through Others' Eyes
My husband and I have gotten to see a couple of the episodes, and they're just so natural. I think people are going to be drawn to the show, just because they seem so real. They seem like somebody you would be friends with, someone who would be your neighbor." — Melissa Halford
"I think it will be interesting to watch Jenny's ability to capture the written word and storytelling in a way that will speak to people's hearts and minds. People will see that unfold on the show — she has an ability to shine a light on issues and people and places. Between the two of them, they blend their skills in a way that's really cool to watch." — Bethany Stephens
Next Week
Annie Abrams
Little Rock
They're also honest, straight shooters, open about how busy their life is with four children under the age of 8, a thriving business and a successful nonprofit organization to help fund a Zimbabwean program that offers job training to teenagers and young adults. It would be unsurprising for these no-nonsense, down-to-earth folks to brush off the opportunity to be television stars.
In truth, that's what almost happened, says the couple.
"We thought it was spam," says Jenny of the initial offer that came via email. "I was like, 'Oh, sure,'" she says with a roll of her eyes. "Delete!"
But a few days later a friend told her that the couple's names had been submitted to an HGTV executive who was looking for potential stars for a new concept involving "small town America" that was being pitched to the network. Jenny realized the email had, in fact, been authentic, but that fact didn't do much to make the pair warm up to the idea.
"We originally said, 'No'," says Dave. "We didn't really have an interest. And I was just worried. I was thinking, 'Small town? They're going to try and portray it as this backwoods thing.'"
A producer flew in to sit down and have coffee with the duo. He wanted to talk the couple into filming something called a "sizzle reel," brief example of what a show might look like with them at the helm. Despite their initial reticence, things warmed up when they found out that he was from the area.
"He went to Rogers High School," says Dave. "So I told him what my concern was. He said, 'I want to put your fear at ease -- this isn't an LA-based production company. They're from Knoxville. They don't have any interest in portraying the area negatively.'"
Besides, said the producer, the chances were very slim that this initial project would ever go further.
"He said, 'We're doing this in 95 other areas,'" says Dave. "We were in South Africa in January [of 2018] -- we never thought anything would ever come of it, never even saw the sizzle reel -- and they called us and said, 'We got approval to film a pilot.'"
"We really did not think that was going to happen," says Jenny. But it did, and, a short time later, they found out the pilot was picked up for a series. Before they knew it, they were surrounded by camera crews on a regular basis.
That kind of sudden, constant scrutiny takes some time to get used to, says Jenny.
"When they film with the kids, that's always unpredictable," she says. "I always forget I have a microphone on. The first time they did it, we were inside the house, and they just wanted us to walk out the door, that was all, just a scene of us walking out the door. And it was like, nobody could walk out the door all of a sudden, and somebody was always crying. I said, 'You guys! All I need is five minutes! Just act like normal people, OK?' And then I was like, 'Oh, you can hear all of that, can't you? Well, now you know.'"
Crazy, busy life
It was an enormous left turn for the family, but it wasn't completely out of the ordinary, given that Jenny and Dave have a history of taking chances, following their hearts and hoping for the best -- often with powerhouse results.
They met right out of college, when they both worked for the same company but in different parts of the country. Jenny is from Florida, and Dave is from Colorado, so much of the early days of their relationship were conducted long distance. Dave, in particular, was relocated frequently; when he finally decided it was time to settle in one place, he returned to Northwest Arkansas, where he had been stationed briefly right out of college. His father had built cabins in Colorado when he was growing up, and Dave learned how to build houses by working for him in high school. He decided to start his own business in Northwest Arkansas. Jenny, says Dave, "graciously said she would try [living in Arkansas] for a couple of years. And I think, like a lot of people, you move here expecting to stay for a few years and then go back to Chicago, back to Florida, back to somewhere else ... but that was 14 years ago.
"Arkansas was booming -- it was crazy, really busy," he continues. It was 2004, and the area's population would grow by around 15,000 people a year for the next several years. Marrs Developing started building in Bella Vista; soon, though, Dave's attention turned toward the region's historic downtown areas, and they started buying property near and on the Bentonville square.
"We always wanted to build that old-school, old-style home," says Dave. They made their property purchases right before the downtown revitalization push in Bentonville took off. "It was lucky timing -- no one else was doing it yet, and it kind of grew. I would love to tell you that I saw it coming, but I didn't see it coming, or I would have bought 10 times the property down there."
Marrs Developing became synonymous with the kind of builds that made it look like the house had been on its lot for a hundred years -- a perfect fit for the historic vibe of downtown Bentonville. But the work wasn't limited to only new builds. Both Jenny and Dave have a strong affinity and respect for the history and character of older homes, so the couple was busy restoring and rehabbing those, as well. One example: They saved a historic farmhouse from being torn down by moving it out of the city limits.
"The Methodist church came to me with a house right on Central [Avenue]," says Dave. "They said, 'Hey, would you tear this house down?' And, man, it was such a cool house. I said, 'If there's any way I could not tear it down -- what if I moved it?' They said, 'If we don't have to pay $20,000 to have it torn down and you moved it, then it's a gain for us.' And we would save a house."
It was a laborious process, but by the end of one long day, Dave and his team had successfully transplanted a historically significant farmhouse, built in 1903, to some farmland they had purchased years before.
"The process was stressful," admits Dave. "But so many people came up to us and said, 'We've seen this house since we were little kids. I just love that you're saving it.' And it gave us a lot of credibility with the rehabbers, so it was great. It was a little bit of Bentonville that we saved."
Finding Sylvie
As their business was growing, their family was growing, too. When they first tried to start a family, they struggled with infertility, says Jenny. Adoption was always something they had planned on, so they began to explore that option. Then, suddenly, they got pregnant with twin boys.
"When the boys were about a year and a half -- which is crazy, thinking back, that we thought that it was a good idea, I mean, it was chaos with year-and-a-half old boys -- we both felt like we should restart the [adoption] process," says Jenny. "I remember not telling Dave that I felt like we were supposed to start again, because I thought he would think I was nuts. But then he told me, 'I think we should start the process again,' and I said, 'Really? I think so, too!'"
Their search ended when they found their daughter, Sylvie, in the Democratic Republic of the Congo. That is, the heart part of the search ended when they found Sylvie, but, unfortunately, the legal part of the process was just beginning. Because the couple switched adoption programs when they found Sylvie, they lost the money they had already invested and had to start from scratch with the reams and reams of paperwork required.
"Not quite a year later, we finally got through the process, so she was legally our daughter," says Jenny. "That's when we went to meet her for the first time. At that time, she was about a year-and-a-half old, and, when we left, we were thinking that we would come back in a month to bring her back home because we only had one step left." But changes within the Congolese government would stymie their efforts. "Not even a month later, they shut everything down and said that no adopted children could leave. They had a ban on exit letters -- if you were a Congolese citizen, you needed an exit letter to leave the country."
"We went to the U.S. Embassy, and they said, 'We recognize her as your daughter, and you can come here and live with her, but if you try to take her out of the country, you'll be charged with child trafficking, and you'll be arrested," remembers Dave.
It was agony for the couple. They each took turns visiting, but the visits were never long enough to form a close bond with Sylvie, and each time they left and came back, it was like starting over. Compounding the heartache was the fact that Sylvie had a congenital health issue that made her prone to illness, and, worse yet, the orphanage she was in was shockingly decrepit.
"We had her moved into a foster home with a Congolese doctor who we had met through the process, and she was living with her," says Jenny. "She was one of 12 kids there, but it was still better than her orphanage. That orphanage was basically the worst place I had ever been in my life. The kids slept on concrete. They didn't have beds. We have been to other orphanages and places since and have never seen anything as bad as this."
Even after Sylvie was taken in by her foster mother, the couple received updates from the doctor she was living with about the kids still living in the orphanage. They got into the habit of routinely sending her money so that she could cook large batches of food to take to the orphanage to feed the kids.
"At one point, she called me and said, 'Jenny, I just saw the kids, and I don't know the last time they've eaten,'" says Jenny. "When we were there, there were several kids that were so malnourished and sick. We didn't know if they could survive. We were asking about specific kids, and she sent us pictures, and it was horrific. It's already horrific when you see a picture of a starving child, but when you know that child..."
"When you've held them," says Dave.
"When you've played soccer with them," finishes Jenny. "So, of course, we were like, 'OK, so what can we do?'"
Jenny organized an online raffle with a couple of the other moms who were adopting children from the area.
"We were hoping to raise enough money to send them a meal, enough to do something, and we ended up being able to feed three different orphanages for a month," she says. "That was in the fall, and then we did a Christmas drive and fed them for three months, and it kept on growing."
It grew so large, in fact, that Jenny and the other parents she was working with partnered with a Congolese nonprofit to help manage the funds and food delivery they were facilitating. Eventually, they were feeding every child, every day, at three Congolese orphanages, through a combination of donations, sponsorships and special events -- like a series of downtown Bentonville concerts a friend helped Jenny organize.
At some point along the way, Sylvie was allowed to finally come home, making it 600 days exactly between the time her parents found her to the day she walked off the airplane to greet her new siblings -- which now included a fourth child. Her health issues landed her on a special, medical needs list, and she was one of four children that were allowed to leave the country to be united with their new families.
"We don't know how we got on that list -- maybe they were just sick of hearing from us," says Jenny, who says that she and Dave were relentless in petitioning their congressional representatives for help in getting Sylvie home. "We met with Senator Boozman and Representative Womack, and their offices were amazing, constantly advocating for us.
"Right after she came home, they shut down medical visas, too, so it was wonderful and hard, because we knew all of these other families -- we had all grown close, because we were all going through this together -- and they were still waiting for their children."
Getting the word out
It was this inability to turn their backs on the suffering they had witnessed during their adoption ordeal that led to what happened next. Instead of focusing solely on Sylvie and the rest of their family in Arkansas, the couple were determined to make a change for the others they had seen. They were overwhelmed with the generosity of their family and friends -- and eventually strangers -- in Northwest Arkansas, and they formed a partnership with the North Carolina-based nonprofit Help One Now to help manage what was becoming a burgeoning donor program. While Dave was traveling in Africa with the organization, he met John Chinyowa, pastor of the Family Praise Fellowship and head of Musha Wevana Village in Zimbabwe, an orphanage that cares for around 100 orphaned youth.
"He's amazing," says Dave.
"John had this land that he had showed Dave the year before," remembers Jenny. "[John] said, 'I really think we should do something with this land. I don't know what, but my dream would be to do this agricultural training program with teenagers, for the kids that came in as teenagers. They've been living on the streets, they have a kindergartner's school knowledge, and they're not set up for success.'"
"And once they hit 18, they age out of the orphanage," says Dave. "They can't stay, and they will often go into drugs or prostitution."
"John said, 'I just want to teach them a trade that would be valuable here, and there's such a need for good farmers," says Jenny. "That was his dream." In a stroke of kismet, they were about to open their own farm -- The Berry Farm -- that they had planted in hopes of using the harvests to fund their efforts in Africa. "I said, 'Our farm could fund your farm!'"
In addition to the harvests, The Berry Farm features an event barn rented out for special occasions. One hundred percent of the proceeds from both the food harvests and the event rentals goes straight to Pastor John.
Purely by accident, the Marrses now find themselves major funders of a successful training program that's halfway around the world.
"We never intended to do anything that we did, or do," says Jenny, laughing.
"She has such good faith in that stuff," says Dave, with a nod towards his wife. "There were so many months where we would say, 'We don't have enough money to continue feeding 200 kids, we just don't.' And every month, somehow, something would happen.'"
"We would get random check donations," says Jenny. "Or a friend would say, 'Would you like to have a concert series?' and we would say, 'Why, yes, yes we do.'"
They owe a large part of their philanthropy success to the fact that their sincerity and faith moves others toward generosity.
"They have this affect on people -- you feel really energized by them, and like you really need to support those efforts, too," says family friend Bethany Stephens. "They tend to galvanize others towards a common cause."
Which brings us back to their HGTV series. A large part of what finally convinced the couple to sign on was the possibility that the issues they care so much about would get wider exposure.
"I think, from the beginning, they had the thought in their mind that this might help get their story out," says family friend and Berry Farm event coordinator Melissa Halford. "Not only adoption, but causes outside of Bentonville -- looking bigger, looking globally. If a small part of that could be shared, it could make a huge difference, and I think that was their biggest motivator for finally saying 'yes' and going for it."
"We had this nice, quiet little life," says Dave, wryly. "But I think it will be interrupted in a good way. When we started this, I said, 'No, absolutely not, I have no desire to do it. I like my nice, quiet life.' And Jenny said, 'You know, if, at the end of the day, we did all this, and we're a laughing stock on television, but maybe we got a little more publicity for the nonprofit. Or maybe people thought a little more about adoption -- then this would all be worth it.'"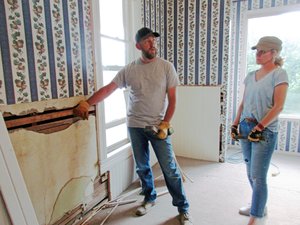 Photo courtesy HGTV "The pilot started with a house in downtown Rogers. It was neat, watching a home that we had driven past, literally every day, for over a decade. It had been neglected, and watching them put their shine on it and literally transforming it -- it looked so sad for long, and now it's a home with a family in it." -- Bethany Stephens
NAN Profiles on 09/09/2018