Sgt. Billy Bradley takes a look at the damage to case files Sunday after overnight flooding inundated the Pine Bluff Police Department. ( Mitchell PE Masilun)
The floodwaters that trapped several dozen Pine Bluff residents in their cars and homes and damaged several city buildings late Saturday had receded by Sunday morning, leaving only a few deep puddles on the soaked ground.
More than 5 inches of rain poured down on Pine Bluff Saturday evening, leaving waist-high floodwaters in some areas. Meteorologist Dylan Cooper said that within just four hours, between 5 and 9 p.m., the National Weather Service recorded more than 4 inches of rainfall.
Fire Chief Shauwn Howell said the Pine Bluff Fire Station No. 1 had at least 3 feet of water rushing into the building, which is situated down a steep slope downtown. The Fire Department is in a complex that includes the city library, Street Department and Police Department, as well as administrative buildings.
The Police Department, too, had several feet of water rush into its building, leaving a path of damage on the lower floor.
Pine Bluff Mayor Shirley Washington said her main goal for the next few days would be to assess the damage done to both the city complexes and to the city itself.
Street Department Director Rick Rhoden said he could not put an estimate on the damage done throughout the city but that the costs of repair would certainly be "high dollar."
Standing near the Street Department equipment room Sunday, where a couple of inches of water still covered the concrete floor, Rhoden said all his office could do during the downpour was block off roads and hope no one passed the orange barrels marking off the flood zones.
"But they did," Rhoden said.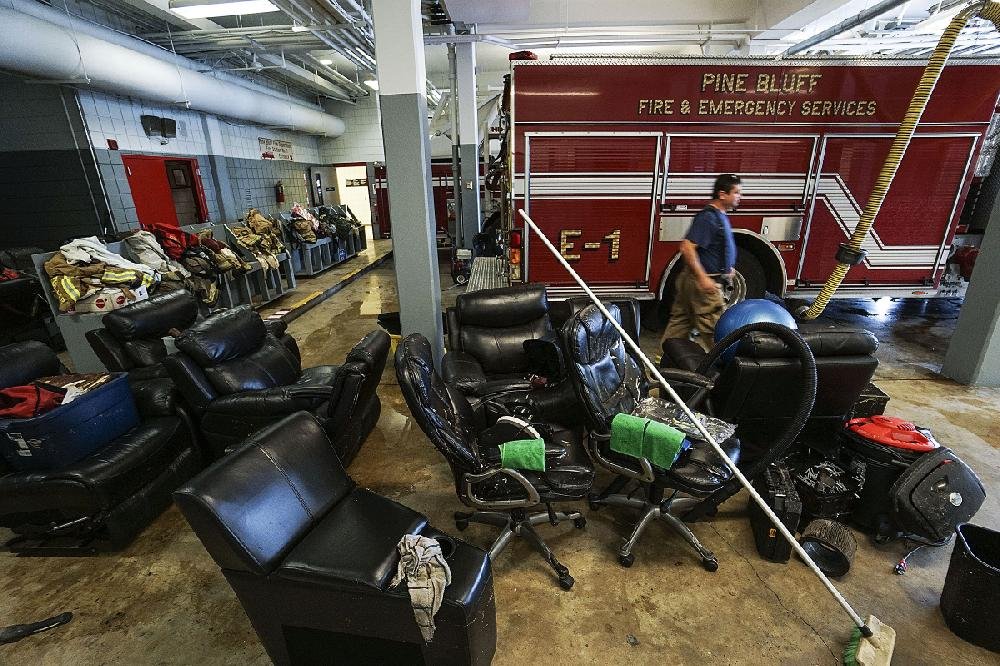 Chairs, equipment and gear dry out in Fire Station No. 1 in Pine Bluff on Sunday after overnight flooding caused damage at the Joe Thomas Public Safety Facility.
Howell said his firefighters -- while the water was rushing into the fire station -- were called out to numerous stalled cars, to people trapped in their vehicles in the floods and to people who said water was rushing into their homes.
"Once it passed that crest, it all just came down," Howell said, gesturing to the curb where the road begins to slant into the Fire Department's drive. "It comes up fast, and you have to react fast. I can't say enough about my guys. They had to adjust, and they did it while still helping people."
The firetrucks had to be moved out of their garages as soon as the water began to flood the area so they wouldn't be trapped inside, Howell said, and much of the firefighters' equipment was damaged or destroyed in the rising water.
Howell said that while he was not yet certain how many stalled cars or trapped residents were reported in Pine Bluff, he knew his department had received more than 100 calls concerning the rising water.
One of those residents trapped in the water was Ouanita Richard, who lives on Byron Avenue.
Richard was trying to get home when she noticed the water getting steadily higher on her little sedan. The water quickly rushed in and filled her car up to her seat.
"I knew then I had to get out. The water was up to here," she said, holding her hand just above her navel. "It was dark, and you didn't know what was in there."
Richard got to high ground and waited for her brother to pick her up. By Sunday morning, with the waters receding, she was looking down her drive while two city employees pushed her inoperable car up the drive.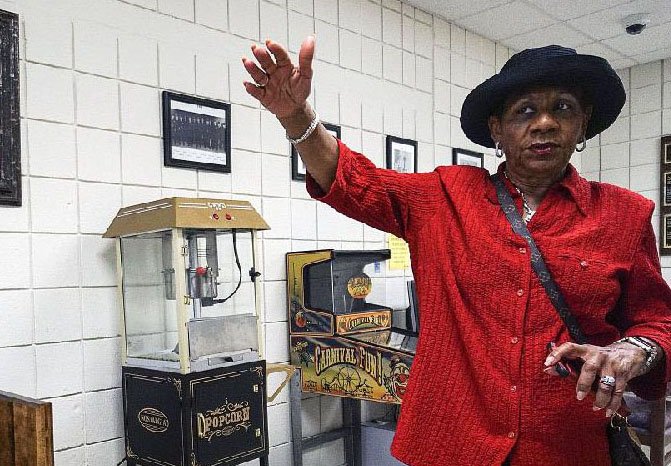 Pine Bluff Mayor Shirley Washington is shown in this file photo.
Just a few streets away, Jamarcus Johnson decided he wasn't going to chance the water. His home on the other side of the city was far too flooded for him to get home, so he drove as close as he could to a friend's residence and parked.
Between him and the house was about three blocks of floodwater, which he said reached his waist. The problem was, he said, he had his three children with him.
With one in each arm and one on his shoulder, Johnson trekked through the dark, cold water.
"I couldn't believe how fast it happened," Johnson said. "It wasn't 20 minutes before the water was just everywhere."
Left on the streets Sunday were parked or stalled cars. Some had been evacuated with the help of emergency officials. Others were just stranded, their occupants gone.
Four cars were stranded outside Bobby Jackson's house, he said, though most of them had been picked up by Sunday morning.
A ring of debris stretched more than 10 feet up Jackson's sloping lawn, a testament to just how high the water had gotten.
"It didn't get in the house," Jackson said Sunday, pausing for moment from picking up sticks and leaves that had washed up. "Thank God for that."
The Pine Bluff Police Department, just a few feet away from the Fire Department but in the same building, suffered a fate similar to that of the fire station. Rainwater gushed through the office and damaged almost everything within a foot of the floor. In a file room, Sgt. Billy Bradley walked along still-soaked case files.
A dolly holding old ticket books had been ruined by the water, too. Doors, walls and windows still showed dirt lines where the water had risen.
Bradley was not in the office when the waters rose, but he stopped by Sunday morning to check on something important to him.
Months before, Bradley said, he found a flower -- a wilted little sprig that seemed to everyone around him to be dead.
"I took it home and when I brought it back, nobody could believe it," he said, smiling.
The impatiens had grown tall and formed several bright pink blooms. Bradley said he had set it outside the office so everyone walking in could see it, adding that when he heard about the flooding at the department, he worried.
Once church ended Sunday morning, Bradley stopped by to look for the flower, hoping it hadn't been destroyed.
"I guess one of the firefighters put it up on a ledge after it floated away," he said. He took the flower back inside and set it on a higher shelf.
"I think it's going to be all right."
Metro on 09/10/2018
Print Headline: Pine Bluff takes stock as floodwaters ebb
Sponsor Content