South Carolina officials said traffic out of Myrtle Beach and Charleston had climbed to several times its normal level Tuesday, as residents and visitors heeded a mandatory evacuation order for coastal areas ahead of Hurricane Florence.
The Category 4 storm is expected to make landfall Thursday night, with tropical storm-force winds arriving by Thursday morning.
"We are in a very deadly and important game of chess with Hurricane Florence, and what Team South Carolina is doing is trying to stay one step ahead," said Gov. Henry McMaster. "It takes 36 to 48 hours to evacuate the coast."
Officials there and in North Carolina and Virginia are imploring residents and visitors alike to leave low-lying coastal areas and islands, and more than 1 million people are expected to flee the storm. Forecasters are warning of record-setting storm surges, along with rains heavy enough to cause catastrophic inland flooding.
People across the region rushed to buy bottled water and other supplies, board up homes, pull boats out of the water, and get out of town.
At 7 p.m., the storm was centered 725 miles southeast of Cape Fear, N.C., moving northwest at 17 mph. It was a potentially catastrophic Category 4 storm but was expected to keep drawing energy from the warm water and intensify to near Category 5, which means winds of 157 mph or higher.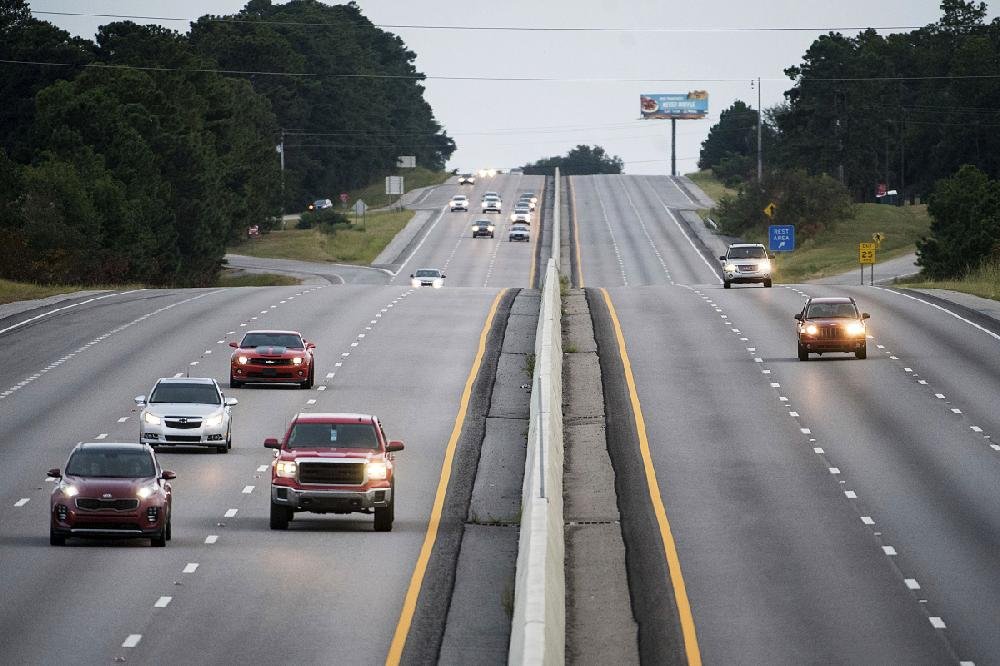 Traffic moves west Tuesday on all lanes of Interstate 26 in Columbia, S.C., after the eastbound lanes were reversed to allow people to flee coastal areas.
The storm's coastal surge could leave the eastern tip of North Carolina under more than 9 feet of water in spots, projections showed.
"This one really scares me," National Hurricane Center Director Ken Graham said.
Federal officials begged residents to put together emergency kits and have a plan on where to go.
"This storm is going to knock out power days into weeks. It's going to destroy infrastructure. It's going to destroy homes," said Jeff Byard, an official at the Federal Emergency Management Agency.
Some experts worry that the storm could knock out power for days.
Linemen for Entergy Arkansas and the state's electric cooperatives have already deployed to help restore power.
On Tuesday morning, Entergy Arkansas deployed 100 linemen along with 25 bucket trucks and other vehicles, a spokesman said. They are assigned to Duke Energy Carolinas.
The Electric Cooperatives of Arkansas is dispatching approximately 70 linemen and 20 trucks with others on standby, a spokesman said.
President Donald Trump declared states of emergency for North and South Carolina and Virginia, opening the way for federal aid. He said the federal government is "absolutely, totally prepared" for Florence.
Trump also announced Tuesday that he's scrapping his planned Thursday visit to Cape Girardeau in Missouri. His campaign said that's the safest decision in light of the approaching hurricane.
Mandatory evacuations have been ordered for most coastal counties of South Carolina and in parts of North Carolina. Schools and government offices in coastal counties of both states have been ordered closed.
Because Florence's rainfall is expected to pound areas far from the coast, the University of North Carolina at Chapel Hill and Duke and North Carolina State universities canceled classes through week's end. Boeing and Volvo shut down their Charleston factories, idling thousands who build 787s and sedans.
Gov. Roy Cooper of North Carolina on Tuesday ordered a mandatory evacuation of the state's barrier islands. He said he believed it was the first time the state had issued an evacuation order, adding that he expected local authorities to issue similar orders for their areas. Evacuations were already underway in some places.
The storm "will affect each and every one of you," the governor told the state's residents during a news conference. "The waves and the wind this storm may bring is nothing like you've ever seen."
He urged residents to prepare now.
"Even if you've ridden out storms before, this one is different. Don't bet your life on riding out a monster," he said.
Power in some areas is likely to be out for several days and storm surge is expected to flood widespread areas, he said, including inland regions of the state. Forecasts predict as much as 20 inches of rain in some places.
"Wherever you are in North Carolina, get ready for Florence now," he said. "It is big and it is vicious."
A line of heavy traffic moved away from the coast on Interstate 40, the main route between the port city of Wilmington and inland Raleigh. Between the two cities, about two hours apart, the traffic flowed smoothly in places and became gridlocked in others because of fender-benders.
Only a trickle of vehicles was going in the opposite direction, including pickups carrying plywood and other building materials.
Long lines formed at service stations, and some started running out of gas as far west as Raleigh, with bright yellow bags, signs or rags placed over the pumps to show they were out of order. Some store shelves were picked clean.
"There's no water, there's no juices, there's no canned goods," Kristin Harrington said as she shopped at a Walmart in Wilmington.
In South Carolina, authorities reversed the lanes of two major divided highways to carry traffic away from the coast. However, on Tuesday, McMaster, the governor, rescinded his evacuation order for the three southernmost coastal counties, responding to updated forecasts of the storm's likely path.
Evacuations began at 8 a.m. Tuesday in coastal areas of Virginia, including large parts of the Norfolk and Virginia Beach area.
Officials said inland flooding was likely to be catastrophic and could test the James River flood walls in Richmond, the state capital. The Navy commander of the mid-Atlantic region authorized an emergency evacuation order for personnel who live in the low-lying area under mandatory evacuation, and corrections officials said they had evacuated a prison in that area.
In Maryland, a state of emergency was declared to mobilize resources ahead of the storm. Mayor Muriel Bowser of Washington, D.C., also declared a state of emergency, with torrential rain a threat there.
Two more tropical storms, Isaac and Olivia, are causing concern. Isaac is expected to move across the Lesser Antilles and into the Caribbean Sea on Thursday and might skirt Puerto Rico over the weekend. Olivia, a powerful storm in the Central Pacific, is expected to start crossing the Hawaiian islands Tuesday night.
FEMA said Tuesday that it is ready to respond after the Trump administration was roundly criticized for its performance during last year's record year of disasters, including Hurricane Harvey in Texas and Hurricane Maria in Puerto Rico.
This time the Department of Homeland Security division that responds to disasters says it's prepared even as the agency defends its 2017 response.
"I'm confident the response in 2017 was good and I'm confident this response will be good," Byard, the FEMA official, said during a briefing Tuesday.
In a report issued earlier this month, the government's chief watchdog slammed the agency as being overwhelmed by a series of devastating hurricanes and other disasters, saying the agency failed to adequately house disaster victims, distribute financial assistance in a timely fashion or do enough to prevent fraud.
In Puerto Rico, where the estimated death toll from Hurricane Maria has ranged as high as 5,000, the Government Accountability Office said the agency's poor response was compounded by a failure to deploy enough qualified staff members.
"This is not going to be a storm we recover from in days," Byard said of Florence. "We are planning for devastation."
Information for this article was contributed by Richard Fausset and Amy Harmon of The New York Times; by Jonathan Drew, Seth Borenstein, Jennifer Kay, Gary Robertson, Jeffrey Collins, Meg Kinnard, Jeff Martin, Jay Reeves, Tamara Lush and staff members of The Associated Press; by Jason Samenow, Ann Gerhart and Brian McNoldy of The Washington Post; by Ari Natter of Bloomberg News; and by David Smith of the Arkansas Democrat-Gazette.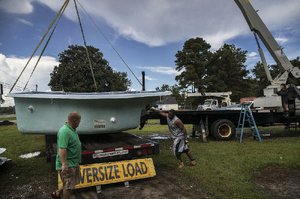 Photo by The New York Times/VICTOR J. BLUE
Jeff Coppersmith (from left), Arthur Nichols and Katie Fielder load a fiberglass pool to move it out of Gandy, N.C., on Tuesday as Hurricane Florence moves closer to the region.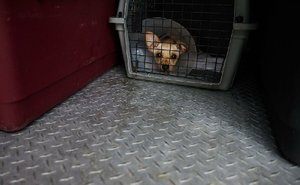 Photo by AP/CAROLYN KASTER
Stanford, a 6-month-old Chihuahua mix, sits in a van Tuesday at Humane Rescue Alliance in Washington, where it and 25 other dogs and cats were taken for safe-keeping after a trip from a shelter in Norfolk, Va. The animals will be available for adoption as they wait out the storm.
A Section on 09/12/2018