Fifty-four of Arkansas' 75 counties will have new voting equipment for the Nov. 6 general election, according to projections by the secretary of state's office.
Twenty-one of those counties had new equipment in the May 22 primary election. The equipment was provided by Nebraska's Election Systems & Software.
Thirty-three counties will have new equipment by the time of the general election, said Chris Powell, a spokesman for Republican Secretary of State Mark Martin.
That will give about 1.2 million of the state's 1.75 million registered voters, or about 68.6 percent, access to new voting equipment, said Kelly Boyd, chief deputy secretary of state.
About $9.7 million from the secretary of state's budget and $4.4 million in one-time federal funds helped pay for the new equipment. Counties provided $8.7 million to cover the rest of the deals brokered by the secretary of state's office, according to officials.
The new equipment largely replaces machines purchased with federal funds from Election Systems & Software under then-Democratic Secretary of State Charlie Daniels of Bryant for the 2006 election cycle.
"We had a lot of problems with our machines not working in the primary election, so we are looking forward to having new equipment," Clark County Clerk Rhonda Cole said.
"We have all our new equipment, and we had our training on it," she said. "I am excited."
Clark County consolidated its 14 polling places into nine vote centers where any voter in the county can cast a ballot, Cole said.
The county paid $3,875 for the new equipment, while the secretary of state's office covered $218,978.76 of the cost, according to records in the state office. Clark County has 11,998 registered voters, according to the secretary of state's office.
"I couldn't be happier," Lonoke County Election Commission Chairman Stubby Stumbaugh said of the new machines.
Lonoke County plans to consolidate its 23 polling places into 12 vote centers to allow voters to go to any center; it makes voting easier for them, he said.
"The only thing we need to go into the 21st century is an election coordinator," Stumbaugh said.
Lonoke County's share of the cost is $111,491.94, while the secretary of state's office covered the other $368,482.33, according to records in the secretary of state's office. That office said Lonoke County has 44,592 registered voters.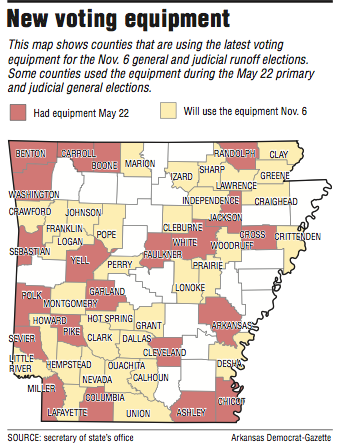 WORKING TOGETHER
The terms for each county's purchase "varied as the process went along," Powell said.
"The process was based on equipment needs and availability of funds at the time, for both the state and/or the county and getting as much equipment deployed as quickly as possible," Powell said.
"The first election the new equipment was used for the four initial pilot counties was the 2016 'SEC' primary," he said, referring to a primary election in which Arkansas and several other Southern states held their presidential primary elections on March 1, 2016. The four pilot counties were Boone, Columbia, Garland and Sebastian.
"Everywhere we have to put this equipment out, and we have been doing it now for several election cycles, the voters have loved it," Boyd said recently.
"The election workers have loved it. It is easy to use. It's safe. They get a ballot back in their hands; all of the things that the voters have talked about, we have been able to take care of," he said.
That leaves another 21 counties, with a total of about 545,000 registered voters, without new voting equipment. An estimated $12 million would be needed to buy that equipment and pay taxes on it, Boyd said.
"We have several counties that if they work with us, we can reduce the amount of equipment that we need to buy and their part [of the cost] will go down dramatically," he said.
PULASKI COUNTY
The largest counties without new voting equipment are Jefferson, Saline and Pulaski counties, Boyd said.
Pulaski County has 243,890 registered voters. Purchasing new equipment would cost a projected $4 million, according to the secretary of state's office.
"We are hoping the state will get more involved" in financing new voting equipment for counties, Pulaski County Judge Barry Hyde said.
If the county's share was half, or $2 million, Pulaski County still doesn't have that much money "sitting around," Hyde said.
"We hope the new secretary of state will be more aggressive working with the counties and the best deal offered to the counties will be the best deal offered to everyone," said Hyde, who is a former state representative.
In the general election, East End Republican John Thurston, Little Rock Democrat Susan Inman and Viola Libertarian Christopher Olson are vying to succeed Martin as secretary of state. Thurston is the current land commissioner.
Bryan Poe, election director for the Pulaski County Election Commission, said, "Ultimately, you work with the tools you are given, but it would be preferable to conduct the 2020 election with new equipment.
"This equipment [obtained in 2006] at this point is two years past its recommended lifetime, and it's starting to show its age," he said.
SALINE COUNTY
Saline County has about 74,715 registered voters, and buying new equipment would cost an estimated total $1 million, according to the secretary of state's office.
Saline County Clerk Doug Curtis said Saline County's voting machines are 10-12 years old.
"You don't see people walking around with 10- to 12-year-old cellphones. Their lifespan is coming to a close," he said. "Keep praying I get the funds for the new equipment. I'm going to ask for them in next year's budget."
Justice of the Peace Josh Curtis said the Saline County Quorum Court in 2017 approved spending $500,000 for its half of buying new equipment, but the funds weren't matched by the state.
But Powell said, "We did have talks with Saline County, but the Quorum Court decided to wait and upgrade at a later date."
JEFFERSON COUNTY
Jefferson County has about 42,969 registered voters. Buying new equipment would cost a projected total of about $974,000, according to Martin's office.
Jefferson County Judge Booker Clemons said the county's voting equipment has been ruined twice by rain.
"We are in the process of getting machines from two counties for the election in November," Clemons said. Those are Craighead and Grant counties.
Based on Jefferson County's projected tax revenue for 2019, it would be "almost impossible" for the county to pay half of the cost of new equipment, said Clemons, who is a former state representative.
Jefferson County Election Commissioner Stu Soffer said, "Jefferson County has had financial difficulties for the past few years as a result of declining tax revenues related to population loss and other factors, so the money isn't available.
"I seriously doubt even in good times it would have been," Soffer said.
STATE MONEY
Boyd, who is second in command in Martin's office, said he's tried for three years to wrestle more funds from the Legislature to buy new voting equipment for the counties.
"So if the next people [in the secretary of state's office] can do it, great," Boyd said. But he predicted that some county officials would be upset if the state pays all of the cost for some counties when it paid half of the cost for others.
Thurston said that if elected, he'll probably set up a meeting with the governor and key legislators to look "for funding immediately for new voting equipment."
Most of the 21 counties with old equipment will be hard-pressed to raise half of the cost to match the state's share, and "we need to have the entire state with new voting equipment and it needs to be taken care of," he said.
Gov. Asa Hutchinson, a Republican from Rogers who is seeking re-election in the general election, said that so far about one-third of the counties have paid for their voting equipment or had some level of grant from the secretary of state's office.
"This pattern has been established and as a matter of equity, we should continue to fund these through local support and grants from the secretary of state's office," he said in a written statement.
Inman, a Democrat from Little Rock, said that if elected, "I will work to make sure the counties get the necessary equipment that they need."
"I'll have to find the means, if that's what we decide to do," she said.
Some counties have an inadequate amount of voting equipment and will need more, so "we need to look for a solution and that's where vote by mail comes into the conversation," said Inman, who is a proponent of such a system.
Thurston said he doesn't advocate a vote-by-mail system but would leave that decision up to the voters and Legislature.
SundayMonday on 09/23/2018