WASHINGTON -- Two U.S. senators -- Charles Grassley, R-Iowa, and Jon Tester, D-Mont., -- are applying for federal money under a $12 billion bailout program set up by the White House to help farmers hurt by trade hostilities, spokesmen from their offices said.
Grassley pressed President Donald Trump's administration this spring to relieve farmers who have been pummeled by Chinese tariffs on their exports amid the wider trade war. Tester has also criticized the impact of the tariffs on farmers and called on the administration to help Montana ranchers.
The Agriculture Department confirmed last week that it has already sent more than 7,800 bailout checks totaling over $25 million to farmers across the country. The assistance is intended to help farmers survive the trade war with China, which has dramatically widened in scope this month after the U.S. announced it would target another $200 billion in Chinese goods.
Grassley, a farmer for most of his life, defended his plan to seek bailout money and said he has been a consistent advocate for farmers. Grassley said in April that he warned Trump at a White House meeting of the harm being felt by farmers and ranchers and said the administration "has a responsibility to help those Americans and mitigate the damage it caused," according to a news release.
"Sen. Grassley participates in farm programs for which he is legally eligible, including this program, like every other farmer," said his spokesman, Michael Zona. "Grassley receives no special treatment and is always transparent about his participation. As a family farmer, Sen. Grassley brings firsthand knowledge and experience on behalf of agriculture and rural America to the policymaking tables in Washington."
There is no rule against a lawmaker receiving the aid. And 33 members of Congress -- directly or through their immediate family members -- received federal farming subsidies over the past two decades, amounting to a collective $15 million from 1995 to 2016, according to the Environmental Working Group, a watchdog group that probes agricultural subsidies.
Grassley has said the bailout money offers important help for farmers in the short term, but the administration's priority should be on opening "markets and opportunity, not government handouts." Grassley did not meet with USDA or White House officials to draft the bailout program, a spokesman said. He also did not review the program or offer proposed revisions to it, the spokesman said.
Defenders of the bailout program say it will help farmers battered by Chinese tariffs weather the trade storm, while critics argue it is all but guaranteed to aid wealthier farmers who already receive substantial government assistance. The Trump administration put tariffs on China starting this July, and China has retaliated, putting tariffs on sensitive American farm exports, among other products.
The USDA bailout program caps maximum payments at a combined $125,000 for dairy and hog production, as well as a combined $125,000 for corn, cotton, sorghum, soybeans and wheat, according to the USDA's website.
The USDA's eligibility requirements also bar those with over $900,000 in annual income from receiving bailout money. Couples filing jointly could seek bailout money if they have under $1.8 million in annual income.
Scott Faber, senior vice president for governmental affairs at the Environmental Working Group, argued that the senators' participation in the program shows how it will help affluent farmers.
Grassley's net worth in 2015 was $3.3 million, and Tester's in 2015 was $3.9 million, according to the Center for Responsive Politics. U.S. senators are also paid $174,000 annually.
Asked to respond to Faber's criticism, Grassley's office pointed to the senator's advocacy to close loopholes that allow people who are not farmers to claim farm subsidies. For years, Grassley has led efforts to cut federal farm subsidies he has said go to too many people not actively involved in farming operations.
Tester has already filled out the application for assistance under the program, said Marnee Banks, a spokesman. Tester was unable to sell half of his 2017 wheat crop because of a "lack of access to markets," Banks said.
"Like most Montana farmers, [Tester] is feeling the impacts of the escalating trade war," Banks said in an email. "Jon is frustrated with the lack of certainty in the marketplace and is calling for an end to the tariffs that are hurting producers across America."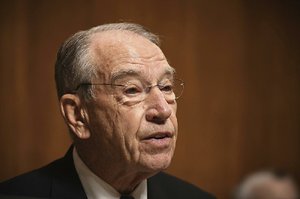 Photo by Saul Loeb/Pool Photo via AP
Senate Judiciary Committee Chairman Chuck Grassley, R-Iowa, speaks during a hearing with Christine Blasey Ford at the Senate Judiciary Committee on Capitol Hill in Washington, Thursday, Sept. 27, 2018.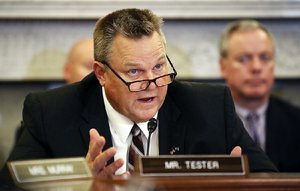 Photo by AP Photo/Alex Brandon
Ranking Member Sen. Jon Tester, D-Mont., speaks during a hearing of the Senate Committee on Veterans' Affairs, on Capitol Hill, Wednesday, Sept. 26, 2018 in Washington.
A Section on 09/29/2018