Jayden Stone left home for a challenge. It seems to be paying off for the 6-3 shooting guard from Australia.
At least eight Division I programs have expressed interest in Stone, who came to the U.S. last year and plays for the Birmingham, Ala.-based Team Carroll Premier.
"The best thing about playing here [in the U.S.] is the physicality and the tempo of the game," said Stone, who is originally from Perth, which is in Western Australia. "The worst is being away from home and being away from my family."
A solid effort on the court is helping Stone contend with the bouts of homesickness. Team Carroll Coach Eric Dudley said Stone is "a gym rat."
"The guy just stands out," Dudley said. "He's the type of kid who gets up every morning and works hard. He goes to school, works out with the team and stays in the gym after that."
In a 59-44 victory over the Colorado Hawks in Saturday's round-robin play in the 15th annual Real Deal in the Rock, Stone scored a game-high 22 points.
"He's a good leader and he knows how to communicate," Dudley said. "He understands everybody's role on the team. He puts them in the right places. He's just a good kid to be around."
Stone's initial taste of basketball in the United States came last summer when he participated in the CP3 Memorial Day Classic in California. After that and a quality showing in the Australian championships, Stone opted to come to America to showcase his talent.
After a short stay in California, Stone moved to Alabama because that is where his dad is from.
In his first year of playing high school basketball in the U.S., Stone led Sacred Heart of Anniston, Ala., to a 23-10 record this season. Sacred Heart advanced to the Class 2A state championship game.
Among the colleges looking at Stone are Auburn, Alabama, Tennessee, Vanderbilt, Iowa State, Creighton and Kansas State.
"I want to really feel a connection with the school in something much deeper than basketball," Stone said. "If they like you as a person and not just for basketball, I think that's the mark of a good program."
Plenty to like
Keon Johnson is ranked as the No. 1 player from Tennessee, and his summer league coach said it's easy to see why so many colleges are eager to sign the 6-5 shooting guard.
"His tenaciousness, his competitiveness and just his raw natural talent is what I like about him," EAB Tennessee Coach William Belliford said. "I think he's got a great future. He has a chance to be really special."
Johnson scored 21 points in each of his team's first two games Saturday -- a 69-64 loss to Urban DFW Elite and a 62-53 victory over MSBA. He also had eight rebounds and two steals against Urban DFW.
"He's always been extremely talented," said Belliford, who has coached Johnson the past three summers. "I would say he's been very steady with his improvement. He's added a part to his game every year.
"Originally, he wasn't a very good shooter. He's still not a great shooter, but he's so much better than he was. And it only is going to continue to get better because he's going to get more and more reps."
Johnson averaged 24.6 points, 8.6 rebounds, 3.2 assists, 3.0 steals and 2.4 blocked shots a game while playing this winter for The Webb School, a private college preparatory, boarding and day school in Bell Buckle, Tenn., which is 54 miles southeast of Nashville.
According to the website 247Sports, Tennessee, Vanderbilt, Virginia, Florida and Ole Miss appear to be the leading candidates for Johnson's services.
"I am looking for a college where I can continue to get better and better every year," Johnson said. "And a place where I can make an impact as a freshman."
Raining threes
Payton Brown connected on six three-pointers in leading Woodz Elite's 17U team to a 78-50 victory over the Colorado Hawks on Saturday afternoon.
But can the junior from Waldron do more than just shoot?
"That's all he needs to do if he continues to shoot like that," Woodz Coach Dion Real said. "Actually, he does a lot of the unseen stuff that allows him to get open. He's moving constantly, and if you're playing a zone, you better know where he is. He can really, really shoot it."
Brown finished with 21 points in Saturday's victory over the Hawks. He hit his first 3 three-point attempts as Woodz jumped out to an 11-4 lead.
Brown scored all of his points in the first half. He played only four minutes and attempted only one shot -- a 15-footer -- in the second half. He converted 6 of 7 three-point shots in the game.
"They were finding me when I was open, and I was able to knock them down," Brown said of his teammates. "I was feeling it. When I caught the ball, I knew it was going in."
Brown was not the only weapon Woodz utilized. Fort Smith Northside's Jaylin Williams scored 12 points and grabbed a game-high 10 rebounds. West Memphis junior Chris Moore scored seven points and dished out four assists.
"Chris is just a man down low," Real said. "And Jaylin plays so hard. He's already 6-9, and he's athletic on top of that. He's the other team's nightmare when it comes to guarding him."
Early risers
Saturday morning round-robin games in the Real Deal usually do not carry the excitement of the previous night.
Tipping off at 8 a.m. in front of a sparse crowd is not conducive for inspired efforts. Team Connect Coach Che Smith said his team "woke up" at the start of the first half in an 81-49 victory over Houston Live.
"We try to have some practices at 8 or 9 in the morning to get the fellas used to getting up and having their bodies prepared," Smith said. "It is sort of difficult. These guys should know to get that rest at night, get up two hours before the game and get out here and stretch. It's one thing I have to do to motivate them and get them inspired."
Ryan Gordon, who plays for Little Rock Parkview, seemed to have gotten the early-morning message, scoring 20 points and grabbing seven rebounds in Saturday's victory over Houston.
"The good thing about Ryan is that he's a good kid who will play anywhere you ask him to," Smith said. "He'll play a big-man position. He'll play a three. He's like a rover in old-school football days. He's everywhere.
"But I really like his aggressiveness in getting to the rack, taking that hit and still finish. And he won't complain."
Team Connect won its U17 pool division, but suffered a 65-46 loss to Urban DFW in the opening round of bracket play.
Scores, schedule
17U
SATURDAY'S BRACKET RESULTS
Team Harden Az 71, MemphisHoopers.com 53
Carroll GoL1ve 79, Gators Elite 53
Team Harden TX 54, Rashard Lewis Academy 46
Urban DFW Elite 65, Team Connect 46
Team Carroll Premier 51, Bluff City Gold 34
Woodz Elite 79, A.J. Bouye 41
EAB Tennessee 75, TX Legion Elite 56
Colorado Hawks 73, Irvin Select 43
TODAY'S GAMES
Quarterfinals
All games 8 a.m.
Woodz Elite vs. EAB Tennessee
Team Harden AZ vs. Carroll GoL1ve (Park Court 2)
Team Harden TX vs. Colorado Hawks (Park Court 3)
Urban DFW Elite vs. Team Carroll (McClellan Court 4)
Semifinals
Quarterfinal winners, 10:10 a.m.
Championship
Semifinals winners, 12:20 p.m.
16U
TODAY'S GAMES
Quarterfinals at 9:05 a.m.
Semifinals at 11:15 a.m.
Championship, 1:25 p.m.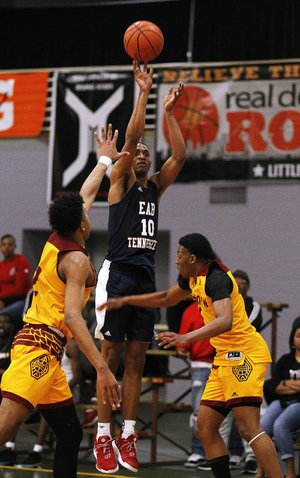 Photo by Thomas Metthe
EAB Tennessee's Keon Johnson (10) puts up a shot over UrbanDFW Elite defenders during the Real Deal in the Rock on Saturday at P.A.R.K. in Little Rock. Johnson scored 21 points in each of his team's first two games Saturday.
Sports on 04/07/2019