Little Rock offers a wide array of resources with the potential to help the community, and there is a lot of potential for future partnerships between houses of worship and nonprofits in the area, according to city clergy members who attended the Little Rock Religious Leaders Summit in Little Rock.
More than 50 of the city's faith leaders gathered April 11 at the University of Arkansas at Little Rock, Downtown, to hear about the most recent findings of the Little Rock Congregations Study, a body of research on faith-based community engagement led by Rebecca Glazier, associate professor at UALR's School of Public Affairs. Attendees also discussed matters of concern in their communities with fellow clergy members.
Glazier told the audience that before she came to the university, she researched international religious peacemaking and conflict resolution.
"It's taken me about 10 years to figure out that the work that I was doing ... was really pretty similar to a lot of the work that was already going on right in my backyard," said Glazier, who moved from California in 2009 to join the UALR faculty.
"I don't think it's too far of a stretch to say that the work that many of you do as religious leaders is work that helps bring peace to ospur city," Glazier added. "And I think that many of us would say that ... the people of our city could use more peace in their lives, and a lot of the work that you do is to that end."
The summit came a month after Glazier shared results from the most recent research in a public lecture. Among those findings -- the results of last year's survey of 112 Little Rock congregations -- was that 46 percent of clergy said their congregation was growing, 39 percent said their congregation sizes had remained steady and 10 percent said the number of congregants at their church was declining, which were part of a report distributed at the summit.
The results were based on self-reports by clergy across faith traditions including Islam, the Church of Jesus Christ of Latter-day Saints, Mainline Protestantism, Judaism, Catholicism and Evangelical Protestantism.
According to survey respondents, congregations with fewer than 100 members were the most likely to be growing and more likely to be providing services, Glazier told faith leaders, and that interfaith work is correlated with having a growing congregation.
"We don't entirely know what's driving this relationship [between interfaith work and congregation growth], but we think that this is creating a vibrant culture," Glazier said.
The study's clergy advisory board is comprised of area faith leaders, and the group has assisted in determining questions to ask in future surveys and wording them in a way that makes sense across faith traditions. Looking to the future of the study, Glazier said the UALR research team -- which also involves Gerald Driskill, professor in the applied communication department, and Kirk Leach, assistant professor at the university's School of Public Affairs -- were excited about the possibility of being able to share the information from those future surveys to serve the city and its congregations.
Little Rock Mayor Frank Scott Jr., an associate pastor at the city's Greater Second Baptist Church, compared the possibilities that lay with faith leaders and congregations with the 109 people who serve on the city's eight subcommittees. Scott said engaging with the study was a way for congregations to learn more about their own potential in a way that can be quantified.
"The [city] made these eight citizen-led subcommittees to re-engage with our city to figure out how we can reach its true potential," Scott said. "So if we can do that ... if every faith leader, every member of the clergy addressed issues of economic justice, educational justice, social justice -- things that are plaguing our city -- not only for our congregants, but for our communities that are outside our walls ... [we can] truly have some quality metrics to understand how we measure this success."
Lt. Gov. Tim Griffin said there were tasks clergy could help accomplish in their communities that government could not, and spoke of his involvement on the board of Our House shelter and the prison pre-release program Pathway to Freedom.
"My takeaway is that government is really good at amassing money, but is not really good at leveraging that money to address these problems," Griffin said. "In my particular instance, what the Christian community can do, whether it be feeding, loving, caring ... we are better at or more nimble [at accomplishing]. We can do it quickly without a lot of red tape."
Faith leaders later organized into groups to address two questions posed by the research team: "What are the biggest challenges facing our city and your congregants?" and "How can researchers help?"
Ceanne Warner, an outreach minister for the Church of Jesus Christ of Latter-day Saints and a clergy advisory board member for the study, said the information provided by the study was extensive.
"I've thought about the things I've learned about other faiths that are in the community, and I'm amazed at how much is out there that I didn't even know about," Warner said.
Warner and the Rev. Sean McKean, executive pastor at Little Rock's Church at Rock Creek, were among those who agreed additional education was needed. McKean suggested after-school programs to help students with their homework, "giving any kind of help that we can provide in that area, and just help Arkansas to help Arkansas." Among the offerings at Church at Rock Creek are a food bank, financial assistance and homeless programs, and McKean said he has hopes for future findings that faith leaders and congregations can act on.
"What I'm hoping is in the future, that as UALR does more surveys with people, that we get more actionable data that the churches can use ... to prevent stagnation and help churches continue to grow, and really reach people to pass [on] the message of Jesus Christ," McKean said.
Sophia Said, program director at the theological institute at St. Margaret Episcopal Church's Interfaith Center, said improving communication between area institutions can help congregations and communities work together to help Little Rock.
"We are not -- and by we, I mean communities and organizations, and churches and corporations -- we are not organized and connected enough," said Said, a member of the city's Muslim community. "If we improve our interconnectedness, then we can match the [community's] needs to the resources.
"We have untapped potential, and that's what I feel is a big challenge."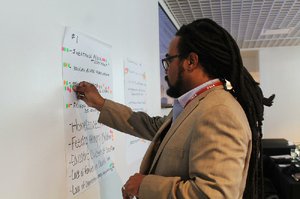 Photo by Arkansas Democrat-Gazette/FRANCISCA JONES
The Rev. Ryan Davis, an associate pastor at Bullock Temple Christian Methodist Episcopal Church and director of the University of Arkansas at Little Rock's Children Inter- national, places a sticker next to one of the community problems mentioned by clergy at the Little Rock Religious Leaders Summit on April 11. The exercise was a way for the research team of the Little Rock Congregations Study to learn about the topics of greatest concern to the city's faith leaders.
Religion on 04/20/2019