DC Comics' latest superhero spectacle, Shazam! follows the comedic adventures of Billy Batson (Asher Angel), a teenage boy who transforms into an adult superhero called Shazam (Zachary Levi). A buff, lightning-bolt-emblazoned man-boy, Shazam isn't as well-known now as he used to be. But he is one of the most important heroes in comic history.
Shazam first appeared in Whiz Comics No. 2 in 1939, quickly becoming one of the most popular comic book characters of the 1940s. In his prime, he regularly outsold Superman and Batman. And he was the first comic book superhero to appear on film.
Back then, however, he went by the name Captain Marvel, which is a bit confusing, particularly given the debut of Marvel's Captain Marvel last month.
So who is this guy? Here's a primer on Shazam's history.
• Whiz Comics. In 1939, Fawcett Comics was looking to capitalize on the superhero boom created by characters such as Superman. Writer Bill Parker came up with the idea of a team of superheroes, each of whom possessed the power of a different mythological figure. The idea was ultimately revised to just one character with all of those powers, and thus was born Shazam.
Parker originally called him Captain Thunder, but that name was already trademarked, so he switched to Captain Marvel. (A competitor, Timely Comics, did not rebrand as Marvel Comics until 1961.) Artist C.C. Beck was the illustrator, and he continued to draw Captain Marvel throughout the 1940s.
In his first appearance, Billy is an orphaned paperboy who meets a wizard in a mysterious subway station. After learning about Billy's sad life, the wizard declares that he is too old to keep fighting crime and asks Billy to take his place. He endows Billy with the power to turn into Captain Marvel any time he says the word "Shazam," which is an acronym for the "immortal elders" who give him his powers: Solomon, Hercules, Atlas, Zeus, Achilles and Mercury.
The fact that Captain Marvel was secretly a kid made him a favorite among young readers. "Whiz Comics" No. 2 sold 500,000 copies, and the character's series, Captain Marvel Adventures, first came out in 1941, the same year he made his big screen debut.
• Adventures of Captain Marvel. The film debut, in March 1941, was the 12-part live-action Republic Pictures serial. It is considered the first comic book superhero film. It beat the first animated Superman cartoons to the big screen by six months.
In that version, Billy is a young explorer on an expedition to Siam (now Thailand), where he encounters the wizard. As Captain Marvel, he is tasked with protecting the world from the Golden Scorpion, an ancient and dangerous device sought by scientists and criminals. Adventures of Captain Marvel feels somewhat primitive and surprisingly violent by today's superhero standards (Captain Marvel kills a lot of people), but it's worth viewing to see how far the genre has come.
• Legal Limbo. In 1951, National Comics Publications successfully argued that Captain Marvel was a copyright infringement on Superman because of their similar powers, costumes and artwork, signaling an end to a decadelong legal battle. Fawcett paid National $400,000 in damages and was forced to cancel all of its superhero publications. No new Captain Marvel comics were produced for the next 22 years.
In 1972, DC Comics acquired the rights to Fawcett's characters and began producing new Captain Marvel stories the next year. Marvel Comics, however, had meanwhile trademarked the name, creating its own Captain Marvel in 1967. DC was permitted to call its superhero Captain Marvel, but it was not allowed to use the name on any marketing or titles featuring the character. DC decided to sell its Captain Marvel books under the title "Shazam!"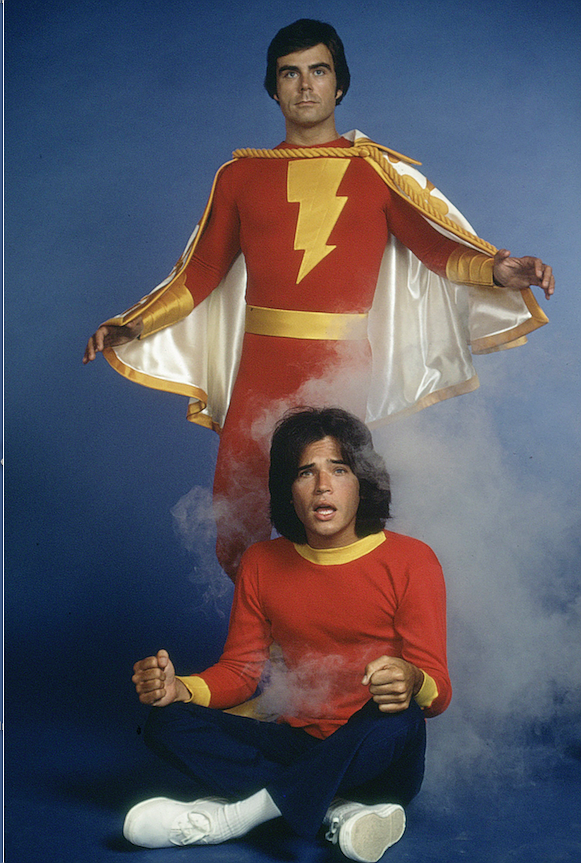 Jackson Bostwick (top) and Michael Gray starred in the 1970s live-action series 'Shazam!' (DC Comics/The New York Times)
• Shazam! the TV Series. A children's television series based on DC's Captain Marvel debuted on CBS in 1974. In the series, Billy (Michael Gray) travels around the country in a motor home with an adult companion (Les Tremayne) solving problems each week by turning into Captain Marvel (played by Jackson Bostwick and later John Davey). The show had a very low budget, so Captain Marvel appeared only very briefly in each episode.
The show lasted three seasons. A short-lived animated series featuring Captain Marvel, called The Kid Super Power Hour With Shazam! followed in 1981, and lasted 12 episodes.
• Justice League Unlimited. Through the 1980s and '90s, DC further integrated Captain Marvel into its comic universe, giving the character appearances in Justice League, Kingdom Come and his own continuing series, The Power of Shazam!, which lasted from 1995 to 1999. He returned to television in a 2005 episode of Justice League Unlimited. Playing on the fraught history between Captain Marvel and Superman, the character is introduced as a big fan of Superman, but the two heroes eventually come to blows.
The episode includes a fun Easter egg for comic book fans, as Captain Marvel's hometown is named Fawcett City after his original publisher. Captain Marvel also makes several appearances in the Cartoon Network series Batman: The Brave and the Bold and in several of DC's direct-to-video animated films.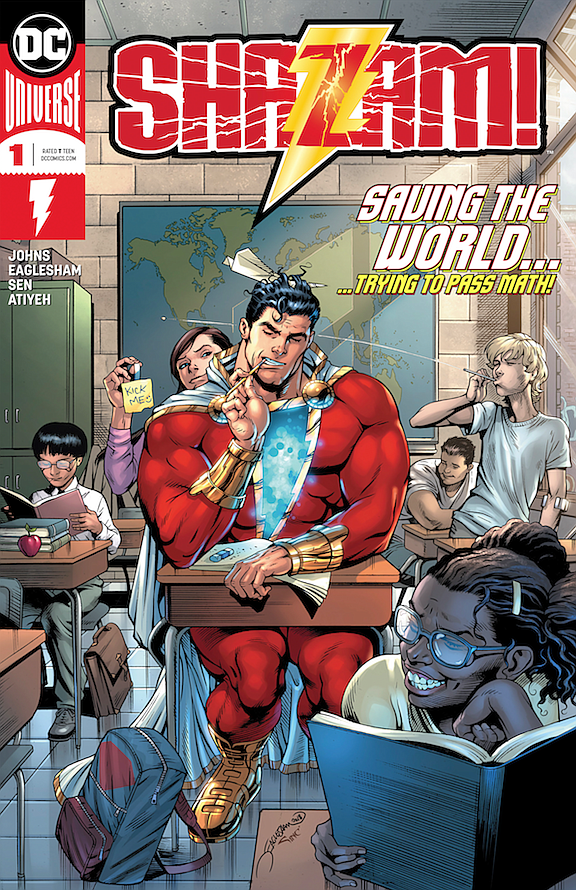 The cover of a new Shazam! comic book, which debuted in 2018. (DC Comics/The New York Times)
• Captain Marvel Gets a New Name. In 2011, DC Comics relaunched all its comics with the New 52 initiative. New 52 was an attempt to simplify decades of complicated comic book history, and Captain Marvel received an updated origin story by writer Geoff Johns, along with an official name change to Shazam.
The new Shazam! film incorporates multiple elements of the back story introduced by Johns. In 2018, DC debuted a new Shazam! comic book, the character's first continuing series in nearly 20 years. Shazam may never again overtake Superman in popularity, but the box office and critical success of the new film should ensure that a whole new generation will know his name.
Style on 04/21/2019