N. Ireland arrests woman in slaying
LONDON -- The Northern Ireland Police Service said Tuesday that it has arrested a woman under the Terrorism Act in connection with the slaying of journalist Lyra McKee.
The arrest of the 57-year-old under the Terrorism Act came as an Irish Republican Army splinter group said one of its "volunteers" killed McKee, who was shot dead while reporting on rioting in Londonderry.
In a statement issued Tuesday to the Irish News, the New Irish Republican Army offered "full and sincere" apologies to McKee's family and friends.
The group said the 29-year-old journalist was killed during Thursday night's unrest "while standing beside enemy forces" -- a reference to the police.
The Irish Republican Army and most other militant groups have disarmed since Northern Ireland's 1998 peace accord. The New Irish Republican Army has been formed from splinter groups opposed to the peace process.
Authorities believe one person pulled the trigger during the chaotic rioting that began Thursday night but that the person had organizational support.
No police were struck by the bullets, but McKee -- who had been trying to film the riot on her phone -- was hit. The journalist was rushed to a nearby hospital in a police car but died.
Egypt approves constitution changes
CAIRO -- Voters in Egypt approved constitutional amendments allowing President Abdel-Fattah el-Sissi to remain in power until 2030, election officials said Tuesday, a move that critics fear will cement his authoritarian rule eight years after a pro-democracy uprising.
El-Sissi led the military overthrow of an elected but divisive Islamist president amid mass protests against his rule in 2013 and has since presided over an unprecedented crackdown on dissent. Thousands of people, including many pro-democracy activists, have been arrested by authorities. Freedoms won in 2011, when mass protests ended President Hosni Mubarak's nearly three-decade rule, have been rolled back.
Lasheen Ibrahim, the head of Egypt's National Election Authority, said at a news conference that the amendments to the 2014 constitution were approved with 88.83 percent voting in favor, with a turnout of 44.33 percent. Egypt has some 61 million eligible voters.
Pro-government media, businessmen and lawmakers had pushed for a "Yes" vote and a high turnout, with many offering free rides and food handouts to voters, while authorities threatened to fine anyone boycotting the three-day referendum.
Opposition parties had urged a "no" vote, but they have little power in parliament, which is packed with el-Sissi supporters and overwhelmingly approved the amendments earlier this month.
Saudis behead 37 people in terror cases
DUBAI, United Arab Emirates -- Saudi Arabia on Tuesday beheaded 37 Saudi citizens, most of them minority Shiites, in a mass execution across the country over allegations of terrorism-related crimes. It also publicly pinned the executed body and severed head of a convicted Sunni extremist to a pole as a warning to others.
The executions were likely to stoke further regional and sectarian tensions between rivals Saudi Arabia and Iran.
Saudi dissident Ali Al-Ahmed, who runs the Gulf Institute in Washington, identified 34 of those executed as Shiites based on the names announced by the Interior Ministry.
"This is the largest mass execution of Shiites in the kingdom's history," he said.
Amnesty International confirmed the majority of those executed were Shiite men. The rights group said they were convicted "after sham trials" that relied on confessions extracted through torture.
It marked the largest number of executions in a single day in Saudi Arabia since Jan. 2, 2016, when the kingdom executed 47 people for terrorism-related crimes in what was the largest mass execution carried out by Saudi authorities since 1980.
3 dead, 54 missing in Burma mudslide
NAYPYITAW, Burma -- Dozens of people remain missing in a mudslide at a jade-mining site in northern Burma, a lawmaker representing the area said Tuesday.
Tin Soe said three bodies had been recovered and 54 people remained missing after the accident Monday night in the Hpakant area of Kachin state.
"The rescue process will not be easy as they're under the mud, not just ordinary soil. It is really difficult to get the bodies back," he said.
The mud flowed down on the workers from a collapsed reservoir made from a disused mining pit to contain materials discarded from the mining process.
The landscape in the area is extremely uneven, with mountains of debris and valleys formed from abandoned mines.
Tin Soe said the missing were buried under mud up to 100 feet deep.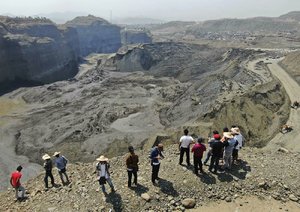 Photo by AP/ZAW MOE HTET
Onlookers in northern Burma watch from a ridge Tuesday overlooking where a mudslide at a jade mining site left dozens of people missing.
A Section on 04/24/2019