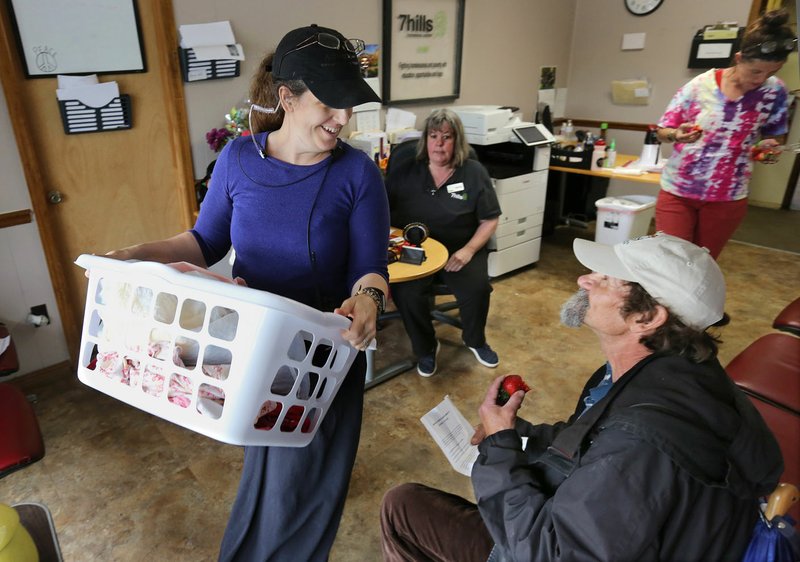 NWA Democrat-Gazette/DAVID GOTTSCHALK Kim Roberson (left), client service specialist at 7 Hills Homeless Center, visits Thursday with Kenneth Lanier as she passes through with folded laundry at the center in Fayetteville. Angel investors in February paid off the remaining debt on the day center's mortgage, allowing 7 Hills to dedicate more money to programming.
FAYETTEVILLE -- Another group of "angel investors" has lifted a major financial burden from one of the region's leading service providers to homeless people.
7 Hills Homeless Center will not have to make any more mortgage payments for its day center property on South School Avenue. A group of donors, or "angels," as CEO Jessica Andrews called them, paid off the $243,000 the center owed.
In May 2017, angel investors paid off the $325,000 balloon note associated with the property. A balloon structure means repayment of a loan is due at a certain time, rather than in monthly installments. 7 Hills was then paying back the investors in monthly installments and in favorable terms.
The first investment was paid off with the new donation. Both investor groups asked to remain anonymous.
The debt was paid off in February, and now 7 Hills owns the property. That means about $1,600 a month will go toward programming, rather than paying off a debt, Andrews said.
"That's a huge milestone for us as an organization, especially given where we were in our fairly recent history," she said. "This solidifies the fact that we are stable and moving toward sustainable."
Making ends meet
The center several times was on the verge of collapse before former CEO Billy Rader took over in 2015. Board members attest to how Rader helped turn the ship around before leaving in 2017. Rader emphasized the center's critical needs, restructured the staff and sought a variety of money sources.
Paul Wilson, a board member of seven years who now serves as chairman, said he's seen the ups and downs of the organization. 7 Hills is in a much better position now, but there's work yet to be done, he said.
The organization operated on a $1.35 million budget this past fiscal year, which covers July 2017 to June 2018. About 60 percent of the revenue came from individuals, corporations and foundations. About 34 percent came from various grants at the federal, state and city level. Churches and resident fees filled the remaining budget.
About 53 percent of the center's budget this fiscal year is being spent on direct client services. The remaining 47 percent covers everything from administrative salaries, insurance, rent, software subscriptions and tax and legal services to transportation costs.
It's a stringent budget, Andrews said.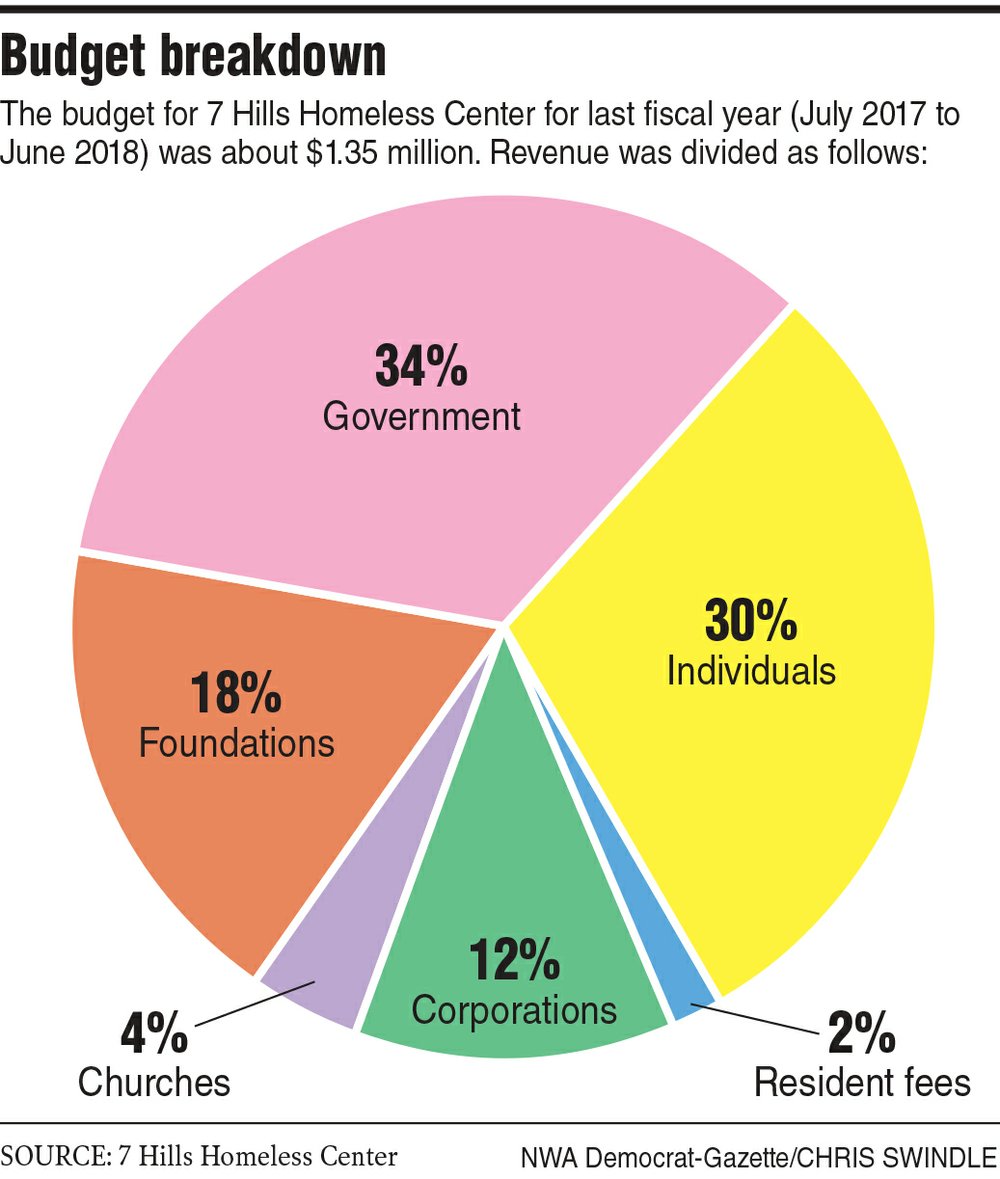 "We strive to run as lean as possible to maximize our resources and impact," she said.
The organization typically has to raise about $200,000 every year to make ends meet. That's what makes the latest gift from the angel donors so meaningful, Wilson said. The group knew about the gap when they made the gift and did so strategically, he said.
"If it wasn't for groups like this who understand the bigger vision, and can see past the object of homelessness, we wouldn't be here today," Wilson said. "What we overcame wasn't short of a miracle."
7 Hills isn't just the day center, although the center serves about 500 people every month, according to its website. People can take care of their basic needs such as showers, meals, storage, mail, clothing, laundry and several others. It also serves as the front door for those who need counseling, referrals, assistance finding a job and getting basic paperwork in order.
Up to 36 people live at the 7 Hills Walker Community off Huntsville Road. Transitional housing is provided at three townhomes and 16 efficiency apartments. Also, eight studio apartments offer permanent housing to disabled men and women.
7 Hills also operates a program called HOPE. The goal is to get those experiencing homelessness into a home and for them to keep the home through extensive case management and financial assistance. The program has 50 people enrolled, but there's a list of more than 400 who could qualify, Andrews said. The program used to exclusively serve veterans but opened up to non-veterans last year.
The organization has 15 staff members and had 50 volunteers serving more than 130 hours last month. The day center staff work in an office on the South School property. Administrators overseeing overall operation and programming have an office on North College Avenue.
Regional efforts
7 Hills works closely with the regional Continuum of Care to provide services to homeless and at-risk residents. The continuum, a coalition of agencies, is in a similar position of stability with room to grow, Executive Director Steve Burt said.
"I'm merely managing the busy work of the organization," he said. "If I'm going to really move needles, I'm going to have to staff up and send people out into the community and do a lot more street outreach, a lot more data management, a lot more case management for people. I'm going to be doing a lot more coordinating of resources if we're to grow."
An anonymous donation of $200,000 a year ago made it possible to pay Burt's salary, taxes and benefits and the agency's office expenses for two years. Leveraging money from other federal grants extended the life of the donation to about 4½ years.
At this point, he is the staff, Burt said. The continuum partners with HARK at the Center for Collaborative Care for its data management and community liaison work.
Eventually, with a proper staff, the continuum could take those duties back from HARK and start working on a number of initiatives, Burt said.
"There's a lot of stuff I'd like to work on," he said. "But I'm just right now treading water."
The fact that organizations in Northwest Arkansas are able to receive generous, anonymous donations in times of need indicates the uniqueness of the region, said Mike Rusch, CEO of Pure Charity, a global organization that helps nonprofit groups maximize their fundraising. It's not the case everywhere, he said.
"Northwest Arkansas is an incredible community, unlike many communities that I've seen," Rusch said.
The region has the benefit of major foundations, families and corporations helping spur generosity, he said. It's a matter of engaging the public with a clear vision to garner individual contributions, Rusch said.
"I see it every day," he said. "If we have a monetary problem, that's usually not the easiest problem to solve, but those are the solvable problems."
Changing the narrative
Wilson said the old argument that people in need should pull themselves up by the bootstraps is still prevalent. He said it's on the organizations, 7 Hills included, to educate the community and change that narrative.
People can fall into homelessness for any number of reasons. Many could be one missing paycheck away and not have a support system backing them up, Wilson said.
"When you're giving money to 7 Hills, you're not giving money to some lazy person standing on the corner trying to take advantage of people," he said. "Our clients are people with issues. They have hearts and souls just like everyone else. They have needs but they also have desires, and for whatever reason, they've had limitations that have made it difficult for them."
But thanks to the angel donations, increased collaboration with partner organizations and community effort, the trajectory for 7 Hills is a positive one, Wilson said. The center is working on its five-year strategic plan. It might be possible to expand the administrative building on the South School property and move the offices at the center's College Avenue location there.
That would equate to another $48,000 saved annually.
"If we can think bigger in terms of making better use of that property, there's so much more we could do, and we could do it more cost-effectively," Wilson said.
How to help
To donate to 7 Hills Homeless Center, go to:
7hillscenter.communityconnectiononline.com
To learn more about the Continuum of Care, go to:
nwacoc.com
NW News on 04/28/2019
Print Headline: Homeless center free of mortgage debt
Sponsor Content