MADRID -- The ruling Socialist party of Spanish Prime Minister Pedro Sanchez won a snap parliamentary election Sunday, while the rise of a far-right party splintered Spain's conservatives.
However, the Socialists fell short of a majority and will need to find coalition partners to form a government.
With 99.9% of the vote counted, the Socialists won 123 of the 350 seats in Parliament, according to unofficial results. That's up from 85 seats in 2016. The party's left-wing ally, United We Can, has another 43 seats, while the Basque Nationalists, another group likely to support Sanchez, has six. That would give Sanchez 172 seats, just shy of the 176 he needs for a majority.
An alliance with the Citizens party, a nominally centrist party that secured 57 seats, would give Sanchez 180 seats. However, the leader of Citizens, Albert Rivera, has ruled out supporting Sanchez. The party, in only its third national election, is trying to secure a role as the main opposition force to the Socialists.
That role was formerly held by the Popular Party, which dominated conservative politics for decades in Spain. On Sunday, it suffered an unprecedented debacle: Provisional results gave it 66 seats, less than half the 137 seats it won just three years ago, and its worst result since it participated in its first national elections in 1989.
The Citizens party even persuaded some Popular Party members to join its ranks during the campaign, including the former president of the Madrid region.
"I am not one to elude responsibilities, the results are very bad," Popular Party leader Pablo Casado told a dejected crowd at his party's headquarters in Madrid. "I only have to say that we are going to start working right now to recover this support and to do so leading the center-right. We had sent warnings out that fragmenting the vote would not be a winning option."
After having two main political parties for decades, Spain's political landscape has fragmented. The country has struggled with a recession, austerity cuts, corruption scandals, the divisive Catalan independence demands and a rise in Spanish nationalism.
The far-right Vox party seized on that nationalism and took some of the Popular Party's support. It will enter the lower house of the Parliament, winning 24 seats. It ran as the defender of Spanish traditions such as bullfighting and railed against illegal immigration and the women's rights movement.
The arrival of Vox in Madrid's national parliament marks a big shift in Spain, where the far right has not played a significant role since the country's transition to democracy after the death of dictator Gen. Francisco Franco in 1975.
Vox and Citizens both stole away what had been the banner cause of the Popular Party: the fight against Catalonia's separatists.
Turnout in Sunday's vote was around 75%, up more than 8 points since the previous election in 2016, the provisional results showed.
The surge in turnout included a huge boost in the northeastern Catalonia region, which has been embroiled in a political quagmire since its failed secession bid in 2017 put several separatist leaders in jail while they undergo trial.
At the Palacio Valdes school in Madrid, voter Alicia Sanchez worried on Sunday that Vox could influence policymaking.
"I've always come to vote, but this time it feels special," said Sanchez, 38. "I'm worried about how Vox can influence policies on women and other issues. They are clearly homophobic. Reading their program is like something from 50 years ago."
Having voted in all elections since Spain returned to democratic rule four decades ago, Amelia Gomez, 86, and Antonio Roman, 90, said they had little faith in any candidate.
"All I want is for whoever wins to take care of the old people," Gomez said, complaining that the two of them together receive less than $1,100 a month in state pensions.
Spanish voters will return to the polls next month for European, municipal and regional elections.
Information for this article was contributed by Aritz Parra and Joseph Wilson of The Associated Press; by Pamela Rolfe and James McAuley of The Washington Post; and by Jeannette Neumann, Charlie Devereux, Katerina Petroff, Thomas Gualtieri and Esteban Duarte of Bloomberg News.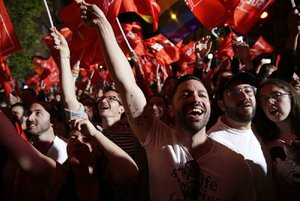 Photo by AP/ANDREA COMAS
Supporters of Spanish Prime Minister Pedro Sanchez and his Socialist party cheer Sunday as they gather at party headquarters in Madrid to hear election results. The results showed the governing Socialists maintaining their hold on power despite a strong showing by the far-right Vox party.
A Section on 04/29/2019