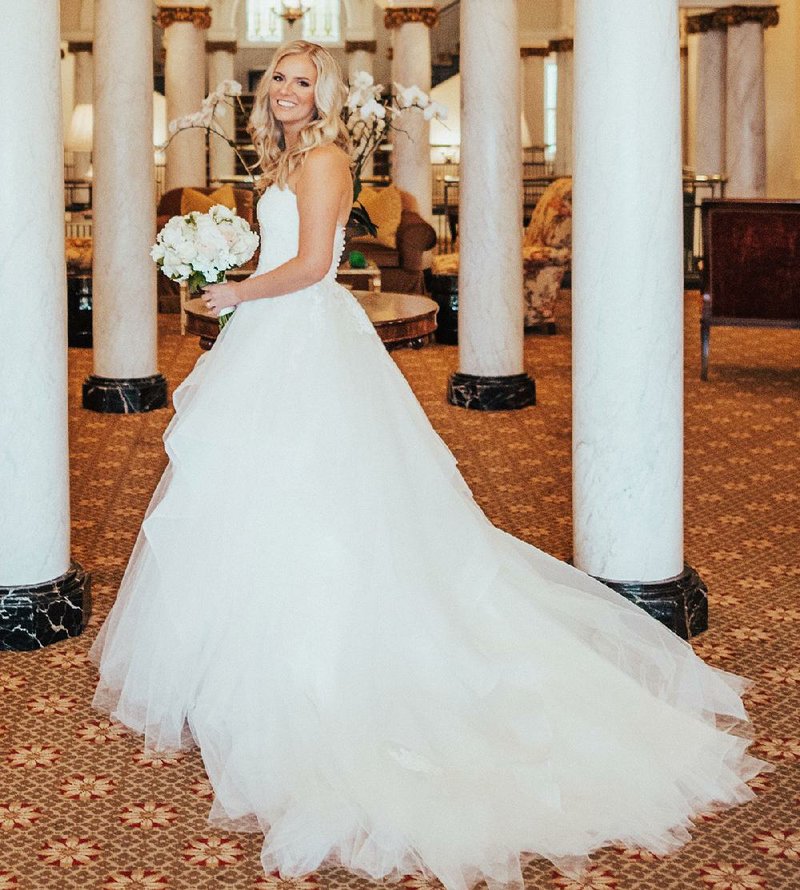 Mary Kate Kemp
Mary Katherine Powers and Nathan Willis Kemp exchanged marriage vows at 6 p.m. Saturday, July 27, in St. James United Methodist Church with the Rev. Greg Schick officiating.
Parents of the bride are Michelle and Charles G. Powers Jr. of Little Rock. Her grandparents are Shirley and Charles G. Powers of Hot Springs, Ann and Don Edwards of Little Rock and the late Hulon Mitchell of Panama City, Fla.
Donna and Willis Ray Kemp of Siloam Springs are the parents of the groom. He is the grandson of Velma and Willis Kemp of Haltom City, Texas, the late John Moore and the late Trula Moore.
Music was by Adrien and Lizbet Palmer of The Last City.
Given in marriage by her father, the bride wore princess-style gown with a strapless bodice embellished with lace, embroidery and beaded appliques. She carried a hand-tied bouquet of garden roses, freesia, ranunculus, hydrangeas and peonies in white, pale blush and light green colors.
Maid of honor was Victoria Gean of Little Rock, cousin of the bride. Bridesmaids were Anna Kathleen Plyler of Little Rock; Geenah Krisht of Los Angeles; Julia Daneshfar and Samantha Williams, both of Dallas; Kennedy Powers of Hot Springs, cousin of the bride; Natalie Kemp of Calabasas, Calif., sister of the groom; and Sarah Barlow of Memphis. They wore black chiffon gowns in the style of their choice and carried bouquets similar to the bride's.
Robert Hasler of Arlington, Va., was best man. Groomsmen were Andrew Mullen of New York; Christopher Sellers and Tyler Snyder, both of Dallas; Malcolm Kapuza of London; Thomas Riant of Washington; Walter McLaughlin of Boston; and Zia Siddiqui of Little Rock.
The ballroom of the Junior League of Little Rock Building, where a reception followed the ceremony, was centered with a large arrangement of garden roses, hydrangeas and phalenopsis orchids in a white urn. Some guest tables held large arrangements of roses, orchids, ranunculus and hydrangeas in shades of white and pale blush and others held antique gold containers filled with wedding flowers.
The bride has a bachelor's degree in journalism and advertising/public relations from the University of Arkansas at Fayetteville. She is a business development manager at Paladin Staffing.
The groom has a bachelor's degree in economics and international relations from Boston University and is a law student at the University of Texas at Austin.
After a wedding trip to Madrid and Barcelona, Spain, the couple will live in Austin, Texas.
High Profile on 08/04/2019
Print Headline: Mary Katherine Powers - Nathan Willis Kemp
Sponsor Content