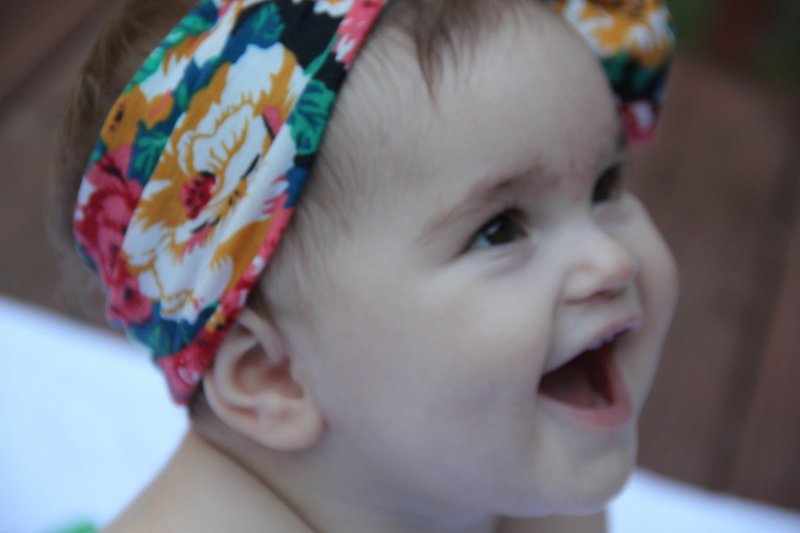 The baby girl in the flowered headband was 8 months old when this picture was taken on a Sunday in October 2017.
The next Tuesday, Maisy Lane Hummer was dead, the victim of a tragic mistake made by a woman her mother calls a "loved and trusted" babysitter. Placed in a "very unsafe" sleeping position and left alone, Maisy suffocated.
Parents Left Behind Seminar:
'Riding Your River of Grief'
When: 9 a.m.-1 p.m. Aug. 24
Where: Central United Methodist Church Student Ministries Building at 19 W. Lafayette St. in Fayetteville
Cost: Free
Information: parentsleftbehind.org will take you to the eventbrite registration or email parentsleftbehindar@gmail.com
Web Watch: A video accompanies this story online at nwadg.com.
Her mother, Melissa McCraw-Hummer, says she and her husband, Wade Hummer, wouldn't have survived the first year without Maisy had they not discovered the Grieving Parents Support Group at Rolling Hills Baptist Church in Fayetteville.
"We were desperate to connect with other parents who had lost children," McCraw-Hummer, a teacher in the Rogers Public Schools, remembers. "Google searches produced dead-end emails and disconnected phone numbers. Some support groups did answer, but they were open to anybody grieving. We didn't want to be in a group with people who had lost a grandparent. We finally found a group for grieving parents, and the pastor at the church, Steve Sheely, got right back to us.
"That's where we met Dr. Susan Averitt and her mother, Ann Averitt," McCraw-Hummer explains. "We heard about Parents Left Behind from them."
Averitt's daughter, Cameron Averitt Bobbitt, just 5 years old, was killed Jan. 19, 2006, in a school crosswalk in a small Oklahoma town. Almost a decade later, Averitt's advocacy for grieving parents turned into the Parents Left Behind Seminar that McCraw-Hummer attended for the first time in 2018.
"I honestly cannot imagine what she went through," McCraw-Hummer says of Averitt. "This organization is her way of giving back in her daughter's memory. She has poured her heart into it, and it shows. As someone who experienced the loss of a child, she knows how isolating the experience can be."
McCraw-Hummer says the conference is "designed to give parents a chance to meet and network with other parents who have lost children. Parents have a chance to share strategies and ideas that help them through their loss, and there are opportunities to discuss ways to give back and honor your child. Some parents attend after experiencing a loss very recently, while for others, the loss was experienced decades ago.
"I really like the metaphor of a river used in the theme this year," she adds. "Losing a child really is a never-ending river. Some parts of the river are choppy -- rough rapids. Other parts of the river are smooth -- we are able to stop paddling and remember our children in a positive way. But regardless, we are all on this river together. And that's what the seminar is really all about -- connecting and learning from others that are also on this river of grief.
"I'll be honest. Last year, I was very nervous about attending" the seminar, McCraw-Hummer remembers. "I actually sat in my parked car for about 20 minutes while I worked up the courage to come in. With encouragement from my husband, I finally did -- and I'm so glad I did! It's an emotional experience. This is probably the only place where you can be surrounded by people who understand. It's joyous -- a chance to talk about your child, a chance to be understood. It's also tough, as working through a loss that tragic is by necessity."
This year, McCraw-Hummer is event coordinator for the Parents Left Behind Seminar, "Riding Your River of Grief," set for 9 a.m. to 1 p.m. Aug. 24 at the Central United Methodist Church Student Ministries Building at 19 W. Lafayette St. in Fayetteville. Registration is free; so is childcare for those who register by Aug. 13, and even lunch from Einstein Bagels.
"At the beginning of the seminar, everyone will be together," McCraw-Hummer explains. "Then attendees will have the option to choose breakout sessions from seven different choices. This gives them an opportunity to find support that's appropriate for their current needs. The committee has worked very hard this year to make sure there are sessions that will appeal to a diverse group of parents," she adds, including "Navigating Grief and Your New Normal," "Holding on to your Faith" and a session for community members and professionals. There's even one titled "Further Down the River: Resilience, Gratitude, and Finding Joy."
McCraw-Hummer says she had no choice but resilience, and she and her husband did find joy in the birth of their second daughter, Everleigh "Evie" Mae.
"We like to say that Maisy was 'amazing,'" McCraw-Hummer says. "She was so full of personality and spunk. She loved animals. She loved to laugh. She was very vocal and, in my opinion, the most loved baby in the world.
"I see Maisy in Everleigh's smile. I hear her in her laugh. Sometimes I see her in the little mannerisms when she nurses or plays. They are so very different in many ways, but they are undeniably sisters."
NAN Religion on 08/10/2019
Print Headline: Amazing Maisy
Sponsor Content