When former Pulaski Academy tight end Hudson Henry reported to the University of Arkansas this summer, he joined his brothers, Hunter and Hayden, and their father, Mark, as Razorbacks.
In 125 years of Razorback football, it appears three brothers have played for the Hogs twice, but never a father and three sons.
CLASS Freshman
POSITION Tight end
HEIGHT/WEIGHT 6-5, 238 pounds
HOMETOWN Little Rock
HIGH SCHOOL Pulaski Academy
AGE 18 (born Nov. 20, 2000)
NOTEWORTHY Rated the No. 1 tight end in the Class of 2019 by CBS Sports Network national recruiting analyst Tom Lemming. … Father, Mark, and brothers Hunter and Hayden have also lettered with the Razorbacks.
Mark played for the Hogs from 1988-91, when he was All-Southwest Conference at center. Hunter was All-SEC in 2013 and 2014, and an All-American in 2015. Hayden has lettered the past two seasons after being recruited as a blue shirt in 2017 and was put on scholarship the next January.
Former Arkansas sports information director and Razorbacks historian Rick Schaeffer said the Coleman brothers were the first three brothers to play for the Hogs.
[HOG FUTURES: Read full series on newcomers to the UA football team at arkansasonline.com/2019hogs/]
James Coleman lettered for the Hogs in 1916-19, followed by Sam from 1921-1924 and Eusell lettered from 1925-1927.
"Orville Henry told me that basically that family for 12 years in a row ... they were the centers," Schaeffer said. "We're talking about way back."
Running back Bobby Burnett played and lettered for the 1964 national championship team and in 1965. His brother and receiver Tommy lettered in 1965-66, while running back Bill lettered in 1968 and was All-SWC in 1969-70.
Schaeffer also pointed out offensive-defensive lineman George Bequette lettered in 1954-56, as did his sons Chris -- an offensive lineman who lettered in 1984-87 -- and Jay -- who lettered in 1980-81 and was an All-SWC center in 1982. Defensive end Jake Bequette, son of Jay, was All-SEC in 2010.
"That's three generations there, but we're still not talking about a father with three sons," Schaeffer said.
CBS Sports Network national recruiting analyst Tom Lemming started covering the national recruiting scene in 1978. He can't recall a father and three sons playing football at the same school anywhere.
"I can't remember a prominent father and three prominent kids," Lemming said.
The Golic brothers -- Bob, Greg and Mike -- played football at Notre Dame in the 1970s and 1980s,
"All three played at Notre Dame, and two were All-Americans, but the dad didn't play there," Lemming said. "You think about it, but it's impossible to come up with a family like the Henrys."
Lemming said during his time, it's possible three sons and a father played at the same school, but probably not as scholarship players.
"A lot of times the kids will go to school maybe as walk-ons or preferred walk-ons or legacies," Lemming said.
Lemming points out that former NFL receiver Ed McCaffrey and his son Christian attended Stanford while son Max, a receiver, attended Duke. A third son, Dylan, is playing quarterback at Michigan.
"It just shows you how difficult it is to get all the kids to go to the same school," Lemming said.
Mark Henry, who signed with the Hogs in 1987 out of Little Rock Central, said it was a given he would be a Razorback.
"When I played at Arkansas, it was a tremendous honor to be able to play for my state and the place I grew up," he said. "There's nothing like being a Razorback."
Mark Henry, who in 2009 became the teaching pastor at Fellowship Bible Church in Little Rock, married Jenny, his high school sweetheart, in 1991. Hunter and Hayden were born in Arkansas while Hudson and their daughter Hope were born in Georgia, where the elder Henry was the pastor at North Metro Church in Marietta.
"We grew up watching the Razorbacks at different times and different seasons, even when we were living out of state," Mark said. "To see Hunter go there and have success and to see Hayden have the opportunity to go there and then Hudson, I think it's just really been humbling."
Jenny graduated from Arkansas, and her father, Skip Coffman, played basketball for the Razorbacks from 1957-1962.
"It's a lot of fun for us to have a shared experience as a family because really our entire family attended the University of Arkansas," Mark said. "So it's been a neat thing for us to experience as a family. The UA really means something special to us."
Hudson, who was Lemming's No. 1 tight end in the Class of 2019, announced his commitment to the Hogs on Oct. 11 over Stanford and more than 30 other scholarship offers.
"I think with each of our kids, we wanted them to choose Arkansas because they wanted to go there and be there," Mark said. "We wanted the same process for Hudson.
"I think what made the process with Hudson a little different is we knew and we know that with Hunter playing there and Hayden playing, there could naturally be this expectation that he was going to go there, too. We wanted him to make that decision for himself, but when he finally told us that it was a relief."
Being the latest Henry to join the Razorbacks and excites Hudson.
"Out of everybody that's played, it's pretty cool to have that because there's so many people that have played," Hudson said. "What are the odds it would be us? It's just pretty crazy."
Hayden, who played in 12 games and started one as a sophomore, is humbled by the family's accomplishment.
"It is very, very special for all three of us and my dad," Hayden said. "It just means so much. We take so much pride in wearing the Razorback uniform and representing our state in the best way we know how."
Hunter, who's entering his fourth season with the Los Angeles Chargers, calls his family's historical feat "pretty special" while crediting his father for the siblings' success.
"He was the guy we all modeled ourselves after and wanted to be and just learned a lot from," Hunter said. "I think a lot of our success was being able to learn from what our dad taught us."
The elder Henry is proud of how his sons have developed into young men.
"One thing I really appreciate is they have really high character, and I'm really proud of them for the type of young men they are and the way they treat people and respect people and their faith," Mark said.
The Henry sons were quick to mention a common theme their father taught them.
"Toughness is a big thing in our household," Hunter said. "I can remember when we were younger and -- you know how you fall down or something small -- they obviously cared. If you fall down, it's like 'Oh, get up,' but it's kind of that way. 'Just brush it off. You're fine.'
"I remember coming home and my finger was jacked up -- like dislocated and I'm young -- so I'm like, 'Oh man, I may need to miss some time,' and he was like, 'No, we'll just tape that thing back up and you'll go back out there.' "
Hudson said his father has prepared him for the ups and downs of football and life.
"He's always instilled in us to have that mental toughness in everything we do," Hudson said. "Not just in football, but life itself. Tackling everything head on like a man."
Hayden said his father didn't allow him and his brothers to back down from others.
"You weren't going to cry, you weren't going to complain," Hayden said. "You were going to be the toughest guy on the field, and you were going to be the toughest guy in every aspect of your life."
Hudson remembers when his father would take him and his brothers to the front yard.
"We would do hitting drills, and I would just get plowed and my dad would say get back up," Hudson said. "Just keep getting back up after every single hit. The only thing you could do is get back up, and if you would just lay there, you're not helping yourself."
A jaw-jarring hit in a game or practice usually would get rewarded with a sweet treat.
"We would get in the car, and I would be like, 'Dad, I hit somebody hard today,' and we would head over to Dairy Queen and get us a Blizzard," Hayden said. "I always got an Oreo Blizzard."
Mission accomplished when it comes to toughness, said the elder Henry.
"I think toughness is something that's really been lost in our culture today," he said. "Just kind of pushing through hard times and difficult times both on the football field and off. So I've been really proud of them just for the mental toughness that all three have had. I think it's helped them become better football players."
Hunter knows his father was proud when Hudson decided to become a Hog.
"We grew up Razorback fans," Hunter said. "We were living in Atlanta, Georgia, and watching Matt Jones running down the sidelines and going crazy.
"I just remember Saturdays like no other, just watching games with my dad. We were always waiting for that Arkansas game to come on."
Mark said his sons have worked hard to get to where they are, but they have different strengths.
"I think Hunter is and always has been very football savvy," Mark said. "Hunter has a unique way of getting open and finding open holes in defenses. I think from even high school days he's had really good hands and was very reliable as a receiver.
"I think Hayden is probably the toughest of my three, and he has to be as a middle child. He's always kind of had to prove himself between his older brother and younger brother, who both got more recruiting attention than he did, and he's always kind of worked hard to kind of prove himself."
"I think Hudson has perhaps the most athletic talent of all three of them. I think just like his middle brother, it's challenging sometimes when your oldest brother and you play the same position. He does get all of the comparisons, and I think he's handled that as well as you can."
Hudson said the Razorbacks were the team to beat for him.
"I think Arkansas was always my number one option in the back of my mind, even if I said it wasn't just because it's my home," Hudson said.
Arkansas was in prime position to land Hudson, but he admits Stanford was tempting after visiting the campus twice during the recruiting process.
"Yeah, for sure it's one of the best, if not the best school in the world," Hudson said. "I would get a world-class education. I would be set for life. I would have a ton of connections with the alumni.
"It was super tempting, but it just didn't feel right. I knew that in my gut, and I knew that was the holy spirt telling me that. That's something you can only know."
Pulaski Academy Coach Kevin Kelley will begin the season without a player named Henry for the first time in several years.
"The first time in 10 years there won't be a Henry on the Pulaski Academy team, which is kind of a weird feeling," Mark Henry said.
Hunter thinks his youngest brother has a chance to be special.
"He reminds me of myself a lot. Sometimes it's weird watching him, but at the same time I watch him, and I'm like 'Golly, he's way better than what I was,' " Hunter said.
Hayden is excited to have little brother on campus.
"We played a year together in high school, and we're going to play two years together in college," Hayden said. "He's a really quick learner, and he's picking everything up fast. I think he's going to be an exciting player to watch this year."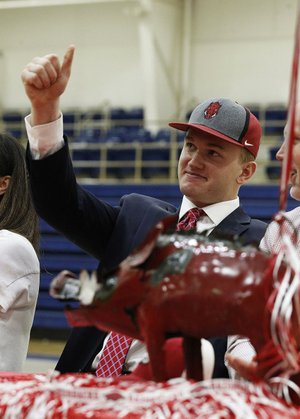 Photo by Thomas Metthe
Freshman tight end Hudson Henry (left) joins brothers Hayden (middle) and Hunter, as well as his father, as players for the Razorbacks. But father Mark Henry said it wasn't a decision the family forced on any of his children. "I think with each of our kids, we wanted them to choose Arkansas because they wanted to go there and be there. We wanted the same process for Hudson."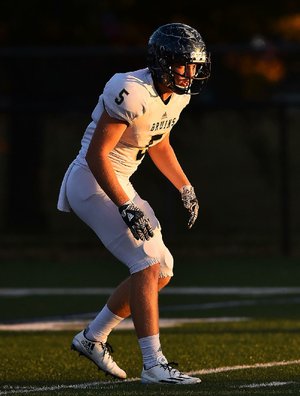 Photo by JIMMY JONES
Freshman tight end Hudson Henry (left) joins brothers Hayden (middle) and Hunter, as well as his father, as players for the Razorbacks. But father Mark Henry said it wasn't a decision the family forced on any of his children. "I think with each of our kids, we wanted them to choose Arkansas because they wanted to go there and be there. We wanted the same process for Hudson."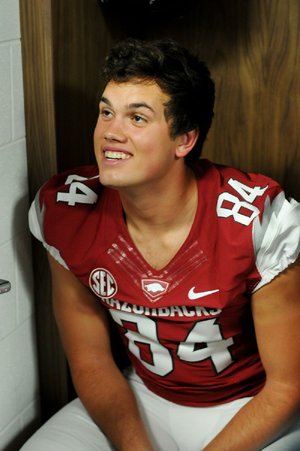 Photo by Anthony Reyes
Freshman tight end Hudson Henry (left) joins brothers Hayden (middle) and Hunter, as well as his father, as players for the Razorbacks. But father Mark Henry said it wasn't a decision the family forced on any of his children. "I think with each of our kids, we wanted them to choose Arkansas because they wanted to go there and be there. We wanted the same process for Hudson."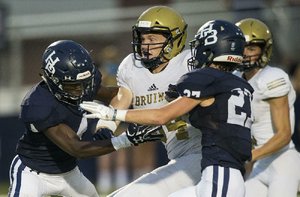 Photo by Ben Goff
Hudson Henry (middle), shown last season with Pulaski Academy against Springdale Har-Ber, said he was tempted by Stanford in the recruiting process, but that "Arkansas was always my number one option in the back of my mind."
Sports on 08/11/2019