BENTONVILLE -- Nearly a year before Unicorn Sparkle Ice Cream showed up in Walmart stores' freezers, product developers conjured up the idea for the sweet treat that ties in to the current craze for the mythical beast.
The cake-flavored ice cream's bright swirls of pink, turquoise and yellow are mixed with "magical" purple glitter frosting and star-shaped candy "confetti." The whimsical concept extends even to the packaging, which includes a seal assuring concerned kids and vegetarians that the product "does not contain real unicorns."
Unicorn Sparkle is among the newest items to bear the Great Value label, one of Walmart Inc.'s top-selling private-label brands. The Bentonville retailer has dozens of store brands across its operations, about 25 of which fall in the areas of food and consumables -- common household items like trash bags and toilet paper.
Industry experts say private-label brands, especially in grocery, help Walmart differentiate itself from its competitors and increase store visits. This in turn can boost sales of higher-margin items.
Jack Pestello, senior vice president of food and consumables for Walmart's U.S. operations, said the company decided about four years ago to "get really serious about private brands." It already had built some strong brands such as Great Value, Equate and Marketside, he said, "but we had some gaps."
These included inconsistencies in quality and packaging, which confused customers as well as suppliers, Pestello said. "So we made it a core pillar of our strategy to say we are going to have a solid private-brand program at Walmart because it's really core to helping people save money and live better," he said.
Pestello said shoppers still buy name brands and compare prices of brands between stores, but customer data showed Walmart was losing some customers to competitors "because we didn't have a good private-brand offering."
Walmart's new strategy to rectify this included the creation of a 12,000-square-foot facility in which to test and tweak food products for its private brands. The Culinary and Innovation Center, on the west side of the main headquarters building on Walmart's campus, opened in 2016 and gathers product developers, suppliers, buyers and packaging designers under one roof.
Walmart also beefed up its team that works on private brands, Pestello said, going from "a very small base" to more than 100 people. "The majority of the team is solely responsible for going out and finding awesome products, finding suppliers who can make those awesome products for us, make sure we're driving cost inefficiencies out of the supply chain," while still creating a quality product and a consistent experience for customers, he said.
The effort seems to be paying off. In Walmart's most recent quarterly earnings report in May, the retailer said customers "are responding favorably to our ... enhanced private brands."
Walmart doesn't release sales figures on private brands to the public. However, market research firm Nielsen reported in April that dollar sales of private-label brands grew 9.8% in 2018 over the previous year in the mass merchandise, club and dollar-store retail channels. In comparison, dollar sales of national brands in these channels remained flat.
Likewise, unit sales of store brands rose 10.6% in those retail channels, while unit sales of national brands fell 1.3% from the previous year. Nielsen data also show market share of private label sales in dollars rose to 19.3% in 2018, compared with 15.5% in 2013. Unit market share climbed to 23.2% that year, up from 18.5% in 2013.
The Private Label Manufacturers Association estimates that total private-label sales in 2018 reached about $170 billion.
Brian Yarbrough, a retail analyst with Edward Jones, said after the May earnings report that Walmart's gains in sales of private-label goods are especially beneficial because those items have higher profit margins than branded ones.
"If you are hooked on their private label, you can't find [those products] at Amazon or Target or anywhere else," he said. "So a strong private-label program can help drive regular traffic."
And store traffic "is key to driving sales in higher-margin categories like home and apparel," said Carol Spieckerman, a retail consultant and president of Spieckerman Retail.
Spieckerman said Walmart "is smart to stay on top of its private-brand game, particularly in grocery," as national competitors like Amazon.com, Kroger Co. and Dollar General are also raising their game in this area.
"Walmart's private grocery brands already enjoy tremendous loyalty, but Walmart can't afford to rest on its laurels in this environment," she said. "Walmart has the data to ensure that its value proposition is on point. Monitoring and improving quality is its next line of defense."
Marty Esarte, vice president of private brands for foods, recently described to visitors how private-label products are created and refined. In one of the Culinary and Innovation Center's six test kitchens, he explained that developers meet to brainstorm ideas for new products. They discuss the latest trends and needs in the marketplace -- like the popularity of all things unicorn.
Taking a new product from concept to debut can be a 30- to 40-week process, Esarte said. Once they come up with a product idea, the developers work with Walmart's suppliers to create a prototype, called a benchtop. When they get the specifications just right, the supplier brings in the product for further review.
At that point, it comes back to the Culinary and Innovation Center's kitchens and sensory lab for yet another round of testing, Esarte said. Using that feedback, more adjustments will be made with the supplier until the product is just right.
As director of private-brand quality, Jade Bunch's duties include running the sensory lab, where about 120 volunteers taste-test products every day. The volunteers are recruited from about 3,000 Walmart employees who work in Northwest Arkansas.
Brought in five at a time, the volunteers sit at booths equipped with a rotating canister-like window. Once they log into a computer, workers in the adjacent kitchen put the food to be tested in the canister. After sampling the item, volunteers answer a series of questions about it, focusing on flavor, texture and appearance.
Each volunteer samples two versions of an item, such as salsa, chicken fingers or mozzarella sticks. After rating each one, they're asked which they liked best, and why.
Bunch said tests allow them to continue improving products.
The suppliers will "then go run a full production of that, to get ready to go ship it," Esarte said. "And as they do that, they'll send it back to us. We'll take a look and say yep, thumbs up, this was the product that we wanted. And we've been on this 30-week journey, if you will, to get the product ready for a launch."
The ultimate goal, Esarte said, is to deliver "a great quality product at an affordable, attainable price."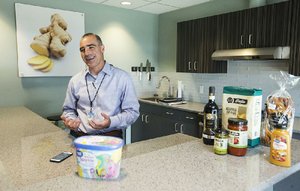 Photo by Ben Goff
Marty Esarte, vice president of private brands for foods at Walmart, explains the process that results in new products like Unicorn Sparkle Ice Cream.
SundayMonday Business on 08/11/2019