You could say humans have a symbiotic relationship with corn, or maize as it is known in most of the world.
Corn is one of only a handful of food plants that would not exist without human intervention — corn as we know it today is a human creation. Corn's wild ancestor, an ancient grass called teosinte, does not produce large ears of tightly rowed, sweet, juicy kernels of edible sunshine emerging from a stalk taller than the average man. But by selectively breeding and cultivating teosinte 9,000-10,000 years ago, Mesoamericans, the peoples of what is modern-day southern Mexico, Guatemala, Belize, El Salvador, Honduras, Costa Rica and Nicaragua, transformed this wild grass into a food crop.
The cultivation of corn slowly spread north and south throughout the Americas, with crops being grown in what is now called southern New England as long as 1,000 years ago. Today, corn is grown across the globe on every continent except Antarctica. According to World Atlas, corn provides about 20% of the world's consumed calories.
Corn is the third-most consumed cereal grain in the world — rice and wheat top the list, respectively — although many of us eat corn as a vegetable, not a grain. According to the Whole Grains Council, corn is both grain and vegetable, depending on its state. Fresh corn — corn-on-the-cob, corn chowder, creamed corn — is considered a vegetable. Dried corn — popcorn, cornmeal, grits — is a grain.
For the best results, cook and eat fresh corn the day you buy it. If you buy more than you'll eat within a day or two, the best thing to do is shuck the corn and then blanch it, cool it and freeze it, either on the cob or off. To blanch corn, bring a large pot of water to a boil. Add the corn and cook about 3 minutes, then transfer corn to an ice-water bath to stop the cooking. Drain well, then transfer to freezer bags and freeze until ready to use. For off-the-cob, blanch and cool as directed, then, using a sharp knife, cut kernels from cobs and transfer kernels to freezer bags or containers.
Corn-on-the-cob — whether roasted, grilled, boiled or steamed — slathered with butter is our favorite way to enjoy this summer staple but not the only way.
Added to cheese dip, stuffed into poblano peppers, pureed into creamy soups, pickled, and paired with squash and tomatoes in a light pasta sauce are also fantastic and tasty ways to enjoy sweet corn.
Frozen corn, whether from your freezer or the supermarket, will work just as well in most of the following recipes. On average, one ear yields about ¾ cup kernels. One 10-ounce package frozen corn yields about 2½ cups.
If you do use fresh whole ear corn, don't throw out the cobs. Corncobs add depth and flavor to soups and chowders. To be able to enjoy that richness year-round, make stock from spent cobs.
How to make corn stock: Using a ratio of 2 quarts water per 4 corncobs, place cobs in a large stockpot and add the water, making sure it covers the cobs. Bring to a boil, then reduce heat to low and simmer, covered, for 1 hour. Remove cobs and discard them. Divide and transfer the liquid to freezer-safe containers and freeze for up to 1 year. Use in place of water, chicken stock or vegetable stock in soup and stew recipes.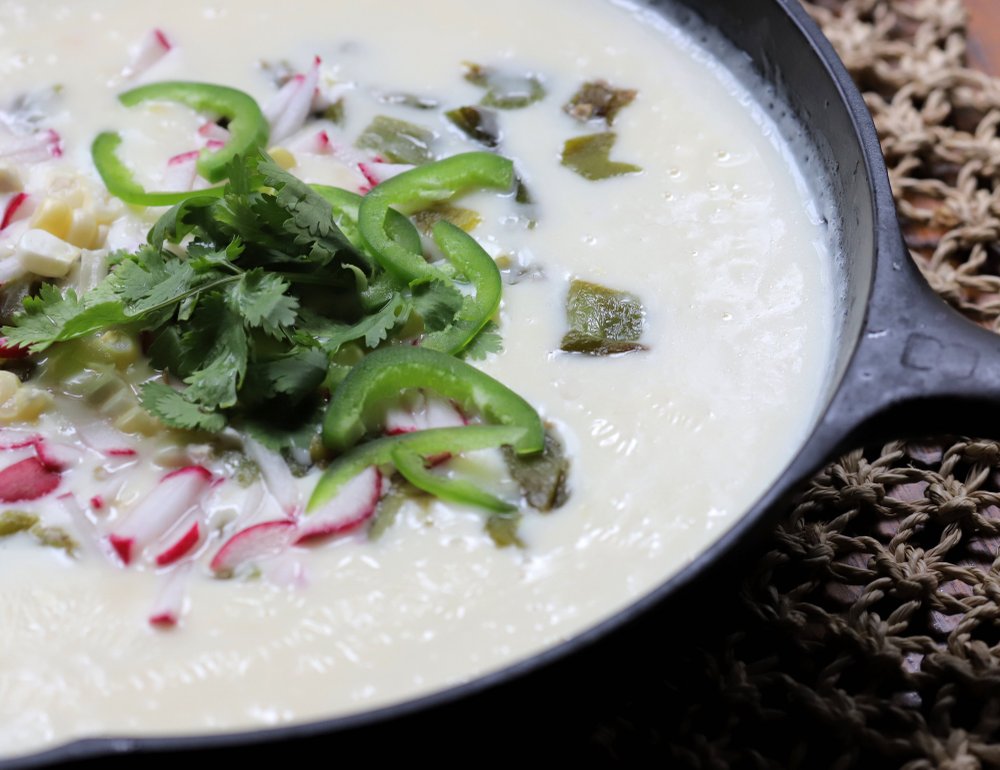 Corn Queso Photo by John Sykes Jr.
This smooth and creamy cheese dip is enhanced by smoky bits of roasted green chiles and juicy bursts of sweet corn.
Corn Queso
2 tablespoons butter
¼ cup diced yellow or white onion
1 clove garlic, minced
1½ cups corn kernels
2 tablespoons cornstarch
1 cup milk
½ pound white American cheese, shredded
½ pound Monterey Jack cheese, shredded
2 green chiles, roasted, peeled, seeded and diced (see note)
1 teaspoon cumin seed or to taste
½ teaspoon kosher salt
¼ teaspoon hot chile powder
¼ cup cilantro leaves, optional garnish
2 radishes, cut into matchsticks, optional garnish
Thinly sliced jalapeno, optional garnish
Tortilla chips, for serving
In a deep iron skillet, melt butter over medium-low heat. Add the onion and cook, stirring, until softened, about 5 minutes. Add the garlic and corn and cook 5 minutes more.
In a spouted measure, whisk together the cornstarch, milk and 1 cup water. Add to skillet and bring to a simmer, stirring constantly. Cook, stirring, until mixture begins to thicken. Add the American cheese, reduce heat to low, and cook, stirring until cheese melts. Add the Monterey Jack, one handful at a time, stirring until melted between each addition. Stir in the green chiles, cumin, salt and chile powder. Taste and adjust seasoning. Garnish with cilantro, radishes and jalapeno slices. Serve with tortilla chips.
Makes 6 to 8 servings.
Note: To roast chiles, heat broiler. Arrange the peppers in a single layer on a foil-lined, broiler-safe pan. Broil, turning occasionally until pepper skins are uniformly charred. Pull corners of foil together to tent peppers and let stand until cool enough to handle. Remove and discard skins and stems, and use as directed in recipe.
Recipe inspired by Queso! by Lisa Fain
Corn, Bean and Cheese Stuffed Poblanos
4 large poblano peppers
1 (15-ounce) can pinto beans
2 teaspoons vegetable oil
½ yellow or white onion, finely chopped
2 cloves garlic, minced
1½ to 2 teaspoons cumin
½ teaspoon dried oregano
½ teaspoon chile powder
Zest and juice of ½ lime, divided use
Pinch ground red pepper (cayenne)
Salt and ground black pepper
1 cup corn kernels
8 ounces Monterey Jack and/or cheddar cheese, shredded
2 tablespoons minced cilantro
Heat oven to 425 degrees. Line a rimmed baking sheet with foil or parchment paper and set a wire rack in the sheet. Set aside.
Leaving the stem intact, cut a lengthwise slit in each poblano pepper. Place peppers in a large microwave-safe bowl; cover and microwave 1 to 2 minutes or until peppers soften slightly. Set aside.
In a small bowl, mash half of the beans with ½ cup water until mostly smooth; set aside.
In a large skillet, heat the vegetable oil until shimmering. Add the onion and saute until softened, about 5 minutes. Stir in the garlic, cumin, oregano, chile powder, lime zest and cayenne and cook, stirring constantly, until fragrant, 30 seconds to 1 minute. Add the mashed bean mixture and cook, stirring constantly, until most of the water has evaporated and the mixture has the consistency of refried beans. Add the whole beans and corn and continue cooking until mixture is heated through. Remove from heat and stir in all but ½ cup of the cheese, the lime juice and cilantro.
Gently pry open each pepper to remove the core and seeds and stuff with bean-corn mixture. If necessary, secure each pepper with a toothpick. Arrange peppers, cut side up, on the wire rack. Bake 20 to 40 minutes -- for meltingly soft peppers bake for the full 40 minutes; if you prefer the peppers to have a little structure, bake for 20 minutes -- sprinkle peppers with the remaining cheese during the last 5 minutes.
Makes 4 servings.
Recipe adapted from America's Test Kitchen The Best Mexican Recipes
Jalapeno Corn Soup
5 ears fresh corn, husks removed
2 jalapenos
3 tablespoons butter OR coconut oil
1 onion, diced
Salt
3 cloves garlic, minced
4 cups chicken stock OR vegetable stock
Ground black pepper
¼ to ½ cup heavy cream OR coconut milk
Cut the corn kernels off the cobs letting them fall into a large bowl. Reserve the corncobs. Set cobs and kernels aside.
Slice half of one of the jalapenos into thin rings; set rings aside. Remove stems and seeds (if desired) from remaining jalapenos and finely dice the flesh.
In a large pot or Dutch oven, melt the butter or coconut oil over medium heat. Add the diced jalapeno and onion and saute until onion is softened, but not browned, about 5 minutes. Add a pinch of salt and stir in the garlic and cook 30 seconds or until fragrant. Add the corn kernels, stock and corncobs. Season generously with salt and pepper. Bring to a boil, reduce heat and simmer 45 minutes. Remove and discard corncobs. Using an immersion blender (or working in batches in a traditional blender) puree soup to desired texture. Stir in cream or coconut milk. Freezes well.
Serving suggestion: Serve topped with cooked shrimp and/or diced avocado and jalapeno slices.
Makes about 4 servings.
Recipe adapted from Kitchen Sink Diaries via Food52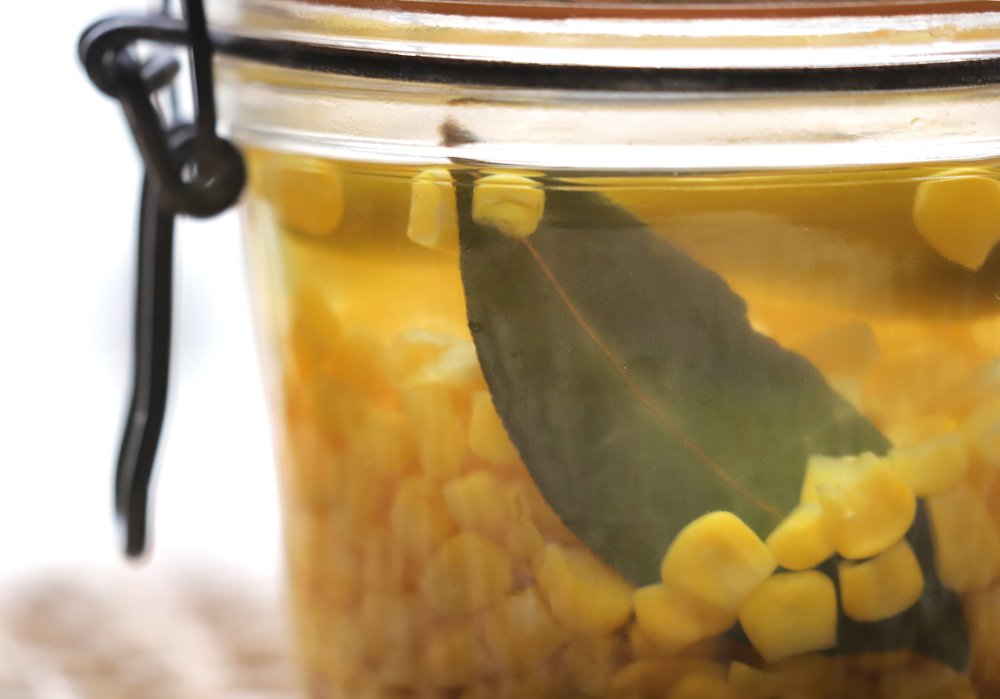 Quick Pickled Corn Photo by John Sykes Jr.
Quick Pickled Corn
1½ cups fresh corn kernels, blanched
1 jalapeno or serrano pepper, halved lengthwise
1 bay leaf
¾ cup white wine vinegar
½ cup water
¼ cup granulated sugar
1 tablespoon salt
½ teaspoon coriander seeds
¼ teaspoon whole black peppercorns
Place the corn kernels, jalapeno and bay leaf into a sterilized pint jar. Set aside.
In a small pot, stir together the vinegar, water, sugar, salt, coriander and black peppercorns. Bring to a boil. Pour the boiling-hot liquid over the corn in the prepared jar. You might not use all of the liquid. Let cool to room temperature, seal jar and refrigerate. Will keep, refrigerated, for 1 to 2 weeks.
Makes 1 pint.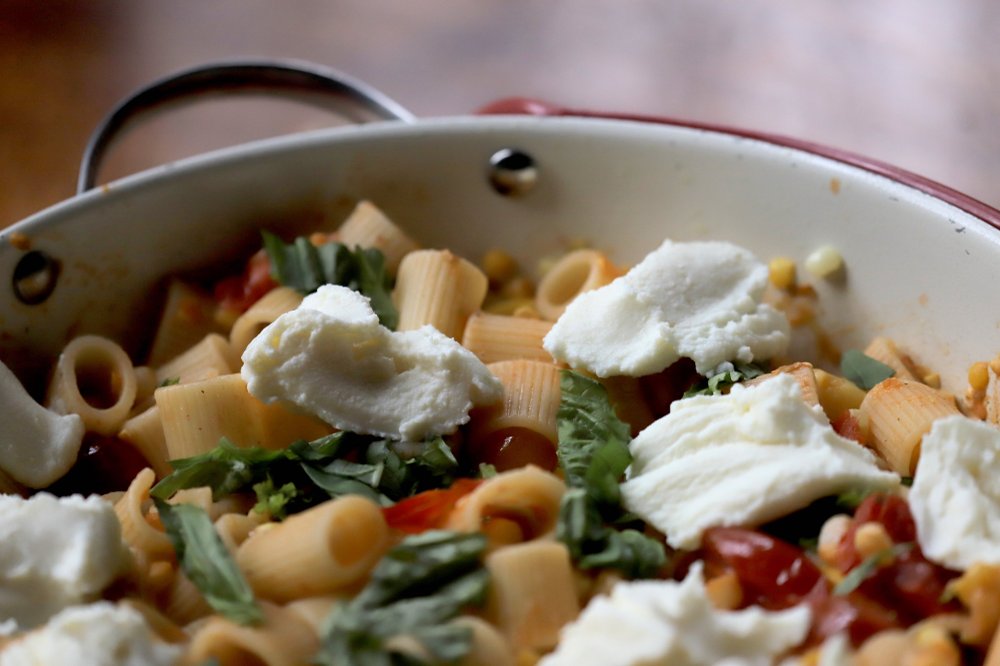 Pasta With Tomatoes, Corn, Squash and Ricotta Photo by John Sykes Jr.
Pasta With Tomatoes, Corn, Squash and Ricotta
Salt
¼ cup olive oil, divided use
1 clove garlic, minced
1½ cups corn kernels
1 small to medium yellow squash, diced
1 pint grape or cherry tomatoes, halved
8 to 12 ounces pasta such as short tubes or medium shells
Coarsely ground black pepper
10 large basil leaves
1 cup whole-milk ricotta
Put a large pot of generously salted water on to boil.
Meanwhile, in a large saute pan or deep skillet, heat 2 tablespoons of the olive oil over low heat. Add the garlic and cook, stirring frequently, until softened and fragrant (but not brown), 3 to 5 minutes. Increase heat to medium and add the corn and squash and several pinches of salt. Cook, stirring frequently, for about 5 minutes. Add the tomatoes and another couple of pinches of salt, bring to a boil and reduce heat to a vigorous simmer.
Add the pasta to the boiling water and cook according to the package directions, until just al dente. Drain, reserving 1 cup of the pasta water. Return the pasta to the pot and stir in the remaining olive oil. Add pasta to the tomato mixture (or if your skillet isn't large enough, add the tomato mixture to the pasta pot). Stir in a few tablespoons of the reserved pasta water to loosen sauce, adding more pasta water as needed to create desired consistency. Season generously with black pepper. Tear or chop the basil roughly and stir it into the pasta and dollop with ricotta.
Makes about 4 to 6 servings.
Recipe adapted from Merrill Stubbs/Food52
Food on 08/14/2019