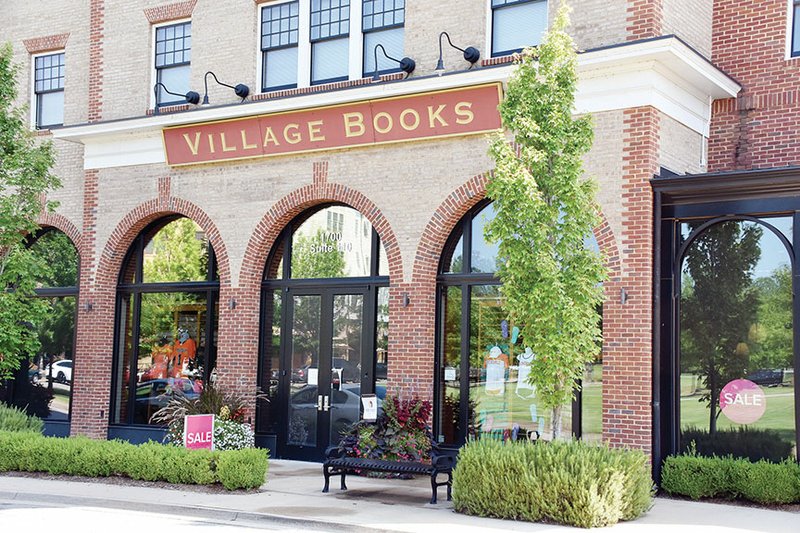 The Hendrix College bookstore in The Village at Hendrix will be the new location of the school's clinic, run by the Conway Regional Health System in a partnership. The student clinic will also be open for the first time to the public and available to Hendrix employees and their dependants. Conway Regional has also staffed the college's athletic-training program, as of this month, as part of the agreement. ( Staci Vandagriff)
CONWAY — Hendrix College is partnering with Conway Regional Health System to run the school's on-campus health clinic — which will also be open to the public — and to staff the school's athletic training program.
Hendrix College President Bill Tsutsui said the collaboration is "perfect for our community."
Conway Regional Chief Administrative Officer Rebekah Fincher called it "a true partnership."
She said last week that contract details were being worked out.
"The primary focus is this first phase, which kicked off in August with the athletic training," she said.
The plan is for Conway Regional Health System to renovate the Hendrix College Bookstore in The Village at Hendrix, a mixed-use development east of campus, to utilize for student health services, Tsutsui said last week. The bookstore's new home hasn't been decided, he said.
The clinic will also be open to the public, Hendrix employees and their dependents, according to the proposal. Now, only Hendrix students are seen at the clinic. Last year, the college enrollment was approximately 1,200.
"The first priority is going to be on students," Tsutsui said. "The students are always going to be able to go to the head of the line and get what they need. I think it's going to be a real amenity to students and The Village at Hendrix."
Construction is expected to begin Oct. 1 on the bookstore space, Hendrix and Conway Regional officials said. Nabholz is the contractor for the project.
Fincher said the goal is to have a soft opening of the clinic — which will have a name to be determined — in spring 2020 and be firing on all cylinders when Hendrix students return in fall 2020.
"We will work on a name that's fitting for both Hendrix and Conway Regional," she said.
Necie Reed, director of student health services at Hendrix, will be employed by Conway Regional.
"We're really thrilled," Tsutsui said.
Fincher said expanded services for students will be determined after talking with Reed.
"Obviously, the focus needs to be on students. What is key is, we're going to work in partnership with [Reed] to establish what that clinic needs," Fincher said.
The interior of the approximately 3,050-square-foot clinic will be designed "from scratch," she said.
The Hendrix College Office of Student Health Services is in a former home at 1541 Washington Ave., west of the main campus. Mental-health services will continue in that location for now, Tsutsui said.
Conway Regional will not provide those services at this time, Fincher said.
Hendrix students, who are required to have insurance, receive free health care on campus, according to the Request for Proposals.
When asked if the students will receive a number of free visits before insurance is billed, Rob O'Connor, vice president for marketing communications at Hendrix, said via an email, "We are finalizing arrangements and look forward to sharing those with the community as soon as they are complete."
In her response to the question, Fincher said details in the partnership related to the clinic are being developed.
Hendrix sent selected providers a request for proposals in March, with a deadline of April 29, and chose Conway Regional on May 21, Fincher said.
Tsutsui said the proposal was driven by a desire for the school to outsource its athletic-training program.
"We were looking for a better way to do our athletic-training program, which demands are higher and higher in every year. It's a strong and growing program at Hendrix. … That's how this whole thing started," Tsutsui said. Hendrix has 21 NCAA sports.
Amy Weaver, director of athletics and head softball coach, said the athletic-training profession changed its requirements. By 2022, athletic trainers must have master's degrees. Hendrix has been using graduate assistants as its trainers up to this point, Weaver said.
Tsutsui said it would have been difficult to hire all the athletic trainers needed at the "level of talent we expect."
"We said, 'What if we looked to partners?' It's become very common at colleges and universities to work with outside entities," Tsutsui said. "We had a couple of really great proposals, but I was particularly happy that we can work with Conway Regional."
Weaver said the arrangement with Conway Regional is similar to what other schools do.
"It's actually becoming quite popular for hospitals to go ahead and administer athletic-training services for colleges," she said.
Fincher said one of the advantages to having Conway Regional running the program is having multiple physicians who can back up each other, if needed.
Weaver agreed.
"We had a great staff, but this opens up the doors to do some things we hadn't done before, like EKG testing that's not required. With the number of doctors and physicians available, and specialties they have available, we can provide even more expanded services for our students," Weaver said.
"Obviously, we love that it's a local hospital, and it's here in town. I think it's going to be a great partnership," Weaver said.
Jason Carruth, Conway Regional Medical Center athletic-training services supervisor, said six staff members will work at Hendrix, including him. Four of the athletic trainers are new hires.
He will spend more time on the Hendrix campus to help with administrative tasks and to make sure the college's policies and procedures are in line with Conway Regional's, he said.
"That medical model will eventually be what everybody is doing, and we're doing it now," Carruth said. "The athletic-training staff is ensured to report directly up through physicians and health-care providers, rather than to athletics administrators."
He said three Conway Regional physicians who have already been working with Hendrix athletic teams will continue to be involved: Drs. Tom Roberts, Brad Tilley and Grant Bennett.
Carruth echoed what Weaver said about expanded testing being available with the hospital partnership.
"It dramatically increases the breadth of care to the student athlete," he said. "This year, we're going to start with high-risk athletes and do EKG screenings, which can pick up underlying cardiac issues."
The athletic trainers will continue to operate out of the Wellness and Athletics Center and the Sturgis Center at Hendrix.
"They have very good athletic-training facilities on the Hendrix campus that are absolutely adequate for handling the student population," Carruth said.
Fincher said this project is not entirely new for Conway Regional, which also has partnerships with several Faulkner County public schools to provide athletic training.
Matt Troup, president and CEO of the Conway Regional Health System, said the partnership makes sense.
"Both of our institutions share the same vision of providing quality and comprehensive health services to the greater Hendrix and Conway communities, and this collaboration will allow us to expand upon and enhance the programs currently in place," he said.
Fincher said several Hendrix alumni are physicians at Conway Regional Medical Center, and both the college and hospital are "cornerstones of the community."
"This is just a good, natural fit," she said of the partnership.
Tsutsui said Hendrix and the community will benefit from Conway Regional taking the lead.
"It's going to be a great thing," he said.
Senior writer Tammy Keith can be reached at (501) 327-5671 or tkeith@arkansasonline.com.
Sponsor Content