Mr. Catherine, the debut novel by Conway writer Stacey Margaret Jones, is a page-turning thriller about a crumbling marriage, a missing wife and her distraught husband.
And it all goes down in Little Rock. The Heights, the Arkansas River Trail, Cantrell Road, Cammack Village, Riverdale -- central Arkansas readers will likely nod in recognition when they come across these familiar locales and the characters Jones has created.
The book, published June 25 by Creators Syndicate, starts fast, opening with the disappearance of Catherine on a cold winter morning, her husband's frantic response and the revelation that this was a couple that had been troubled for some time.
The domestic noir and mystery that follows -- complete with sketchy underworld characters, details of Catherine's infidelity, lots of secrets, a pair of sweet dogs and enough Little Rock locales to satisfy crusty natives -- is an exciting read that takes actual willpower to put down.
Jones grew up in De Smet, S.D., and has lived in Conway since 2003 with her husband, the writer Jay Ruud, who retired as chairman of the University of Central Arkansas' English Department in 2016.
She is a Pushcart Prize-nominated poet and a former journalist who has also worked at a women's shelter, an advertising agency, universities in South Dakota and here, a global marketing services company and at a private school. Her current day job is market researcher.
The idea of exploring a marriage in a novel has been with her for about 20 years, she says, after coming under the spell of Edith Wharton's The Age of Innocence and Rebecca by Daphne du Maurier.
"It's such a rich topic for examination in a novel. People say that it's impossible to know what goes on between two people in a marriage. But in my early- or mid-20s, I started thinking that the [couple] themselves don't even know what's going on."
That germ of an idea gave her a few running starts at novel-writing, but each time the story would lose momentum and stall.
Finally, she found the conflict she needed for her story.
"It was when I had the idea of a crime," she begins. "Instead of breaking apart the marriage to look at it, I would really explode it and look at the pieces."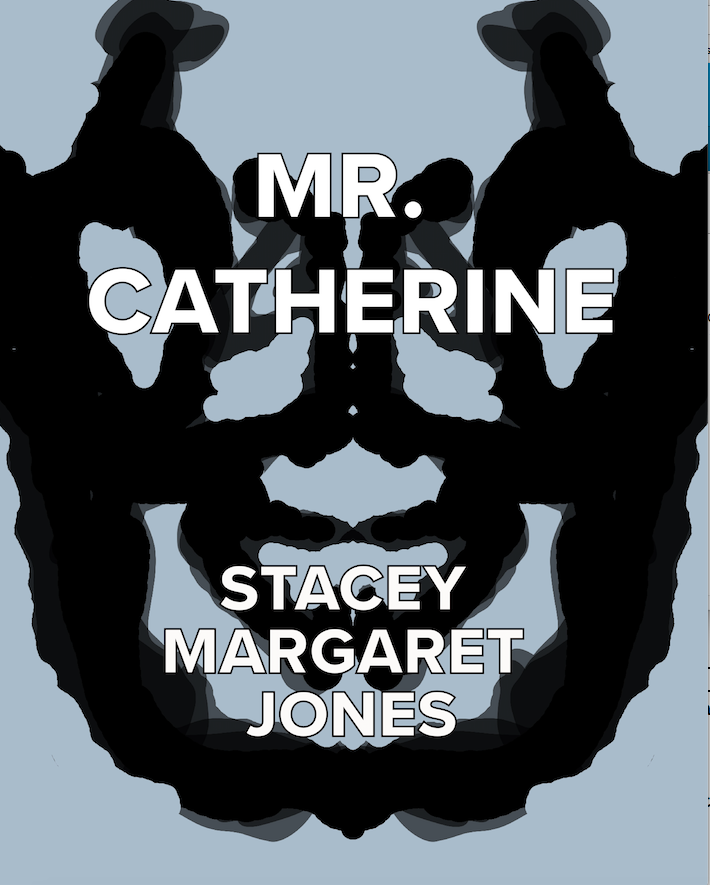 (Special to the Democrat-Gazette/Stacey Margaret Jones)
Indeed. The shrapnel of this relationship litters the pages of Mr. Catherine, which takes place over eight cold, gray days and follows the title character on his search for his missing wife.
"That's what kept me writing," she says. "There's that axiom: You should write the book you want to read. Sometimes I felt like I was reading along with the reader. You find out what's going to happen by writing."
And there were deadlines because Mr. Catherine was also her Master of Fine Arts thesis.
Jones enrolled in John Vanderslice's novel-writing class at UCA, where she had to produce 4,500 words a week for her book.
Vanderslice, who teaches in the Film, Theater and Creative Writing department, got to see Jones craft her story over the semester-long course, which met once weekly for three-hour sessions of feedback and writing.
"She is one of the most disciplined people I've ever met in my life, and she is also a very, very good writer," he says. "My class might have helped her bring it out, but she had it all in her to begin with."
He calls Mr. Catherine "an acute psychological study of a person and a marriage that is emotionally engaging. It has everything."
Ruud, the author of the Merlin Mystery series, was also a help.
"We work really well together," Jones says. "We're also lucky because we're good readers of each other's work. I have someone who understands what I'm doing and how to make it better. I hope I do the same thing for him. I read all of his books, chapter by chapter as he writes them, and give him feedback."
Jones finished her first draft in 2013 and says her approach to Mr. Catherine's setting was influenced by being able to see the state capital from a distance.
"As someone who is not from Little Rock, I feel well-positioned to be a participant-observer," Jones says. "I live near enough to go to those places and look them over in a different way than natives might."
There's even an Arkansas-based fiction meta-moment when she has her narrator reference Jack Butler's 1993 novel Living in Little Rock with Miss Little Rock, and she writes about a charity benefit party that sounds like it came straight from the pages of the Democrat-Gazette's High Profile section.
Another compelling decision Jones makes is to write from a male perspective. The cuckolded Mr. Catherine, who is never named, tells the story.
"It surprised me, honestly, to write this book from a male point of view," Jones says. "I didn't really even try anything else. It's just the way that worked best."
By making him a therapist, though, she was able to instill him with more self-awareness than her other male characters. It also adds a delightful irony as the thoughtful analyst struggles with his own relationships.
"I did have to go back and toughen him up a little bit," Jones says. "I think he had more of a typical woman's voice in the first draft."
Of the two, Mr. Catherine is less bold than his wife and more insecure. He also still hasn't recovered from the pain of Catherine's betrayal. He sort of wallows in it, actually, and Jones deftly navigates their tangled history through flashbacks, meting out revelations steadily but with control.
Jones started working on another novel even before this one was picked up by Creators Syndicate, though there were times when she wasn't sure if she should continue.
"I have this book that isn't even published, why am I working on a second one," she says.
Any doubt melted away after Creators picked up Mr. Catherine.
"Once I got that email from Creators, I felt much freer," she says. "The biggest emotion I felt was relief. I was really happy, but that came after. My first sense was, 'Oh, thank God.'"
Style on 08/18/2019