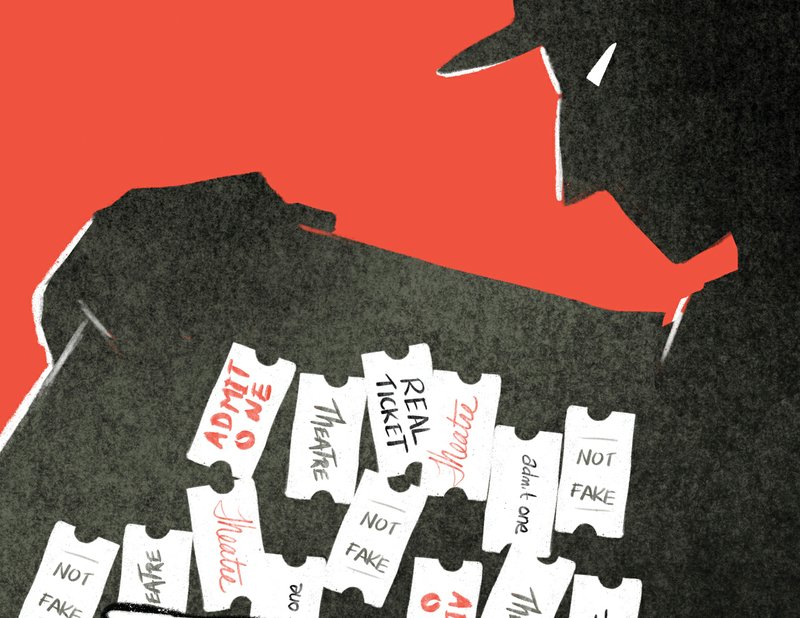 (Arkansas Democrat-Gazette/NIKKI DAWES)
Ticket buyer, beware: diligence could save you a bucket of ducats.
As the fall season gears up, area performance presenters and arts organizations are warning that scammers -- including scalpers and counterfeiters -- are waiting to pounce.
Scalping -- selling a ticket to any event by "any person, corporation, firm or partnership" above its face value -- is illegal under Arkansas Code § 5-63-201 (amended in 2015 to factor in Internet sales). Upon conviction, violations are subject to a fine of "not less than $25 nor more than $500" for each "sale or offer for sale."
Then-state Sen. Cliff Hoofman of North Little Rock got his 1993 bill enacted into law.
"I had just come back from the University of Colorado where my daughter was attending," he says, adding they had gone to a football game, "where I was introduced to real scalping." He bought tickets from a young man in front of the stadium, "and paid an atrocious price for them. And it was obvious that the guy who sold them had a pocket full of them."
Now, ticket-scalping has mostly migrated to the Internet. "And it ought not to be that way," Hoofman says. "It's a sad thing that it's so commonplace that people buy tickets to events ... charge such outrageous prices for them."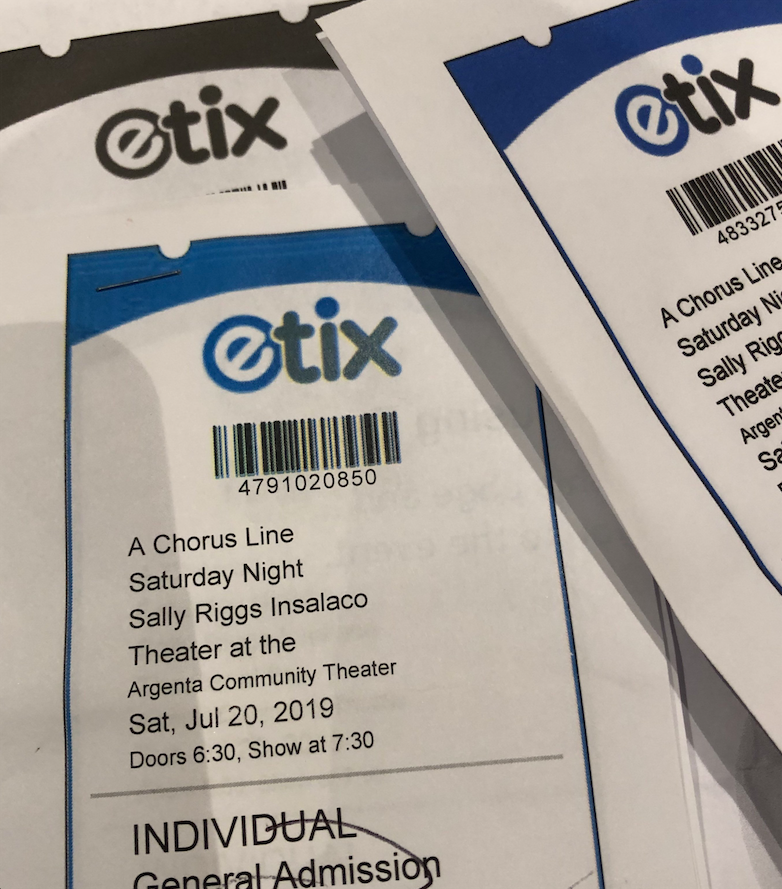 A scammer duplicated the ticket template on the eTix online platform to create counterfeit tickets to A Chorus Line last month at Argenta Community Theater. Because the run of the show sold out, the theater, seeking to maintain good will for current and future patrons, scrambled to try to accommodate as many of the holders of fake tickets as they could. (Special to the Democrat-Gazette)
SYMPHONY 'SCALPING'
Third-party sellers have been plaguing the Arkansas Symphony Orchestra, says associate marketing director Brandon Dorris. Patrons looking to buy tickets for pops concerts -- $16-$70 on the orchestra's website, arkansassymphony.org -- have been unsuspectingly paying as much as $200 apiece for those tickets.
In most cases, Dorris says, buyers encounter these sites via an Internet
search engine. A technique called "search engine optimization" lets resellers pay to hike their listing toward the top of the heap.
"The ticket reseller logs in to our ticketing software, buys the tickets and ships [them] to the patron," Dorris says. "It'll come with disclaimers that 'You may notice that the name and the face value of the tickets don't match what you paid -- that's fine.' We've had people who've paid four to five times as much as they should have."
That's assuming brokers are just overcharging. "We've had several people show up at the box office who never received their tickets and we can't find them in our database."
Dorris points to two resellers, secureboxoffice.com and Viagogo.com, as "places that have scammed our patrons." The former, according to a statement from the orchestra, has been selling $36 tickets for $91 or more. "One reseller was trying to sell that same ticket for as much as $271. In many cases, the patrons don't even know they've been gouged until they show up to get their tickets."
A check of secureboxoffice.com found listings through Sept. 5 for several Arkansas Travelers games and concerts at Verizon Arena, Robinson Center Performance Hall and First Security Amphitheater. Tickets to an Aug. 6 game between the Travelers and the Northwest Arkansas Naturals that on the Travs website (milb.com/arkansas/tickets/single-game-tickets) were $9-$13 were going, apparently via resale, on secureboxoffice.com for $10-$49. None of the current listings were for Arkansas Symphony performances. The company has a customer service telephone number -- (877) 582-9297 -- but it takes callers into a phone tree that requires an order number to connect.
Viagogo.com lists tickets to an Aug. 31 comedy production at Robinson Center called "The 85 South Show," for which Ticketmaster is selling tickets for $40-$55 plus fees, as going for "from $62.62." Viagogo does not have a phone number for customer service, and email contact with its help desk requires a customer log-in.
"If you're not on the arkansassymphony.org web page, you're probably not getting the right [price]," Dorris says.
The orchestra reached out to the state attorney general's office, which has confirmed that resellers are violating scalping laws, "but it's very difficult, next to impossible, to prosecute because the entities behind these companies are hidden behind the Internet," Dorris says. The attorney general recommends contesting any overcharge through your credit card company. Amanda Priest, the office's director of communications, suggests that consumers, artists and venues that have been targeted are encouraged to a file a complaint -- call (800) 482-8982 or visit ArkansasAG.gov.
The orchestra does get back the actual face value of the ticket plus any handling fees, Dorris says, but "it's the patrons who get taken to the cleaners."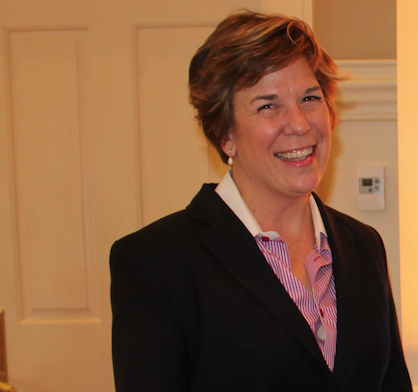 ASO Executive Director Christina Littlejohn (Arkansas Democrat-Gazette/RACHEL O'NEAL)
The biggest hit is not to the orchestra's bottom line but to its image: "We already fight with the impression that we're not accessible ... We put in a lot of effort to make prices accessible.
"The first real indication that something was wrong," Dorris said, came in October when a neighbor who had attempted to buy tickets for the orchestra's Star Wars pops concert approached ASO Executive Director Christina Littlejohn and said, "'You know, I would really like to attend more symphony concerts, but at $200 a ticket, I just can't afford it.' Christina was shocked because our most expensive single ticket is $70." For $200 you can buy a full six-concert Masterworks season ticket -- prices are $48-$210.
Where is the dividing line between a legitimate ticket broker and a scalper? It's fuzzy. The attorney general's office declined to specify and referred a query to the Better Business Bureau. Janet Robb, president/CEO of the Arkansas Better Business Bureau, in turn, says the BBB "is not licensed as an organization to give legal advice." She does say the BBB has "not been seeing a whole lot of [recent ticket scalping] on our radar."
She has some common-sense advice: Be cautious, particularly with websites with which you're not familiar. "Just because it's on the Internet doesn't make it so," she says. She also recommends before giving a site your credit card information, check with the venue to see if it has "some sort of resell program for tickets that have been turned back in." If you think you've been scammed, file a complaint with law enforcement and/or the attorney general's office because it's better to put it on the record.
Also check with the BBB to see what its report is on an operation, whether anybody has filed a complaint, and to check the entity's service record.
PATRON'S 'HAIRCUT'
Would-be symphony patron Joseph Jackman didn't pay as much attention as he paid for tickets to the orchestra's May 12 pops concert at Robinson Center Performance Hall. That weekend, the orchestra was playing the score to the movie E.T. The Extraterrestrial as the film screened overhead.
Jackman, who lives in Farmington, was headed toward central Arkansas on Mother's Day. "We were going to a graduation in Russellville the day before, and I thought it would be nice to get a hotel and see a show in Little Rock," he says. A Google search took him to a site that listed the ASO pops concert among several options. "We'd seen similar shows at the [Walmart AMP in Rogers], for Harry Potter, and my wife really enjoyed those and she loves the movie E.T., so I thought she would really enjoy that."
The site provided a link to what appeared to be StubHub, an online ticket exchange company owned by eBay that most in the industry consider to be a legitimate ticket reseller, and booked two tickets there. He admits he didn't examine the transaction closely enough.
"I got a print ticket," he says. "I did notice there was a name on the ticket" that wasn't his, "but I just assumed someone else had bought them and was selling them and it was all legal and OK. I didn't second-guess it.
"I should have thought things were a little fishy, because the face value on the ticket says $21, and after taxes and fees and everything, I paid $76.60 [for two tickets]."
At the Robinson Center box office, Dorris had no record of the ticket purchase, and when Jackman provided the ticket details -- including the name on the ticket, Mark Hatfield -- that rang a bell for Dorris, Jackman recalls: "It's the same name they'd seen on similar issues like this."
There were still available seats, so Dorris got them into the concert. "Everything worked out," Jackman says. "It didn't ruin Mother's Day or anything."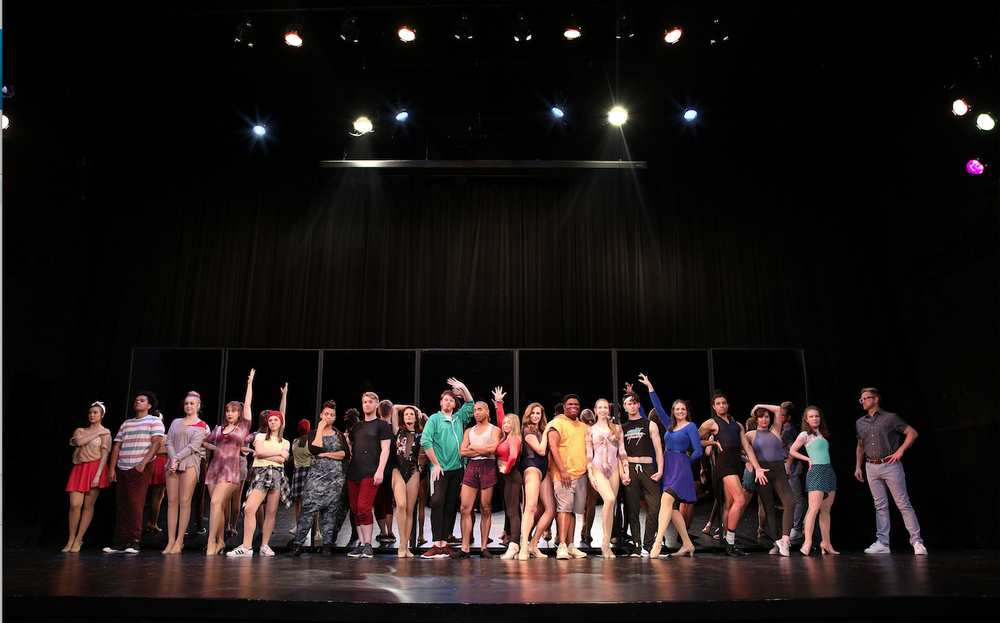 Sold-out shows of "A Chorus Line" may have made the Argenta Community Theater a target for ticket counterfeiters. (Special to the Democrat-Gazette)
ARGENTA COMMUNITY THEATER
A different scam hit Argenta Community Theater last month: Somebody duplicated the ticket template on the online ticket platform eTix, which the theater used at the time, to create counterfeit tickets to the sold-out run of A Chorus Line.
"It's been happening on a much smaller scale with previous shows," says the theater's executive director, Laura Grimes, maybe four or five apiece for productions of Newsies in February and A Christmas Carol in December. But "it has just blown up." She's thinking that patrons seeking a way to get tickets to the sold-out shows fell prey to "a crime of opportunity."
"I talked with our former [eTix] account manager and verified that none of these tickets were ever purchased through eTix," she says. "Literally, somebody has taken their ticket template and is pasting in fake data for the showtimes and dates and ticket purchaser's name. And they're selling them for anywhere from the actual [face] value to up to a couple of hundred bucks."
A little investigating, she says, turned up "dozens of ticket reseller sites. Putting any combination of 'A Chorus Line Argenta' or 'A Chorus Line Little Rock' into a search engine, you get pages of ticket sites that say, 'Oh, yeah, we have tickets [for] that.' Every single one looks like an eTix ticket." The theater saw between 12 and 20 fakes at every performance, "and for a house that seats 180, that's a lot." The scam even caught friends and family of members of the cast and crew.
The theater posted a warning on Facebook: "The only website where real tickets to our performances may be purchased is www.argentacommunitytheater.org -- any other website does not link to our ticket inventory. ... We are deeply troubled that some of our audience members may have been taken advantage of."
The theater also got scammed, Grimes says, "because we don't see any revenue for those tickets. The scalping law applies to real tickets, but these were never even tickets, just pieces of paper that didn't connect to anything."
The theater tried to accommodate customers who thought they had a valid ticket and in most cases, though not all, managed to shoehorn them into the theater. "Some of them were gracious enough to make a donation in the amount of what a ticket would have cost them, but that wasn't always the case," Grimes says. "Most patrons were understanding; there was only one couple who got rude about it."
PRO SHOWS
A spokesman for Arkansas Repertory Theatre says their box office hasn't recently reported anything substantial in the way of ticket fraud.
But at Robinson Center, "we've had issues with [third-party sellers] ever since we reopened the hall," in November 2016, following its two-year-plus rebuilding, says Deana McCormack, marketing manager for Celebrity Attractions, the principal promoter of touring shows at Robinson.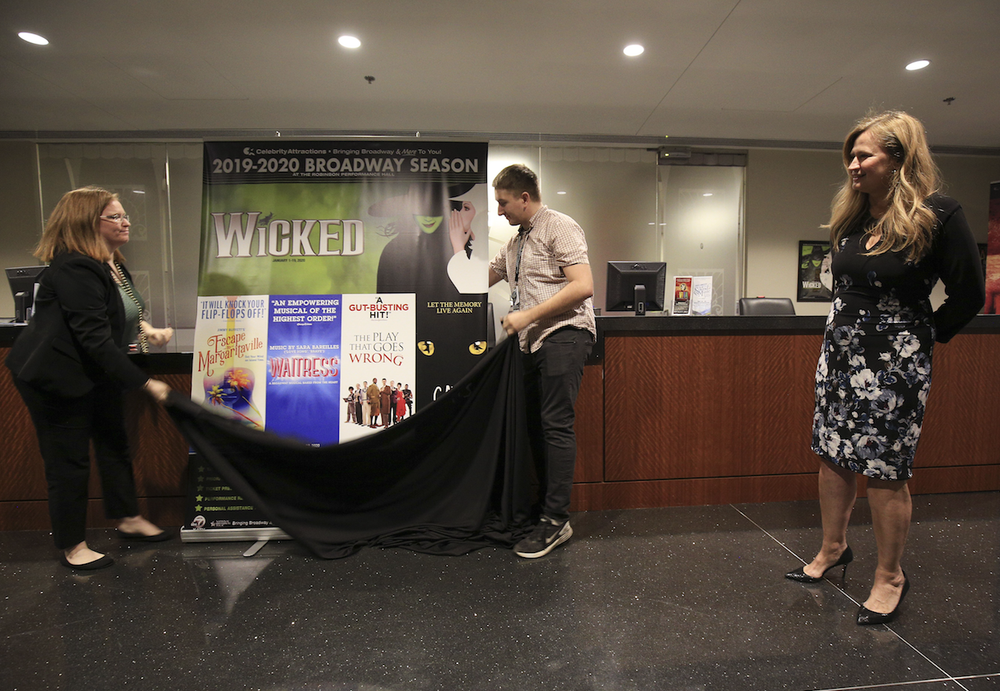 Marketing Director Deana McCormack (right) discusses Celebrity Attractions' 2019-20 season at Little Rock's Robinson Center Performance Hall in March. The presenter warns patrons in its materials that "Celebrity Attractions and Ticketmaster are the only official retail ticket outlets and the only way to guarantee that you are paying face value for legitimate tickets." (Democrat-Gazette file photo/STATON BREIDENTHAL)
"Every single show, we've had someone who went online and purchased tickets from a third-party broker, and most of the time it's just at a higher price," she says. "We have a database of people ... buying a maximum block of tickets via Ticketmaster. We can pull the accounts and see where the tickets were sent. Nine out of 10 times it is a legitimate ticket broker; they just upcharge the tickets."
Then there are brokers who sell tickets that don't yet exist. "Right now, for Wicked" -- the touring production set for Robinson, Jan. 1-19 -- "they're selling 'em on spec. Celebrity Attractions is not yet selling individual tickets," but resellers have started taking orders.
Various sites are peddling tickets to the touring production of Hamilton that Celebrity Attractions is taking to Tulsa, Tuesday-Sept. 8; a Google search for "hamilton musical in tulsa ok" turned up four resellers ahead of Celebrity Attractions' site. Hamilton tickets held at will-call will require an ID.
"That's one way to skin a scalper," McCormack says.
NORTH BY NORTHWEST
"Our staff works hand-in-hand with the tour managers and artists to set and enforce ticket purchasing limits," says Jennifer Wilson, public relations director for Fayetteville's Walton Arts Center and the Walmart AMP in Rogers, for which Walton Arts Center handles ticket sales. "If we notice suspicious transactions, we will follow up on them, going as far as to block accounts of suspected scalpers."
She has these tips for safe ticket-buying: Buy only from the venue or its authorized ticketing system, but if you do decide to buy from a resale site, check with the venue on availability. ("Some sites will say shows are sold out when they aren't and charge more for tickets.") And know the face value of tickets so you don't overpay.
The center's "Patron Assistance for Scalped Tickets" also recommends scalping victims contact their credit card company or bank "as soon as possible" and also consider canceling the card, "as the personal information the unauthorized ticket seller has obtained from you cannot be guaranteed as secure." Also, request a full refund from the website where they bought the ticket, and don't just settle for face-value refunds: "It is your right to demand a full refund."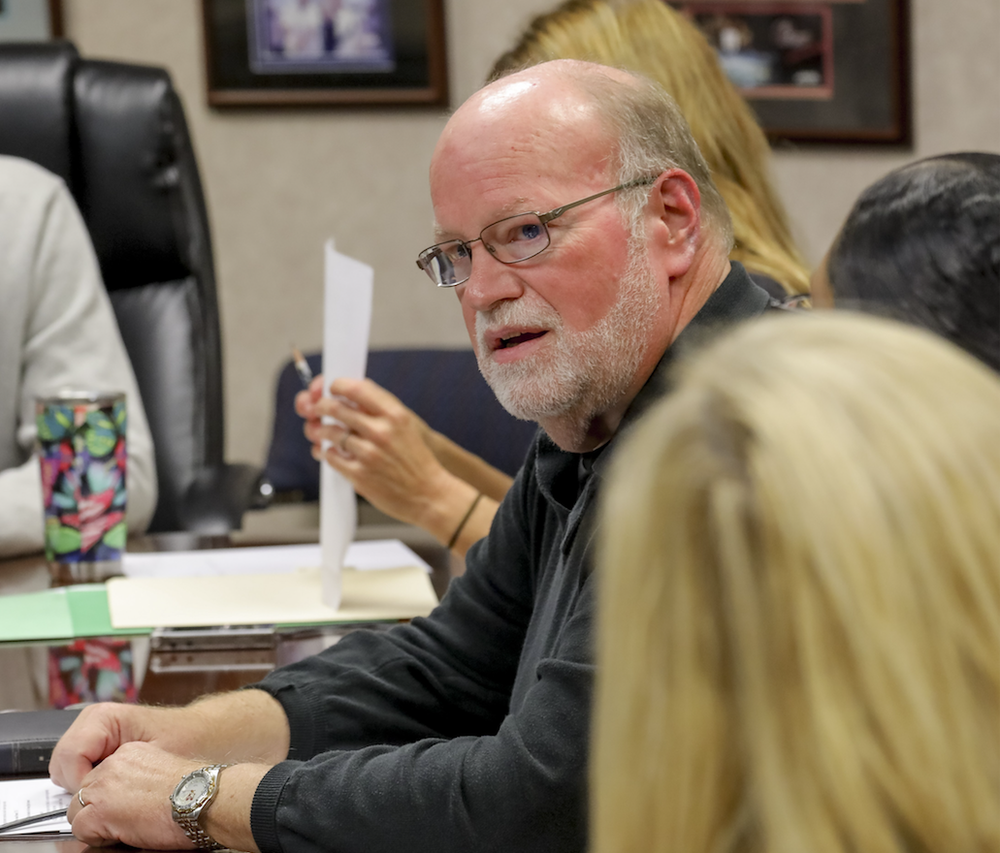 Michael Marion, general manager of Verizon Arena in North Little Rock, says the arena is using new technology to push back ticket scalpers and counterfeiters. (Democrat-Gazette file photo/JOHN SYKES JR.)
AT THE ARENA
At North Little Rock's Verizon Arena, manager Michael Marion says scalping is constantly on the minds of presenters at venues across the country. "A month ago I was in D.C. serving on a panel for the Federal Trade Commission about scalping," he says. "It's definitely a hot topic."
The methods have changed as technology changes. So have methods of stopping it.
"We used to have print-at-home tickets, and a scalper would buy a ticket and run five or six copies of it, and we wouldn't know about it until they showed up at the show," he recalls. "The first one would get in and the other five copies would be rejected."
They also for several years tried a credit-card-connected paperless entry system, "but we kind of had to quit," he says. "Used to be tickets went on sale a month out, six weeks out, but now shows are going up a year in advance. In that time, a lot of people, their credit card would change, expire, they lost it, something happened. Our credit-card resolution line was getting too long."
Now, he says, "it's all digital or a hard ticket. We've gone to this 'delayed delivery' [system]. If you buy a ticket from Verizon Arena, you'll see it on your phone: There will be a little clock on it counting down to when that ticket will be good. It's nontransferable until 24 hours in advance.
"It certainly thwarted the scalpers," he says. "I've been to some industry conferences where I've had a couple of scalpers tell me, 'I don't shop your building -- it's too hard.'"
The arena still enforces an eight-ticket limit for many concerts. "That's an old notion, but still effective, in limiting scalpers," Marion says. "These days you can monitor that -- see where a scalper has bought a whole lot of tickets, and we cancel 'em."
Google recently put into place a rule that resellers cannot use the venue name in a URL -- in the past, Marion says, "googling" Verizon Arena/tickets took you to a site with a URL like "boxofficeverizonarena.net" -- and sites must clearly identify themselves as resellers. "We sued a guy in Las Vegas about four years ago to get him to pull his down. But you can imagine, it's kind of a whack-a-mole thing."
Marion also has an issue with "speculative tickets": "We announce the show and suddenly every scalper says they have tickets, and we haven't printed one ticket."
The unscrupulous are always going to try something. "But I don't give up. I'm still fighting the fight."
Style on 08/18/2019
Print Headline: Overpaying the price
Sponsor Content