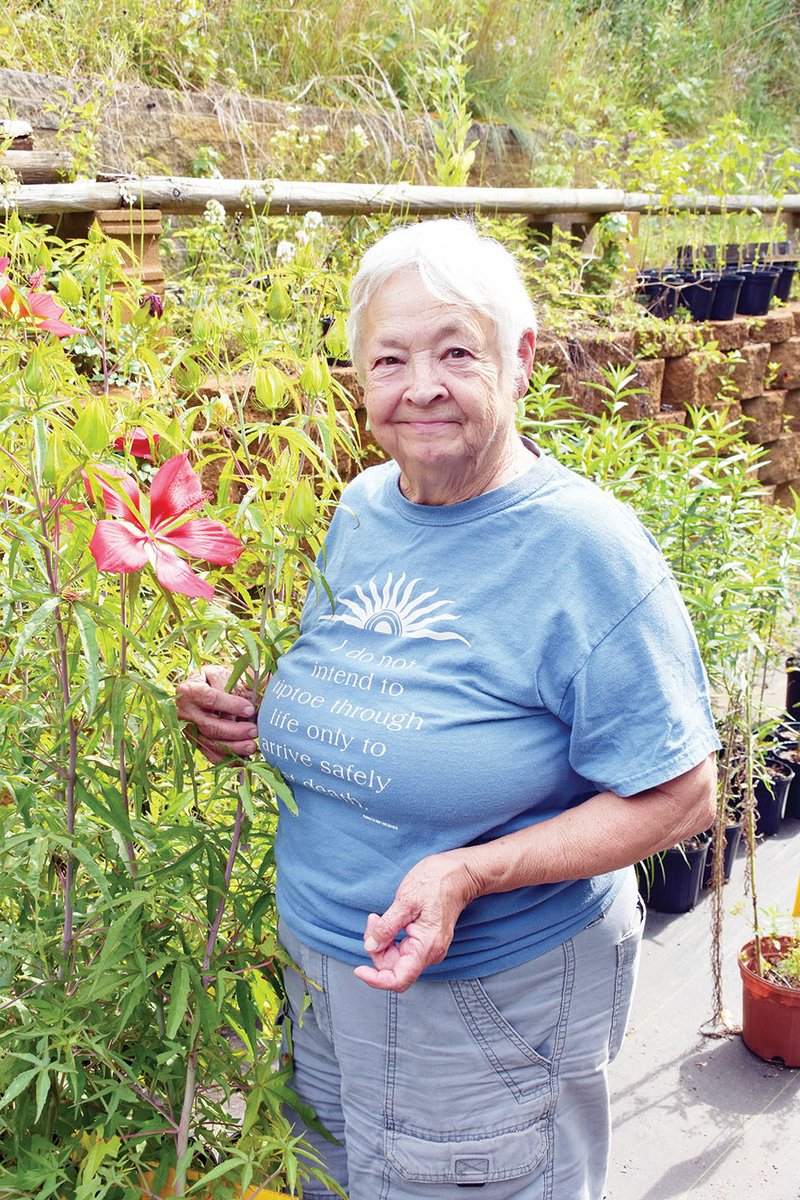 MaryAnn King takes a look at a hibiscus flower growing at Pine Ridge Gardens near London in Pope County. King, who specializes in raising native plants, will be inducted Saturday into the 2019 Arkansas Outdoor Hall of Fame, sponsored by the Arkansas Game and Fish Foundation. ( Staci Vandagriff)
Pope County resident MaryAnn King will be among five Arkansans inducted into the 2019 Arkansas Outdoor Hall of Fame, sponsored by the Arkansas Game and Fish Foundation. King is the founder and owner of Pine Ridge Gardens, a small specialty nursery north of London in Pope County.
Deke Whitbeck, president of the Arkansas Game and Fish Foundation, said King is often considered the most knowledgeable in Arkansas when it comes to using native plants in the landscape.
The Arkansas Outdoor Hall of Fame Banquet will take place at 6 p.m. Saturday at the Statehouse Convention Center in Little Rock. Tickets are $125 each; the event will include dinner, live and silent auctions, and the induction ceremony. Proceeds from the event will support the work of the foundation.
For tickets, call (501) 233-6468 or visit agff.org.
"I am honored and humbled by this recognition. I am amazed that anyone should even think to put me up for this award. Only a few women have received it," King said.
"Ms. King was mentioned to us by numerous people as a possible inductee to the Arkansas Outdoor Hall of Fame," Whitbeck said.
"She received overwhelming support and was a unanimous selection for the Outdoor Hall of Fame. The things she is doing at her gardens … and with native plants … all tie into what we are all about," he said, noting that the mission of the foundation is to support Arkansas Game and Fish Commission initiatives and to promote hunting, fishing and conservation education, especially among the youth of Arkansas.
"Ms. King is all about growing native plants, which support pollinators, habitats, food and forage … all a part of what we like to see. The foundation is not all hooks and bullets. … It's everything under the sun," Whitbeck said.
"Each year, the foundation, which is a nonprofit organization, recognizes men and women from across the state who have been instrumental in expanding the use and enjoyment of Arkansas' outdoor resources and broadening conservation education. I'm excited about Ms. King being inducted this year," he said.
"This is the third year for me to serve as president of the foundation board, and we have had a woman inducted each of those three years," Whitbeck said.
"When it comes to native plants, we all turn to MaryAnn King," said Phil Sims, Pope County Cooperative Extension Service agent for agriculture and staff chairman. "She is the expert, in my opinion. We're just fortunate to have her living in our county and readily available.
"This recognition is well-deserved. I am proud others realize the contributions she has made."
King is a lifetime member of the Pope County Master Gardeners, as well as a member of the Sierra Club, the Nature Conservancy, the Xerces Society and other environmental groups.
Born in Hot Springs, King started Pine Ridge Gardens in 1992. Her mission statement is simple: Helping restore the Earth.
"Native plants are plants that were here before Europeans arrived," she said. "Plants, insects and birds all work together in a circle of life.
"Insects evolved eating the plants that were native to the area. … Birds need the protein (insects), particularly to feed their young. When you don't have native plants, the insects seldom eat other plants, so the insects aren't as many. … If the insects aren't as many, then the birds have less food and cannot raise as many young. Fewer native plants mean fewer insects, and that means fewer birds. It's just a big cycle."
King said Pine Ridge Gardens strives "to produce quality native plants that will attract birds, butterflies and other pollinators to your garden." She said the business does this "with environmentally friendly methods without using dangerous or systemic pesticides."
When King moved to rural Pope County, "[I was] looking for a place with as much land as we could buy and that didn't have a house at the front of the acreage," she said.
"We found this place, and were able to make a deal on it," King said, adding that it was in 1975. "The house is way up there in the pines, … and we developed the gardens down here. We were living in Lamar at the time … just wanted some land where we could grow vegetables and let the kids grow up."
Within a year or so, she said, she realized she needed to get a job. She got a job in Russellville and worked there for about a year and quit. Then she got a job in the insurance business and worked there for "quite a few years but became disenchanted with it," she said.
"I had already joined the Daylily Society and the Iris Society, and that's what led to my interest in the environment," King said. "That was in the early '90s. I went to Arkansas Tech University, not for a degree, but just to learn. I studied basic horticulture, plant propagation, greenhouse management, plant pathology, plant taxonomy, dendrology, geology and entomology. I also took a computer class."
By then, King had started the nursery, and customers were asking for specific native plants. She also joined the Arkansas Native Plant Society, for which she has served as president, and joined the Ozark Chapter of the Arkansas Native Plant Society when it was established in the late 1990s.
King said she mostly grows plants from seeds.
"Some seed I purchase, much seed I have growing here, and then friends often share seed with me," she said. "No reputable nurseryman collects plants from the wild, and I certainly don't.
"Sure, there are exceptions, like removing plants that are going to be destroyed by construction or other valid reasons," she said. "I'm growing some plants for the Arkansas Heritage Commission. One plant, which is a rare and endangered species, was collected by a botanist for the commission because it was in an area where it probably would not survive, and I've multiplied it considerably."
King offers a few words to those wanting to "go native" in their backyard gardens.
"Remove plants that need constant spraying to keep them healthy," she said. "Do not use systemic pesticides. Remove plants that do not contribute to feeding birds or insects.
"Get over the idea that all insects are bad," she said. "Get over the idea that everything must look perfect. Study … learn. What is it that you want to attract? Do you want to provide host plants so butterflies will lay their eggs on them, in turn hatching into caterpillars and then into butterflies? Or do you want to attract mainly birds?"
King said Pine Ridge Gardens holds open houses in the spring and fall to help gardeners answer these and other questions.
Fall open-house days are scheduled for 9 a.m. to 4 p.m. Sept. 7 and 21. "Open" means rain or shine, she said.
For more information, visit the website pineridgegardens.com or call (479) 293-4359.
Sponsor Content