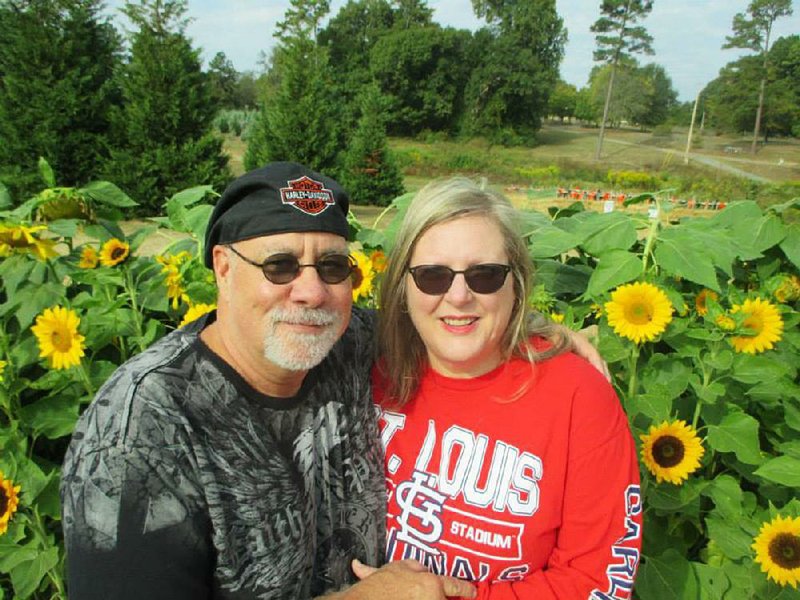 Mark and Angie Donaldson celebrated their 40th anniversary this year. Angie saw Mark's picture on a flier for his band, Spoonfed, and asked a friend to introduce them. He proposed after a winter storm stranded her on her way home from a Christmas visit.
Angie Hern wasn't quite as interested in the band on the flier her friend showed her as she was in the keyboardist in the picture.
Angie's parents had moved to North Little Rock from St. Louis in 1977, shortly after they bought some land in Hot Springs Village.
The first time I saw my future spouse:
She says: "You know how they say that it's an instant love, that you just know? That was it."
He says: "We clicked."
On our wedding day:
She says: "He was sick as a dog."
He says: "I had a 102 degree fever."
My advice for a long happy marriage:
She says: "Be honest. And be friends."
He says: "We're best friends."
"They loved this area so much they decided to move down here," she says. "It was only a year that we lived down here because they just couldn't make the living that they did in the St. Louis area."
It was the summer of 1978 when she saw the flier about a local band, Spoonfed, and zeroed in on Mark Donaldson.
"I said, 'Well, he's kind of cute,'" Angie says.
Her friend knew Mark, and Angie asked her to introduce her to him, which she did the next weekend at a get-together at someone's house after the band played.
"I didn't know if he was interested or not, but we were getting in the car getting ready to go and he leaned in the window and said, 'Hey, call me sometime,'" she says. "And I said, 'I'm sorry. I don't call guys.' And I said, 'If you want my telephone number, I'll give it to you.'"
They aren't sure where they went on their first date. Angie thinks he took her out for a steak dinner.
Angie, then 17, hadn't heard the band play that first night but after that date, she started going to watch their shows.
"We always had the girls come with us when we played," he says, adding that having them there seemed to ward off the "older women" who tried to hit on the band members. "Now we laugh because those are women were probably in their 30s."
Mark would drive to St. Louis on the weekends to see her sometimes, staying with her family when he visited. Occasionally they went out to eat or to a drive-in movie while he was there, or they would visit Angie's sister and her family.
"We didn't have a whole lot of time when he would come up," she says.
That Christmas, Angie flew to Little Rock to see Mark. On the way back to St. Louis, her plane was grounded in Memphis because of a winter storm. She called Mark to say she was going to have to spend the night there because she couldn't make it home, and he insisted she come back to his house.
"I just hitched a ride back to Little Rock area, and he said, 'Let's get married,'" Angie says.
They had discussed marriage but had planned to wait until the following summer.
"I didn't really want to wait until summer," says Angie, who had graduated from high school that December. "That seemed like forever. And we thought, 'Yeah, why not?' It just seemed like a really good idea. And it was."
They had the required blood tests done, and Angie's parents, who couldn't make it for the wedding because of the ice and snow, sent a notarized statement giving permission for her to marry. Mark's mother took her shopping in a department store for something to wear for the ceremony.
"I found a dress for $35 on a sale rack," Angie says.
Mark donned the suit he wore to church for their ceremony on Jan. 19, 1979, in the Argenta district of North Little Rock.
"There is a lawyer's office now on Main Street. A long time ago, it used to be a mortuary. For a brief stint, it was a wedding chapel, after it was a mortuary," Mark says. "You [could] have seven people for like $30, and you could have 14 people for $40. We went full-out and invited 14 people for $40."
It was raining hard on the day they married, and Mark was terribly ill.
The weather kept their speed down to five miles an hour for part of their drive to Memphis for their honeymoon.
"I had a high fever," Mark says. "We made it to the hotel, and they unloaded our car for us. I went to the hotel room, and we poured the champagne down the sink, and I went to bed."
After their honeymoon, Mark went to work as a machinist and Angie as a floral designer.
The Donaldsons, who live in Sherwood, have one son, Beau, who lives in Conway. They also have two grandchildren.
About 10 years ago, Mark was injured in a motorcycle wreck.
"I almost lost him," Angie says. "We've never taken anything for granted, especially after that. It's just been fun and we just handle whatever comes at us."
They don't consider, most days, that more than 40 years have gone by since Angie got snowed in and they decided to marry.
"I keep saying things like, 'When we get older ...' and then it's like, wait a minute, we are older," she says. "That reminds us that this life is short and we need to make the most out of it. I've been very, very lucky to be able to live my life with him. He's a great guy."
If you have an interesting how-we-met story or if you know someone who does, please call (501) 425-7228 or email:
kimdishongh@gmail.com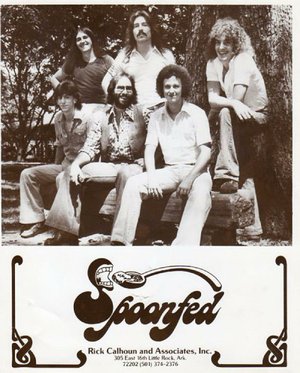 Photo by Special to the Democrat-Gazette
A flier shows members of Spoonfed. Front row: Denis Murphy, Mark Donaldson and Bobby Gibson. Back row: Tony Bures, Danny Stracener and Jim Metcalf.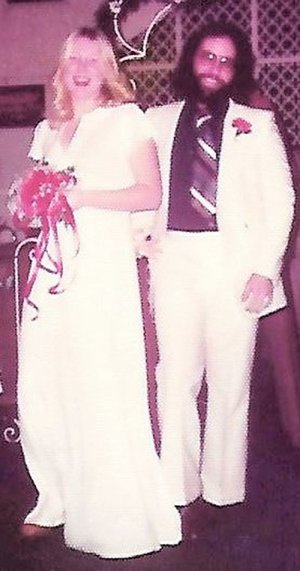 Photo by Special to the Democrat-Gazette
Angie Hern and Mark Donald- son dated for just five months before they decided to marry on Jan. 19, 1979. "I've been very, very lucky to be able to live my life with him," she says. "He's a great guy."
High Profile on 08/25/2019
Print Headline: Couple made the best of snow delay, got hitched
Sponsor Content