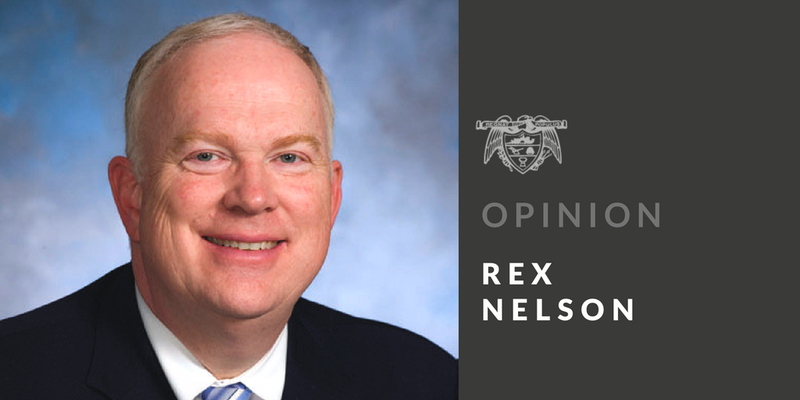 Another high school football season will commence this week in Arkansas. I realize that I'm one of the lucky ones.
My father, whose first job out of college in 1948 was at Newport High School as the Greyhounds' football coach, sold sporting goods to schools across the state when I was growing up. His big Oldsmobile was filled with footballs, helmets, shoulder pads and other samples that he would take from school to school. He sometimes would allow me to tag along on those sales calls and meet the coaches. Those colorful characters were the legends of my youth.
Early each August, my father would take me with him to the state coaches' clinic for several days. It marked the unofficial end of summer at our house. I would hang out at the Southwest Sporting Goods Co. booth during the day. Dad would let me swim at the motel late in the afternoon (at the Magnolia Inn or Howard Johnson's when the clinic was in Little Rock and at the Holiday Inn once it moved to Conway).
The highlight, however, was in the evening when coaches dropped by the Southwest Sporting Goods suite to visit. I would sit quietly in a corner and listen to legendary coaches such as Curtis King of Augusta, Sonny Gordon of Holly Grove, Buddy Harding of Clarendon and Joe Hart of McCrory swap stories. Once the season began, I would travel with my father to games he officiated.
As a boy who loved high school football, I grew up in the right place at the right time. My hometown of Arkadelphia had high school teams that played in three state championship games during the decade of the 1970s.
I watched the first of those three title games from the stands as an 11-year-old as the Badgers lost to Stuttgart in 1970 at Little Rock's War Memorial Stadium. I played in the second one as the starting center as we were upset by Mena in a game with a controversial finish in 1976. I broadcast the third one on the radio (then wrote the game story for the Arkadelphia newspaper) as Coach John Outlaw's first team beat Alma in 1979.
If you're among the lucky ones, you have a passion in life that equals what high school football means to me. Hopefully, you also had a teacher who inspired you to be all you could be, who pushed you further than you thought you could go.
For a lot of boys, that person was a coach rather than a classroom teacher. For me, it was Coach Willie Tate of Arkadelphia, who died in 2012 at age 69. He was my offensive line coach and a giant of my younger years, the type of man a whole town could look up to.
I graduated from high school in the spring of 1978 and immediately took two jobs--sports editor of the Daily Siftings Herald and sports director of Arkadelphia's two radio stations. I was also a full-time student at Ouachita Baptist University. There was little time for sleep, but I've never enjoyed myself more.
Outlaw was only 25 years old in the spring of 1979 when the Arkadelphia School Board hired him. He compiled a record of 84-20-1 in his nine seasons at Arkadelphia, winning two state championships. His 1987 team was the first Arkansas squad to be ranked nationally by USA Today. Outlaw then moved to Texas and compiled records of 57-21-1 at Sherman and 162-46-1 at Lufkin.
He died unexpectedly on the morning of Friday, Dec. 23, 2011, at his home in Lufkin following his morning run. Outlaw was inducted posthumously into the Arkansas Sports Hall of Fame in 2013.
Outlaw had always told me he would come home to Arkansas. He was buried at Arkadelphia, just a couple of miles from the school where he once coached.
"If I've done anything right in my life, I've used the gift God gave me, and that is to serve others," Outlaw once said.
The great ones do that. Fortunately, I've had a chance to be around many of the great ones in Arkansas.
My first job after college was as a sportswriter for the Arkansas Democrat. I was somewhere out in the state each Friday night in the fall, trying out local restaurants for supper before covering high school football games. I have vivid memories of standing in the cold rain at a pay phone in downtown Wilson to dictate my game story to a newsroom clerk following a 1982 state title game between Rivercrest and Stuttgart.
By 1985, I was the Democrat's assistant sports editor, and that meant coordinating coverage of high school football at a time when the Little Rock newspaper war had heated up. We would try everything--even calling police departments or superintendents at their homes after midnight-- to make sure we had every score in the state.
At about 2 a.m., someone would go to the Arkansas Gazette box next to that newspaper's printing plant, buy a copy of the Saturday edition and rush it back to our newsroom. We would then count to see who had the most scores. If the Democrat had the most, we would party in the parking lot across Capitol Avenue until daylight.
For almost 20 years, I've hosted a statewide scoreboard show that runs from 10 p.m. until midnight each fall Friday on more than 50 radio stations across the state. It allows me to stay connected to high school football. I've never met most of the correspondents who call us, but I feel as if I know them. I look forward to their calls each week. I consider them my fall family.
Here in Arkansas, high school football is the tie that binds many of us together.
Back in July, I was sitting at George's--a historic restaurant in Waco, Texas, that has served generations of Baylor University students--when I looked up at the television on the wall and saw some familiar faces.
George's, which began in 1930 as Harry B's, is filled with sports memorabilia. Everyone who follows sports knows that high school football borders on being a religion in Texas. So it's not a surprise that even though it was July, the television was tuned to Fox Sports Southwest, and the network was showing a documentary on a famous high school football coach.
The subject of the documentary was Outlaw, an Ozark native who played college football at the University of Central Arkansas before entering coaching.
I smiled and told my wife to turn around. The portion of the documentary that was playing as I waited on my chicken fried steak was about Outlaw's Arkansas years. Here I was in the heart of Texas--high school football heaven--and this room of Texans was hearing about high school football in Arkansas.
That was fitting because prep football is important in Arkansas too. Our stadiums aren't as large as those at the top levels in Texas. Our state title games don't draw as many people. But the competition is just as intense. It's fair to say that high school football is a key part of the cultural fabric of Arkansas.
When the phones start ringing during my scoreboard show this Friday night, I'll hear from men such as Walter Woodie and Leland Barclay. Like me and thousands of other Arkansans, they eat, sleep and breathe high school football. As I always remind my wife, who realizes that I won't be around on Friday nights from now until December, there are far worse vices a man could have.
Life is good in Arkansas. After all, another football season has arrived.
------------v------------
Rex Nelson is a senior editor at the Arkansas Democrat-Gazette.
Editorial on 08/25/2019
Sponsor Content