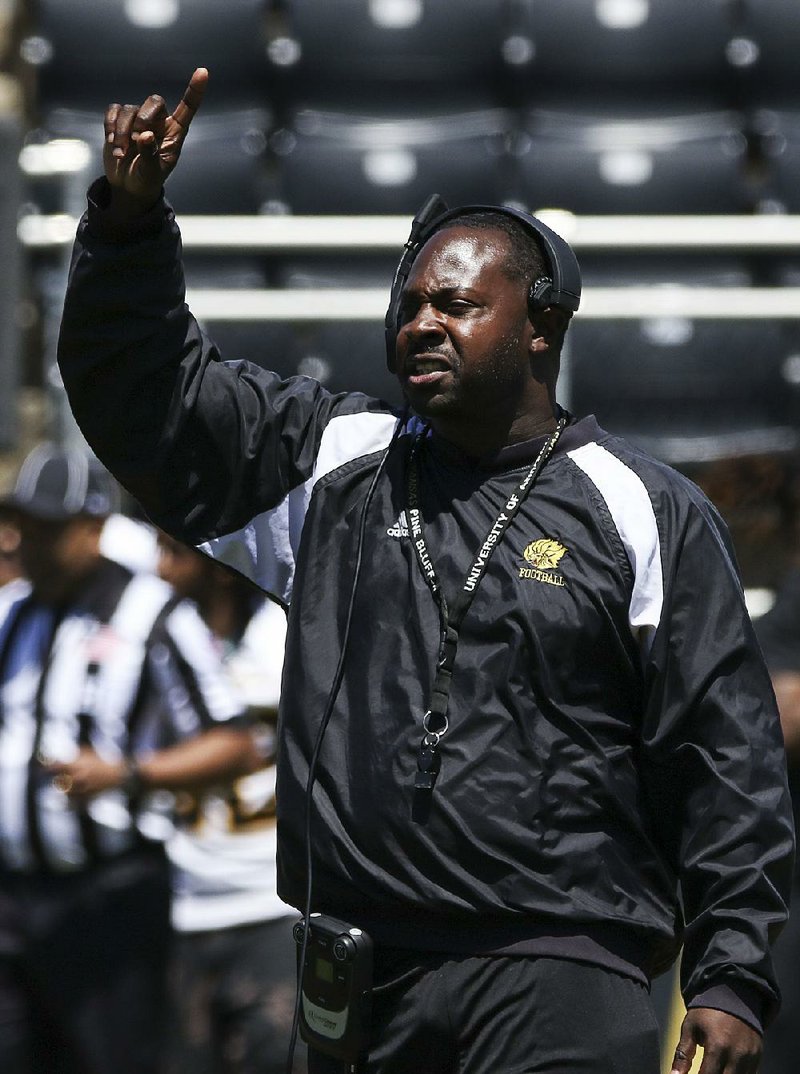 Coach Cedric Thomas was 2-9 at UAPB last season, his first with the Golden Lions, who are picked to finish last in the Southwestern Athletic Conference East again this season. "We should be last, but we're looking not to be last when it comes December," he said.
PINE BLUFF -- Before his first year back "home," Cedric Thomas had been used to winning.
Prior to returning to take over at his alma mater, the University of Arkansas-Pine Bluff, Thomas was an assistant coach at Alcorn State for six years.
UAPB schedule
DATE OPPONENT TIME
Aug. 31 at TCU 7 p.m.
Sept. 7 at Alabama A&M* 6 p.m.
Sept. 14 Langston 6 p.m.
Sept. 21 at Tennessee State 2 p.m.
Sept. 28 Southern* 6 p.m.
Oct. 5 Lane College 3 p.m.
Oct. 12 Miss. Valley State* 1 p.m.
Oct. 26 Grambling State* 1 p.m.
Nov. 2 at Jackson State* 6 p.m.
Nov. 9 at Prairie View A&M* 2 p.m.
Nov. 23 Texas Southern* 1 p.m.
*Southwestern Athletic Conference game
2018 results
DATE OPPONENT RESULT
Sept. 1 Morehouse College L, 34-30
Sept. 8 Cumberland W, 55-0
Sept. 15 at South Dakota State L, 90-6
Sept. 22 Prairie View A&M* L, 62-13
Sept. 29 at Florida International L, 55-9
Oct. 6 Jackson State* L, 30-27
Oct. 20 at Miss. Valley State* L, 48-47 (2OT)
Oct. 27 at Grambling State* L, 45-38 (OT)
Nov. 3 Alabama A&M* L, 45-14
Nov. 10 at Southern* L, 56-24
Nov. 17 at Texas Southern* W, 15-10
*Southwestern Athletic Conference game
In the time he was in Lorman, Miss. -- first as the school's defensive backs coach for four seasons before being promoted to defensive coordinator for the final two -- Alcorn State finished first in the Southwestern Athletic Conference Eastern Division each year from 2014-17 and won back-to-back conference championships in 2014-15. During that six-year span, the Braves compiled a 44-28 record.
UAPB -- the head coaching job Thomas would leave for after the 2017 season -- went 21-46 during that time and finished last in the SWAC Western Division each year from 2014-17.
So a 2-9 campaign in Thomas' first season back in Pine Bluff last year was a wake-up call. The rebuild at UAPB remains a long process, but Thomas believes he has the pieces coming together. He admitted he's trying to be more patient as he heads into Year 2.
"I came from a place where we had a lot of success and kind of took it for granted, just with some of the concepts," Thomas said. "I had to slow it down, just go back to football, 'Hooked on Phonics', and just teach the basic fundamentals and get to learn these kids for who they are and not what people said about them ... and we did that.
"So now we're just asking for consistency."
UAPB hasn't had a winning season since 2012, when the school finished 10-2 and beat Jackson State in overtime in the SWAC Championship Game. Since then, the Golden Lions have plunged into irrelevancy, going 13-53 over the past six years.
UAPB is picked to finish last again in the SWAC East this year.
"I think they got us right -- we should be [picked] last," Thomas said. "We'd rather sneak up on people and be in stealth mode and jump out the bushes and when it's over after four quarters, they say, 'Man, what happened?'" As opposed to everybody got us as bulletin board material. So we like it, and I think they got it right. We should be last, but we're looking not to be last when it comes December."
It's an all-hands-on-deck effort for the Golden Lions to turn things around in 2019, starting with filling the seats at Simmons Bank Field. UAPB announced in June that season-ticket prices would be lowered. A general admission season ticket has dropped from $90 to $60, while reserved seats have been lowered by as much as $130.
On the field, Thomas' biggest priorities are keeping a starting quarterback healthy for an entire season, improving a woeful defense and finishing off close games.
At quarterback, junior Shannon Patrick and sophomore Skyler Perry have had a steady competition throughout fall camp. Perry filled in for Patrick during the final eight games of 2018 after Patrick suffered a broken finger in his throwing hand. Thomas said neither one has separated during camp, and he was open to the idea of utilizing both during the season.
"It's a good situation," Thomas said. "[Our defense is] going against two of the best quarterbacks in this league [in practice], and that's what we're going to see day in and day out. So we're telling them defensively, if they can handle them guys and get disguising looks and change some things up, we should be ready for anybody on the schedule.
"Both will play. You got one that's really athletic and can throw it, and you got one that can throw it and is athletic enough to still do some of the run game stuff."
No matter who's the starter under center, the Golden Lions will rely heavily on the legs of senior running back Taeylor Porter, who led the SWAC in rushing last year with 1,220 yards to go along with nine touchdowns.
An experienced offensive line returns, as well as a number of talented receivers, including Dejuan Miller, who was the SWAC freshman of the year in 2018. Senior running back Keshawn Williams is healthy after missing all of last season with an injury.
"We got the best offense in the SWAC, no joke," Porter said. "We got a great O-line. We got great coaches."
On defense, things can only go up. UAPB statistically had the worst defense in the SWAC last year, finishing dead last in both scoring and total defense.
Since then, Thomas hired Jon Bradley, an Arkansas State University alum who played four seasons in the NFL, from North Carolina Central to be the new defensive coordinator and linebackers coach, replacing Juan Navarro. Thomas will also be the defensive play-caller this season, after not calling the plays last year.
And then there's the task of finishing off games. UAPB's 2-9 record last year could have been a little bit better if not for its shakiness in late-game situations. The Golden Lions were 1-4 in games decided by seven points or less, which included a loss in overtime and another in double overtime.
Thomas hopes added roster depth and improvements in strength and conditioning during the offseason with first-year strength coach Rashad Harris will help in that department.
What Thomas and UAPB will rely on even more so, though, is a culture change that has started to take root. Thomas said he dismissed 21 players from the program during his first year on the job.
He said he believes he now has a group that is "totally committed."
"There's a lot more buy-in," said senior defensive end Jalen Steward, who led UAPB in sacks last year with seven. "We learned so much from last year. It's a complete 360 from the culture standpoint. Guys are more focused. We're not skipping out on weights ... or missing curfew. Guys are just bought into the little things, and I feel like that's going to help us a lot."
Sports on 08/25/2019
Print Headline: Thomas makes adjustments after struggles
Sponsor Content