Baykali Ganambarr has been working to preserve the culture of Yolngu aborigines from the Northwest Territory in Australia. By himself and as a member of Djuki Mala dance troupe, he applies traditional moves to a hip hop beat, films the performance and posts it to Facebook. It helped him land another job.
"It started with a Facebook post. One of my Facebook friends tagged me on a Facebook post saying, 'Looking for an Aboriginal actor.' There was an email address there, so I kind of went for it. I emailed the company. A couple of weeks later, I went to do the audition," he says.
He landed the principal role of Billy in The Nightingale, the new film from writer-director Jennifer Kent who gained international for her feature debut The Babadook.
While Kent's previous movie was a contemporary horror film that received praise from Stephen King and William Friedkin (The Exorcist), The Nightingale is set in 19th-century Tasmania and deals with the sordid aspects of British colonialism. Billy works as a guide for a young Irish convict named Clare (Aisling Franciosi) on the trail of two soldiers (Sam Claflin and Damon Herriman) who've refused to release her though she's completed her indenture.
Despite the emotionally demanding role, the filmmakers wanted a big screen novice like Ganambarr for the part. When asked why Kent trusted the character to a newcomer, Ganambarr replied, "I'm not really sure. I remember talking to Jen, and I remember her talking about how the person she was looking for Billy's role was natural. When you've been to a film school, you kind of lose that naturalness. So I reckon she was looking for someone that was natural.
"I don't see a difference between acting and dancing. Dancing is live performance because I've been dancing my whole life and am pretty comfortable dancing on stage in front of an audience. I was kind of nervous at the start, but I just felt like it was still the same. It's just different when people are watching you and recording live and shooting you live. That's just the only difference I see."
Nonetheless, Ganambarr had to make as many adjustments for the role as his more seasoned peers. For example, he hails from Galiwin'ku or Elcho Island on the far north of the continent. The island of Tasmania is about as far south as you can go in the country. The distance between his island and the film's location was 2,128 miles.
"In Northern Territory it's always hot. Going down to the coldest place in Australia was a huge change for me," he says." There was so much challenges like shooting at certain destinations. Everything wasn't shot in the studio. It was shot out there. We had to climb mountains, go through forests and through this cold wilderness."
In addition, Ganambarr also had to learn to speak the language of the aborigines from that region, which is different from the one he grew up speaking.
"Where I'm from in the Northern Territory, we're pretty strong with our language. We still speak the language. There's a little similarity with the Palawa Kani language, but it was hard to learn the language and say it in the shoot. It was just so difficult for me, but I was so committed to telling the story and to speak the Palawa Kani language onscreen. The Palawa Kani people are regaining their language and their culture. To speak the Palawa Kani language on the big screen for the first time is such a responsibility and an honor," he says.
The Nightingale presents an unflinching view of the racism of the period and of how European convicts themselves were often treated as less than human. Many of the local white women insult Clare because of her sentence, and one of the soldiers rapes her repeatedly. Billy, ironically, receives similar treatment even though the local whites would probably die without his expertise in the territory.
"Billy and Clare went through so much in their lives. There was so much trauma. For Billy, watching his family being shot in front of him when he was a kid and with Clare dealing with the worst part of the scenes in The Nightingale. They start beginning to hate each other, obviously," Ganambarr says.
"Most people think this movie is about horror and revenge. How we see it, me, Jennifer and Aisling, we see it as a journey to find empathy, peace and love and kindness for each other and hope. It's our story. It's a shared story. It's acknowledging the history of Australia. I just love how Jennifer wrote the script. She's not sugarcoating the past. She's saying the history as it is."
While Kent's unflinching vision has alienated some viewers, Ganambarr isn't the only one who approves of how she depicted the past. Kent won a special jury prize at the 2018 Venice Film Festival, and Ganambarr won the Marcelo Mastroianni award for best newcomer. Previous recipients have been Jennifer Lawrence and Mila Kunis.
"I still can't believe it. I was so shocked, getting an award from (fellow Australian) Naomi Watts in one of the biggest film festivals was a huge thing for me. It was so nerve-wracking to stand up in front of hundreds of directors and amazing actors," he says.
Having been in Djuki Mala for six years, Ganambarr is no stranger to the spotlight or to travel. Still, visiting New York and Los Angeles on his current press tour has been a new experience for someone who grew up on an island of roughly 2,000 to 3,000 people.
"It's been an amazing journey. It's such a large place compared to where I'm from in Australia," he says. Ganambarr's next film starts shooting in October. As for other roles, he's also quick to note, "I know there's going to more calls coming in."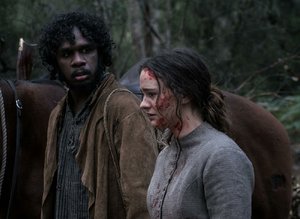 Billy (Baykali Ganambarr) and Clare (Aisling Franciosi) track down brutal British colonialists in Jen- nifer Kent's The Nightingale.
MovieStyle on 08/30/2019