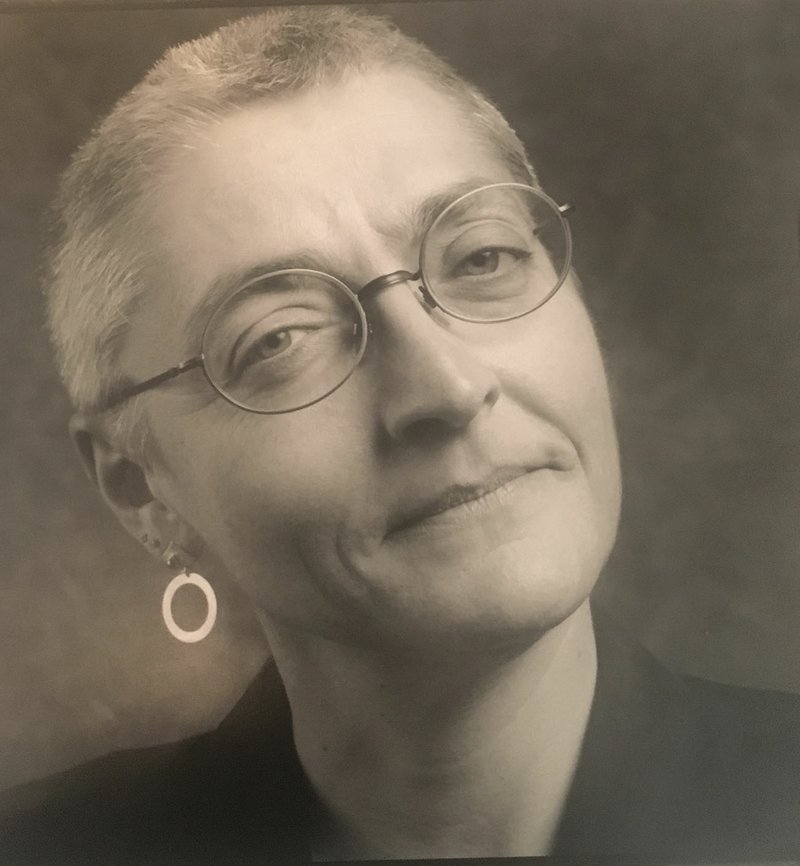 Photo courtesy Evi Seidman Evi Seidman says her character Groucho Groundhog -- with his trademark Groucho Marx mustache -- "explains that people may have their individual wells, but there is only one water. We share the water."
"Live your values aloud, not alone. Our open-minded, open-hearted spiritual communities help people lead lives of justice, love, learning and hope."
That's how the Unitarian Universalist Association introduces itself on its website. It goes on to explain that "the UUA's 1,000-plus member congregations are committed to Seven Principles that include the worth of each person, the need for justice and compassion, and the right to choose one's own beliefs."
Evi Seidman:
'It Could Be Verse'
When: 7 p.m. Sept. 5; doors open at 6:30 p.m.
Where: Unitarian Universalist Fellowship, 17 Elk St. in Eureka Springs; additional parking is available at Ermilio's Italian Restaurant
Cost: Donations welcome
Information: Email susan@susanstorch.com
With that in mind, it makes perfect sense that poet, freelance writer and performer Evi Seidman would be speaking at the Unitarian Universalist Fellowship in Eureka Springs. She's funny, she's a rebel with a cause -- the environment -- and she has Eureka Springs connections. It's a perfect fit.
"When I was living Eureka Springs in the early 1980s," she begins, "several women formed what became known as The Water Center. So much of Eureka's story is based upon water, its most valuable natural resource."
At that time, Seidman says, "aged sewage collection and potable delivery systems became the issue in our local geology, where brittle rock inevitably shifted and the old pipes were breaking and leaking." Seidman and another Water Center founding member, Pat Costner, a chemist, "became a sort of good cop/bad cop team, where I was the one who delivered a whimsical or poetic message that echoed the scientific or technical understanding of any waste problem."
That's how Seidman came to be a "standup environmentalist."
"My trademark of being a one-person cast of costumed characters was a style of speaking to many water quality issues," she remembers. Then "the Water Center invited me to join them in attending the United Nations International Environment Day Program in New York City. I opened for Richie Havens when I poured a glass of clear water from a giant Earth beachball and explained that the Earth is more than three-quarters water, but only one half of 1% is drinkable -- and there is no more coming. What we have is all we get!"
During her time in the city, Seidman says, "I saw so many strangers, I couldn't resist. Don't get me wrong; no one was stranger than my friends in Eureka. It was just that I hadn't seen any strangers in a long time, and I needed to talk to them."
It wasn't long before Seidman found herself moving to Boston and performing in middle schools around New England.
"I created new characters, including a comical courtroom judge who rapped, 'Here comes the sludge, here comes the sludge,'" she remembers. "Each year I opened the Boston Harbor Teachers Conference with a performance of skits and sketches, songs and rhymes, with characters [like] The Toxic Gourmet, a spoof on Julia Child cooking with chemicals; a fisherman fishing out of a toilet; and testimony from a stock broker on the market value of millions of gallons of treated water being wasted because people were not turning off faucets at home."
For many years, Seidman says, she performed at public and private schools, environmental conferences, colleges and universities, benefits for activist organizations such as Greenpeace and Pete Seeger's Clearwater [Festival]. At 7 p.m. Sept. 5, her topic at the Eureka Springs Unitarian Universalist Fellowship will be "Relax, It Could Be Verse," and at 2 p.m. Sept. 8, "Salute to Earth Cadets," a free children's program at the Eureka Springs Carnegie Library, will "recognize the roles of young people as future leaders in protecting life on Earth."
"Evi is an old friend of Eureka Springs," says event organizer Susan Storch. "We missed her humor and insight on events that challenged us in our daily lives and in the world. Her dialogue was always relevant -- and never more so than right now.
"During one recent visit, I asked her if she would like to perform for us in Eureka, and we immediately started planning for the occasion. It was agreed that it would be a small and intimate venue, and I immediately thought of the UU."
NAN Religion on 08/31/2019
Print Headline: Laughter for a cause
Sponsor Content