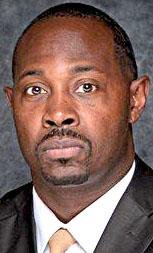 Cedric Thomas
Cedric Thomas won't be making his head coaching debut today against TCU, but after implementing a restoration process for the past year at the University of Arkansas at Pine Bluff, it may seem like it.
In his first season, Thomas overhauled the football program in its entirety while changing the mindset of his players at a school that had won exactly 11 games since 2012 -- the last time UAPB posted a winning season. Player dismissals, key injuries and schematic modifications throughout the season further slowed that progression and eventually led to an underwhelming 2-9 finish.
The second-year coach believes things will be much different in 2019, especially because he feels the program is where he envisioned it'd be when he took over.
"The culture is starting to be set," he said. "The foundation of our coaching staff and everybody in the building from an administration standpoint, the [athletic director] ... our name and our stamp is on it. When you have 22 dismissals in a calendar year, it says a lot.
"Some kids just didn't want to buy it, but now we've got kids that are all in. We've got the chips pushed to the middle of the table."
The Golden Lions are looking for a winning hand when they play the Horned Frogs at 7 p.m. at Amon G. Carter Stadium in Fort Worth.
"We've got our hands full," Thomas said. "Gary Patterson has done a great job establishing that program for close to 20 years. When you look at the consistency that they've had, being in the top 20 and a lot of times the top 15. But our kids relish the challenge.
"We're excited about going against one of the upper echelon programs in college football. It's a litmus for us to see where we stand before we get into conference play."
This is the first meeting between the two schools, but TCU is somewhat familiar with teams from the Southwestern Athletic Conference. The Horned Frogs beat Jackson State 63-0 in 2017 and Southern 55-7 last season.
Patterson, though, insists his team isn't taking UAPB lightly.
"Southern gave us all we wanted last year in the first half," said Patterson, who's entering his 19th season with the Horned Frogs and is the nation's second-longest tenured coach behind Iowa's Kirk Ferentz (21 years). "I think the parity in college football is a lot closer than what people give it credit for. One thing about I-AA schools is that they have really good players.
"You need to go into this game with emotion, and you need to get ready to play."
UAPB averaged 25.3 points and nearly 430 yards of offense per game last season. Junior quarterback Shannon Patrick and junior wide receiver Josh Wilkes, both of whom led the Football Championship Subdivision in passing and receiving before suffering season-ending injuries, are back as is senior running back KeShawn Williams, a former All-SWAC performer who led the team in rushing in 2017 but missed all of 2018 because of an injury. Combined with the returns of senior tailback Taeyler Porter, sophomore all-conference wide receiver Dejuan Miller and junior wide receiver Harry Ballard, a University of Missouri transfer, give Thomas an abundance of weapons on offense.
Sophomore quarterback Skyler Perry, who threw for 1,748 yards and eight touchdowns after Patrick went down, is also back, but Thomas has been undecided who will start against TCU. He did note that both Perry and Patrick will play.
Defensively, Thomas said that he's liked what he's seen, particularly out of a secondary that had its share of ups and downs last year. That side of the ball figures to be tested immensely by a TCU offense that's relatively young but experienced at the skilled positions. Kansas State senior transfer Alex Delton will get the nod at quarterback.
"There's things that he's not great at, and then there's some things that he's really good at," Patterson said of Delton. "But the one thing he has been really good at is the leadership in the huddle. He is very athletic, gets the ball out of his hands and throws the deep ball better than what you think he does."
While TCU is expected to go right at a UAPB defense that ranked last in the SWAC a year ago, the Golden Lions' offense has Patterson's attention.
"Every ballgame is important," he said. "They've got an All-American tailback [in Porter], he gained 170 yards against Florida International. They got a big wideout that just came from [University of Missouri]. They have a quarterback that got hurt the second game but can really throw it.
"If you don't get ready for a ballgame like this, then you become the nail, not the hammer and people get hurt. We've got to be ready to play."
UAPB at TCU
WHEN 7 p.m. Central
WHERE Amon G. Carter Stadium (46,000), Fort Worth
RADIO KOKY 102.1 FM, KPBA 99.3 FM, KARN 920 AM in Little Rock
INTERNET uapblionsroar.com/watch
TELEVISION Fox Sports Net
2018 RECORDS UAPB (2-9, 1-6 SWAC); TCU (7-6, 4-5 Big 12)
COACHES Cedric Thomas (2-9 in 2nd season at UAPB and overall); Gary Patterson (167-63 in 19th season at TCU and overall)
SERIES First meeting
COMMENTS UAPB has lost 12 of its past 14 season openers. The Golden Lions had dropped seven openers in a row from 2005-11 before beating Langston 17-14 in 2012. UAPB then lost its next four Week 1 games until it pulled out a 23-10 victory over Morehouse College in 2017. ... Senior running back Taeyler Porter ran for a SWAC-leading 1,220 yards and 9 scores as a junior. ... Cedric Thomas added three new coaches to his staff during the offseason. Jonathan Bradley is the new defensive coordinator, Jason Onyebuaga is the offensive line coach and run-game coordinator and Rashad Harris was hired as the director of sports performance. ... TCU is opening at home for only the eighth time in Gary Patterson's 19 years at the school. ... UAPB had three players -- Porter, WR DeJuan Miller and DL Jalen Steward -- named to the preseason All-SWAC team. ... Senior running back Sewo Olonilua ran for 635 yards and two touchdowns, while junior wide receiver Jalen Reagor caught 72 passes for 1,061 yards and 9 touchdowns last season for TCU. ... Three of the Golden Lions' first four games are on the road, including their league opener Sept. 7 at Alabama A&M. ... The Horned Frogs are 12-1 against Football Championship Subdivision opponents under Gary Patterson, with the lone loss coming to Southland Conference member Northwestern (La.) State 27-24 in 2001.
Sports on 08/31/2019
Print Headline: UAPB has early test with TCU
Sponsor Content