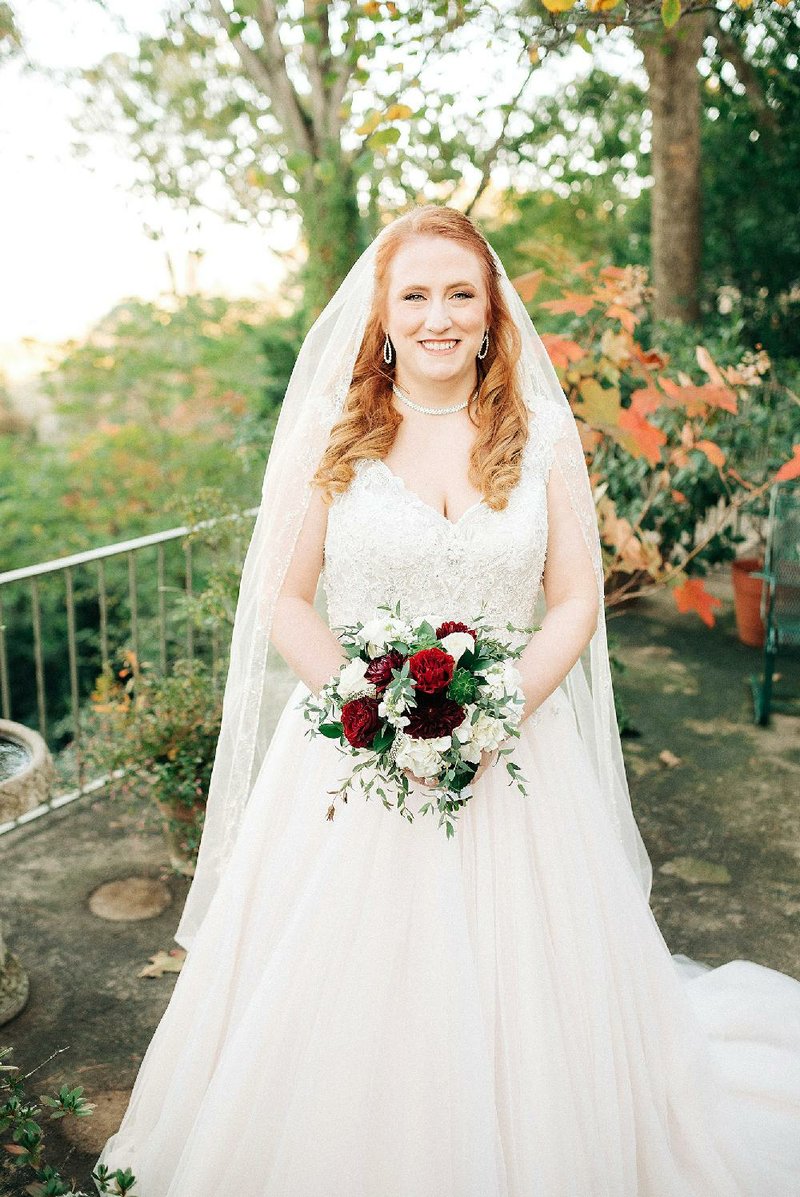 Anna Weston Squire-Babin
Trinity Episcopal Cathedral was the setting at 5 p.m. Saturday, Nov. 23, for the marriage of Anna Weston Squire and Klayton Patrick Babin. Officiating was the Rev. James Russell Snapp assisted by the Revs. Christoph Keller III and Charles T. Chapman Jr.
Parents of the bride are Nan and Dr. Arthur Edwin Squire Jr. of Little Rock. She is the granddaughter of the late Nannie and John Allmon Jr. of Dumas and the late Nancy and Arthur Squire of Fort Smith.
The groom is the son of Geri and Kenneth Paul Babin of Boyce, La. His grandparents are the late Loretta and Kevelyn Paul Babin of Gonzales, La., and the late Norma Jean and Gerald Wells of Alexandria, La.
The high altar was decorated with white and burgundy hydrangeas, snapdragons, larkspur, bells of Ireland, roses and ranunculus. Prelude music was by violinist Andrew Irvin and organist Jason Pennington-Saugey. Nuptial music was by organists Victoria Mathis Hardin, Steven Bullock and Charles Rigsby; and members of the Cathedral Choir, Christ Church Compline Choir and staff of the Arkansas Interfaith Conference Choir Camp. Soloists were Sarah Squire, sister of the bride; Stephanie Smittle; David Allison; and Adam Baldwin.
Escorted by her father, the bride wore a champagne A-line gown with a hand-beaded Alencon lace bodice and multi-layered skirt of English net. She carried a bouquet of hydrangeas, roses, dahlias and ranunculus with eucalyptus and succulents.
Katherine Elizabeth Cooper-Bussell of Pensacola, Fla., was matron of honor. Bridesmaids were Laura Squire Trott and Sarah Squire, both of Germantown, Tenn., and sisters of the bride; and Elizabeth Caldwell, Brandee Moss and Tara Edmondson, all of Little Rock. Junior bridesmaid was Abigail Trott of Germantown, niece of the bride. They wore midnight navy gowns and carried a smaller version of the bride's bouquet.
The father of the groom served as best man. Groomsmen were Trevor Carville of Baton Rouge; Matthew Peterson of Bryant; Jason Rector of Prairie Grove; David Henderson of North Little Rock; and Justin Hoppe of Little Rock. Seating guests were Joe Madden of Little Rock; Daniel Lambi of Astoria, N.Y.; John Allmon III and John Allmon IV, both of Memphis; and Joseph Gardner of Bermuda Run, N.C. Junior groomsman was William Trott of Germantown, nephew of the bride. Ring bearer was Keegan Cockrell of Little Rock.
After the ceremony, there was a reception at the Capital Hotel. Guest tables were decorated with white and burgundy arrangements of wedding flowers. Music was by the Diamond Empire Band
The bride has a bachelor's degree in environmental science and minor in music from the University of Central Arkansas. She is a business banking specialist with US Bank, a professional singer with Trinity Episcopal Cathedral and Christ Episcopal Church and founder of Opera in The Rock.
The groom has an associate's degree in business and is a financial adviser administrator and business development specialist with David Lukas Financial. He is also a professional soccer referee with United States Soccer Federation and a collegiate referee for the National Intercollegiate Soccer Officials Association.
The couple will live in Little Rock after a short trip to Asheville, N.C. They plan a delayed honeymoon to Costa Rica.
Gallery: Squire-Babin Wedding
High Profile on 12/01/2019
Print Headline: Anna Weston Squire Klayton Patrick Babin
Sponsor Content