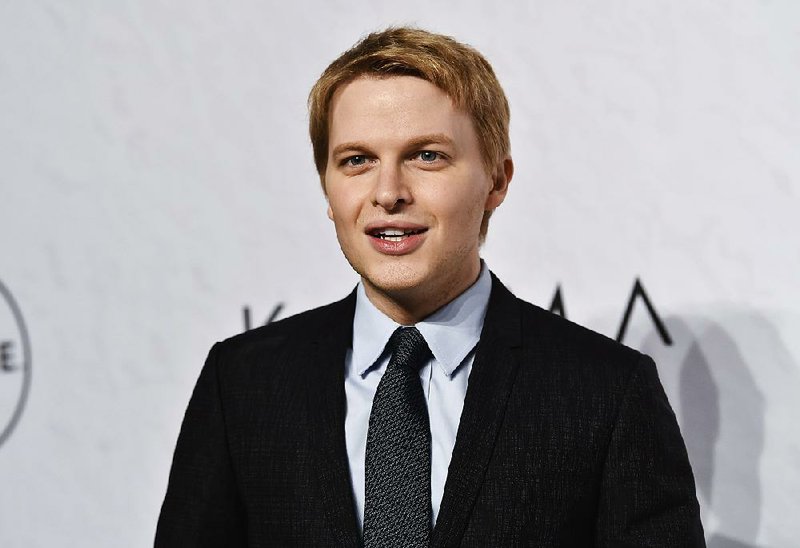 Journalist Ronan Farrow, whose recent book helped topple a Hollywood mogul, has released a companion show, The Catch and Kill Podcast.
Pulitzer Prize-winning provocateur Ronan Farrow today releases more of his highly anticipated companion podcast to his best-selling bombshell book.
The Catch and Kill Podcast promises new conversations with characters from Farrow's book, Catch and Kill: Lies, Spies and a Conspiracy to Protect Predators, which helped to bring down Hollywood mogul Harvey Weinstein.
From the episode notes: "For the past two years, Pulitzer Prize-winning journalist Ronan Farrow has been following a trail of clues from his investigation of Harvey Weinstein to other blockbuster stories about the systems that protect powerful men accused of terrible crimes in Hollywood, Washington and beyond. But he didn't bring that information to light on his own. A compelling cast of sources — from brave whistleblowers to shadowy undercover operatives — decided the fate of these investigations, sometimes risking everything in the process. The Catch and Kill Podcast brings you their stories, in their own words, for the first time."
The first episode, "The Spy," was already available last week. It is centered on Igor Ostrovskiy, a private investigator in New York who was hired in 2017 by a secret client to spy on Farrow. "Igor would eventually learn that the secret client was Black Cube, an Israel-based agency with roots in the Mossad, and they were working on behalf of Harvey Weinstein," according to the episode notes.
Weinstein, Farrow says, hired Ostrovskiy to "catch and kill" anything the young reporter uncovered. Journalists, Farrow learns, are often followed and placed under surveillance as he was, even though they don't all get lucky enough to be followed by Ostrovskiy. "The Spy," it turns out, had a conscience and felt that it was wrong to target the journalist, so he contacted Farrow.
"This is bigger than what was happening to me. This is bigger than Harvey Weinstein. This is something that has huge global implications," Farrow says.
"Citizen Lab's [an interdisciplinary laboratory based at the Munk School of Global Affairs at the University of Toronto, Canada] most recent investigation was into an Israeli cyber firm called NSO Group. NSO's flagship product is something called Pegasus, which is a suite of technology that enables its user to reach out and hack a telephone without any interaction from the phone's owner and turn that phone into basically a spy in your pocket. It can listen to what's happening in the room around you, obviously it can snoop on your calls, siphon off your messages and your personal photographs," Farrow says.
Farrow says it has been alleged that NSO software was used to target and kill Washington Post journalist Jamal Ahmad Khashoggi in Saudi Arabia. The phone of a friend of the journalist's may have been compromised by the software, exposing Khashoggi's personal details to his killers.
This is going to be good. Keep those episodes coming, Mr. Farrow.
A DAILY DOSE
The New York Times' perpetually No. 1 podcast, The Daily, last week began its series on 2020 presidential candidates. Pete Buttigieg, the 37-year-old Democratic mayor of South Bend, Ind., was the first to sit down in the studio with host Michael Barbaro.
Naturally, they spent a lot time talking about the mayor being gay, and Barbaro wanted to know what Buttigieg would say to his younger, still-closeted self.
"Back then I would have thought this other fact, if I dared to unpack it, this fact about my life, this way in which I was different, was the thing that could multiply all the other stuff by zero in terms of the impact I was going to have in the world. That I might very well choose that path but that the price would be that I wouldn't get to make a difference in public life.
"And if you want proof of God having a sense of humor, one of the things I'm seeing now, especially in the interactions I have on the campaign trail, the fact that this campaign is historic in a lot of ways, is that that same fact that I thought would mean never getting to this point might actually be one of the things that makes it matter the most. It's a strange thing to think about. That the one thing that I couldn't control, the one thing that might've meant that it would be better not to have any aspirations related to politics at all, could be the very thing that anchors the moral and emotional purpose of this entire campaign," Buttigieg said.
PICKING A PODCAST
A friend's text prompted me to listen to my first podcast. She had just listened to Serial, the groundbreaking true-crime podcast from NPR whose first season in 2014 introduced the world to Baltimore high school student Adnan Syed, who had been charged in the killing of his ex-girlfriend, Hae Min Lee. The text was in 2017, and I remember bingeing the podcast while sitting by a fire pit on a Friday night. Never mind that I was three years behind everyone else.
I was hooked, and I called the friend who turned me on to podcasting to thank her and ask for another recommendation. She urged me to listen to S*** Town, and it remains my all-time favorite. Those two mega-hits are still making headlines. Just last week, the Supreme Court declined to hear an appeal by Syed, who had been convicted. The Serial podcast had brought new information to light in the case, but it wasn't enough to sway the High Court and Syed will remain imprisoned.
S Town is embroiled in a legal battle in which the estate of the late John B. McLemore, whose emails to NPR calling for an investigation into an alleged murder cover-up in his Alabama hometown of Woodstock, which he referred to as S Town, argue that McLemore never gave consent for the podcast to use his story, required under Alabama's right of publicity law. The suit seeks to stop the podcast from using McLemore's likeness and banning it from granting movie rights.
S*** Town won a Peabody Award and has been downloaded more than 80 million times. It has been optioned for a film, but the project is on hold pending the outcome of the lawsuit.
All this to ask, how do you pick your next podcast? Do you rely on friends or the kindness of strangers? Well, friends can only help so much. Here are some other ways to discover new podcasts:
The Podcast Number,
podnumber.headliner.app;
(347) 815-9536. Just visit the website, put your phone number in and wait for a text from this new service. The first text you get will ask what type of podcast you're interested in, such as True Crime or Fiction. Or just type "surprise me" and get a random recommendation, although when I did this it took several minutes to get a reply. "Bailey" suggested I listen to an episode of The Big Idea with Andrew Horn titled "Nir Eyal — How to Become Indistractable in an Overwhelming World." Honestly, though, that doesn't sound the least bit interesting to me. I'll try the number again later.
Findthatpod.com is pretty simple. You just head to the website, type in your email address and look forward to a curated list in your inbox every week. Among the recommendations is one that I just might listen to called Science Rules, which was described like this: "Your favorite wacky scientist is back with a podcast designed to give the science part of your brain a righteous tickle. No question is too big or too small for Bill to tackle with a variety of science-minded guests. I know Bill Nye isn't for everyone, (his Netflix show was terrible), but this podcast is quite digestible in a way that won't give you any sort of indigestion."
PodRec is a new app for iOS and Android that combines social media with podcast discovery. It's easy to sign up with email or via Facebook or Twitter. You can import your subscriptions from your other podcast apps and also import your contacts to see if any of them are already signed up. Otherwise, you can find and follow folks who suggest what they say are interesting episodes of podcasts. If you're trying to escape social media, though, this method defeats that purpose.
PodSearch is an app that we've written about before, but it's worth a mention here. This is a simple way to discover podcasts by keyword or title. Or you can just search a particular genre, create your own MyPodSearch or just browse. Hit the New Shows button at the bottom of the screen and see what has just been released. It's not only functional, but it looks really good too.
Castro, the podcast player, has been updated and even has an Apple Watch app. Developers describe it: "Castro is a beautiful, full-featured podcast player that makes it easy to track and manage lots of podcasts at the same time. Only listen to the episodes you want and easily skip the rest, queue up hours of podcasts at a time and enjoy a seamless listening experience with Car Play compatibility, chapter support, trim silence and much, much more! Subscribing to a podcast is no longer a commitment to listen to every episode. You don't have to manage a huge list of subscriptions or choose a few shows and miss the rest."
Repod is a new app whose goal is to find you specific episodes worthy of a listen from what seems like an endless list of podcasts. It has a social aspect in that you can follow people and their recommendations. Here's how Repod describes it: "We specifically designed Repod for episode ratings and conversations. You can now cut through the noise, save time and only listen to the best episodes. Re-pod condenses those sharing moments and conversations into one central location. When you want to share or discuss a podcast with another friend simply type @ their username and write them a message."
Bello Collective, at http/bellocollective.com, offers a subscription to its recommended fiction podcasts, so you never miss a good story. I have yet to listen to a fictional podcast, but it's on my agenda.
Join the Podcasting conversation by writing to jmcleod@ arkansasonline.com .
Sponsor Content