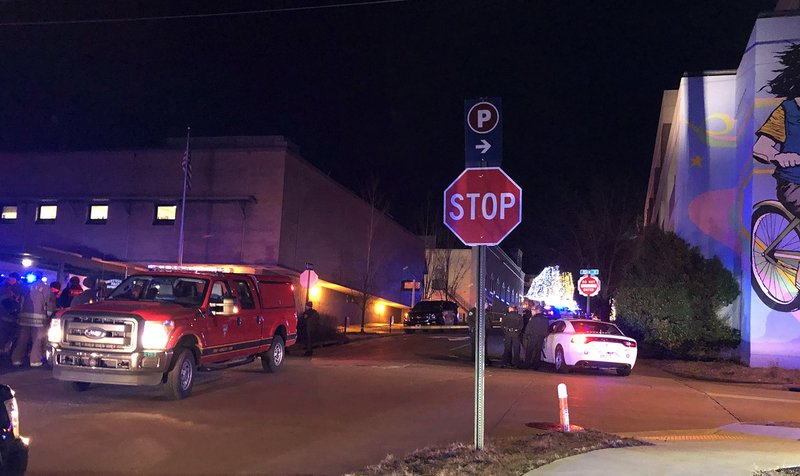 The scene of a shooting Saturday, Dec. 7, 2019 in Fayetteville. ( Stacy Ryburn)
A police officer in Northwest Arkansas was fatally shot outside a downtown police station on Saturday night by a gunman who was killed by responding officers a short time later, authorities said.
The gunfire touched off a panic at the nearby Fayetteville square, but police said they were not aware of an ongoing threat to the public.
The police department said in a statement that officers inside the facility heard gunshots about 9:40 p.m. "and immediately responded to the back parking lot."
"They found one officer down, and a suspect fleeing the area," police wrote. "Officers chased and engaged the suspect a short distance away, where the suspect was shot."
Gallery: Police officer fatally shot in Fayetteville
[Gallery not loading above? Click here for photos: arkansasonline.com/galleries/27986/album/]
"It appears that the suspect came into the back parking lot and just executed my officer," police chief Mike Reynolds said.
The shooting happened about 9:40 p.m.
Reynolds said investigators had no information on a motive.
[Video not loading above? Click here to watch: youtube.com/watch?v=bhEHnYkcAR4]
The names of the officer and the gunman have not been released.
The FBI has been called to help with the crime scene and the Washington County Sheriff's Office was also helping with the investigation.
Fayetteville's Police Department is near the city's square. According to reports, the shots were heard by people attending the Lights of the Ozarks on the square.
"As far as we know right now, we don't believe the public is in any danger," Reynolds said.
The Northwest Arkansas Democrat-Gazette has a reporter and photographer on the scene.
This story was originally published at 11:13 p.m.
Sponsor Content