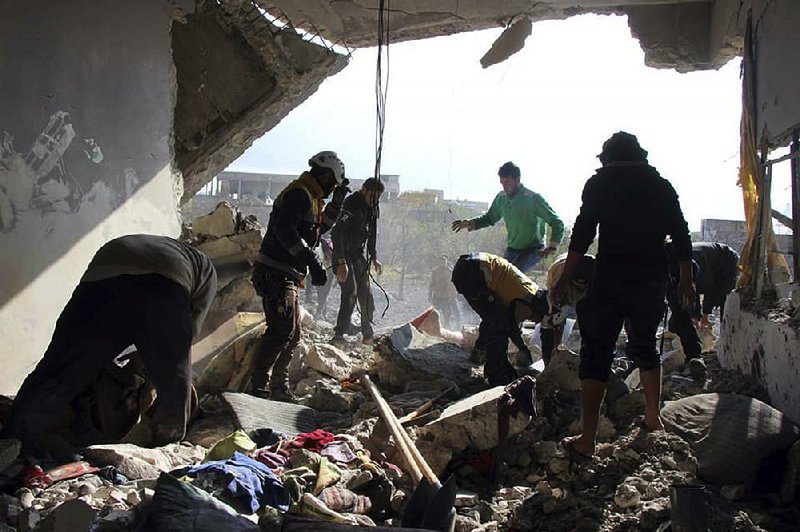 People search for victims Saturday under the rubble of a building destroyed by an airstrike in Ibdeita, Syria, in this photo released by the Syrian Civil Defense rescue group.
Deadly raids reported in Syria rebel areas
BEIRUT -- Airstrikes on areas in the last major rebel stronghold in northwest Syria killed at least 18 people Saturday, including women and children, and wounded others as a three-month truce crumbles, opposition activists said.
The airstrikes on Idlib province have intensified over the past few weeks as the government appears to be preparing for an offensive on rebel-held areas east of the province to secure the main highway that links the capital, Damascus, with the northern city of Aleppo.
The Syrian Observatory for Human Rights said 20 people were killed in Idlib province while the opposition's Syrian Civil Defense said 18 lost their lives.
The largest number of casualties occurred in the village of Balyoun, where the Civil Defense said eight people were killed while the Observatory said nine died. Both groups also said that four people, including a child and two women, were killed in airstrikes on the rebel-held village of Bara.
Both groups said that five others were killed in the village of Ibdeita. The Civil Defense said another child was killed in a nearby village in Idlib, while the Observatory said two more died.
Nobel laureate advises fixing planet
STOCKHOLM -- An astronomer who shares this year's Nobel physics prize for discovering a planet outside the Earth's solar system is taking issue with people who shrug off climate change on the grounds that humans will eventually leave for distant planets.
Didier Queloz was one of several Nobel laureates who spoke about climate change at a news conference Saturday in Stockholm.
"I think this is just irresponsible, because the stars are so far away I think we should not have any serious hope to escape the Earth," Queloz said.
"Also keep in mind that we are a species that has evolved and developed for this planet. We're not built to survive on any other planet than this one," he said. "We'd better spend our time and energy trying to fix it."
Several other Nobel winners also urged that climate change be taken seriously. The remarks came as a two-week global summit on climate change is taking place in Madrid.
Esther Duflo, one of the Nobel economics laureates, cautioned that dealing with climate change "will require a change in behavior, particularly in the rich countries" that are heavy consumers of goods and energy.
She disagreed with those who believe there is no need to consume less as long as that consumption is fueled by renewable energy.
"It would be great if that were the case but I don't think we can count on it necessarily," Duflo said.
M. Stanley Whittingham, who shared this year's Nobel chemistry award for helping to develop lithium-ion batteries, said "to help solve the climate issue, the time is right now, but we have to be pragmatic. ... We can't just turn off all the CO2."
Toll at 25 in shootings of Iraq protesters
BAGHDAD -- Iraqi officials said Saturday that the casualty toll had risen to 25 dead and 130 wounded after a night of attacks by gunmen that targeted anti-government demonstrators in the capital.
The attack Friday was among the deadliest since Oct. 1, when thousands of Iraqis took to the streets calling for sweeping political changes and the end of Iran's influence in Iraqi affairs. Security forces regularly use live rounds and tear gas to disperse the demonstrations, leading to heavy casualties.
The gunfire continued until the early hours Saturday. The assailants first unleashed the deadly assault on Baghdad's Khilani Square and Sinak Bridge, driving through the areas that are the epicenter of the popular uprising. Protesters said the electricity in the square was cut, creating chaos as they ran from the bullets and took cover in mosques and on streets.
Three among the dead were policemen and the rest were protesters, the officials said.
Anti-government activists have sought to blame supporters of Iran-backed Iraqi militias, which have staged similar attacks against protester sit-ins in the capital and the country's southern cities.
India rape accuser dies from fiery attack
NEW DELHI -- A rape victim in northern India who was set on fire while heading to a court hearing in the case has died in a New Delhi hospital, officials said Saturday.
The woman was attacked in the state of Uttar Pradesh by a group of men that included two of the five she had accused of gang rape last year, police said. The two were out of custody on bond.
Five men were arrested in the fiery attack, police said.
The 23-year-old woman suffered extensive injuries and was airlifted Thursday from Uttar Pradesh to Safdarjung Hospital in New Delhi, where she died late Friday of cardiac arrest, said Dr. Shalab Kumar, head of the hospital's burn unit.
Yogi Adityanath, the state's chief minister, said that the case would be heard in a fast track court and that the "strictest of punishment will be given to the culprits."
-- Compiled by Democrat-Gazette staff from wire reports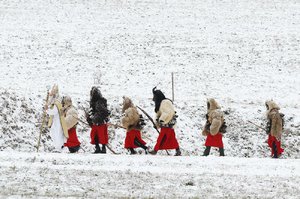 Photo by AP/PETR DAVID JOSEK
Revelers depicting grim reapers and devils accompany St. Nicholas on Saturday in Valasska Polanka, Czech Republic. The traditional pre-Christmas procession goes through the village door-to-door, with St. Nicholas presenting children with sweets as the other characters try to frighten them.
A Section on 12/08/2019
Print Headline: Axing nukes off table, North Korea says Toll at 25 in shootings of Iraq protesters Burned rape accuser dies in New Delhi India rape accuser dies from fiery attack Deadly raids reported in Syria re...
Sponsor Content