Cookies, candy and fruitcakes are mainstays during the December holidays.
Whether for enjoying at home with loved ones, leaving out for Santa or packaging in bags and boxes with pretty bows to give as gifts, a bite of something sweet hits the spot.
As much as we love the classic versions of these sweet treats, sometimes we yearn for something just a little bit different.
So ...
Instead of boozy, artificially colored fruit and nut studded cake, we took a fresher, lighter route and made madeleines filled with hazelnuts, white chocolate and dried cranberries — the essence (minus the booze) is still here, but these little cakes are ready to eat and share the same day they are made. They will keep in an airtight container (such as a zip-close bag) at room temperature for up to 3 days or in the freezer for up to 2 months.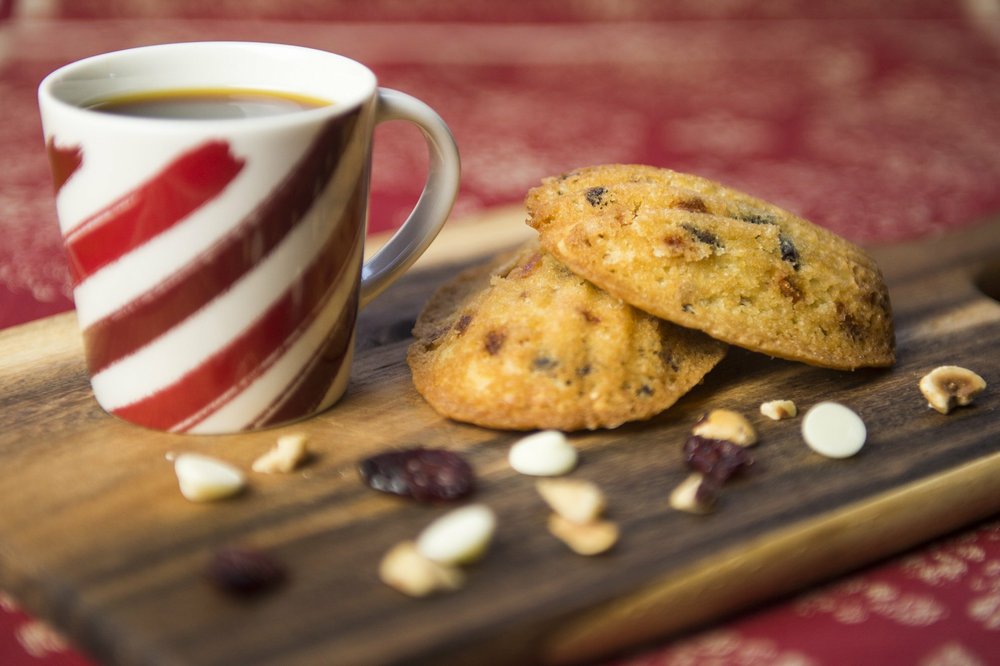 Arkansas Democrat-Gazette/Jeff Gammons White Chocolate, Cranberry, Hazelnut Madeleines
White Chocolate, Cranberry, Hazelnut Madeleines
5 tablespoons softened butter, PLUS more for pan
½ cup all-purpose flour
¼ teaspoon baking powder
¼ teaspoon fine salt
½ cup granulated sugar
1 egg, at room temperature
1 teaspoon vanilla extract
Heaping ¼ cup toasted and chopped hazelnuts
Heaping ¼ cup white chocolate chips
¼ cup sweetened dried cranberries
Heat oven to 350 degrees. Coat each well of a 12-shell madeleine pan with butter or spritz with baking spray.
In a small bowl, whisk together the flour, baking powder and salt.
In a separate microwave-safe bowl, combine the sugar and 5 tablespoons of butter. Microwave in 30-second increments until butter melts. Whisk until smooth. Add the egg and vanilla, whisking until blended. Add the flour mixture and whisk until flour is completely incorporated. Stir in the nuts, white chocolate and cranberries.
Using a spoon, fill each well of the madeleine pan ¾ full (you may have a little batter leftover). Bake for about 12 minutes, or until madeleines puff and edges are golden brown. Cool in pan for several minutes, then invert onto a rack and cool completely. If madeleines stick to pan, gently pry them away using an offset spatula.
Makes 12 madeleines.
Recipe adapted from Madeleines: Elegant French Tea Cakes to Bake and Share by Barbara Feldman Morse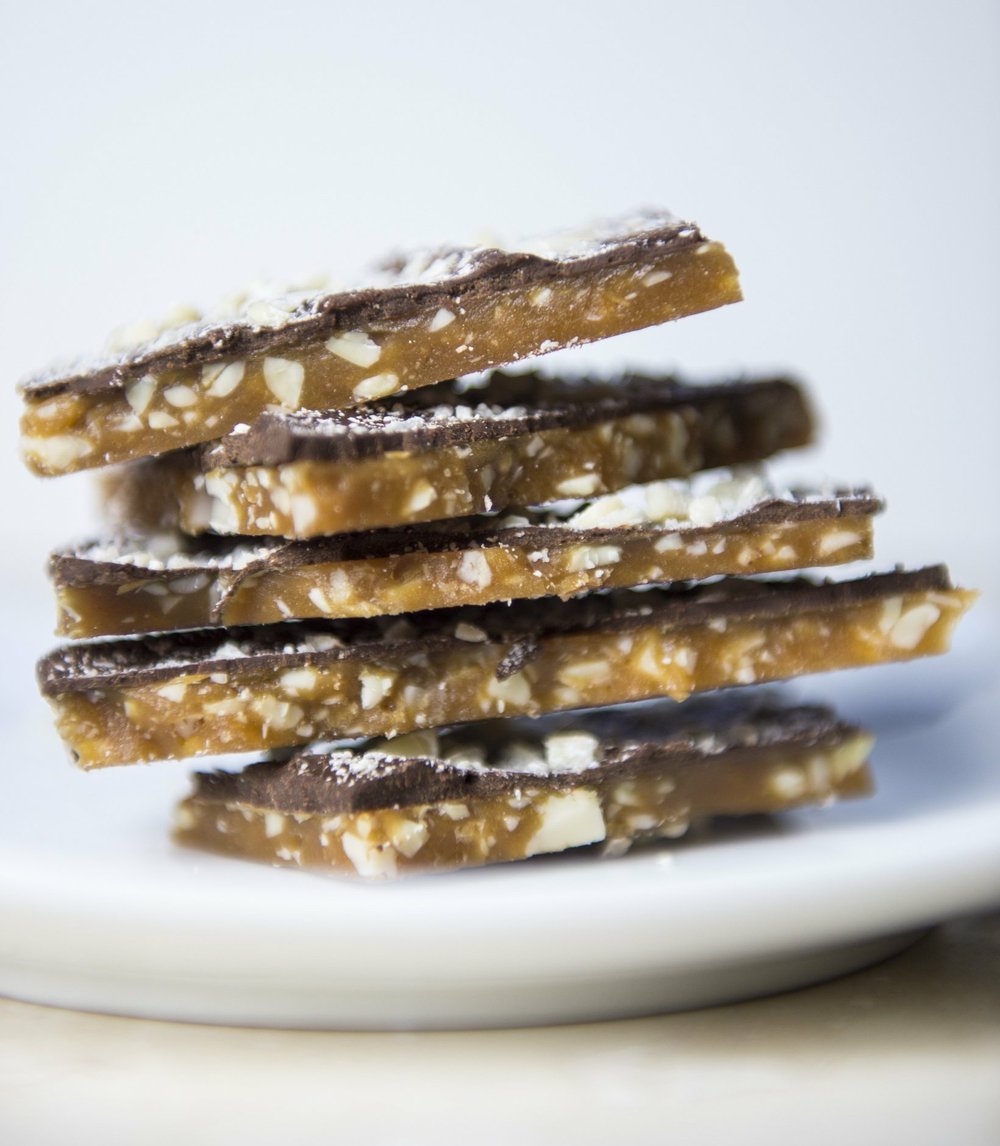 Arkansas Democrat-Gazette/Jeff Gammons Coffee Toffee
Coffee gives this toffee a buzz-worthy depth of flavor while a coating of bittersweet dark chocolate enhances the sweet-and-salty combination of sugar, butter and nuts.
Coffee Toffee
1 cup (2 sticks) butter
¾ cup granulated sugar
¾ cup light brown sugar
¼ cup strong brewed coffee
1 tablespoon white corn syrup
¼ teaspoon salt
¾ cup slivered almonds, roughly chopped
8 ounces dark chocolate, chopped
½ cup finely chopped walnuts, almonds, or pecans, optional
Generously coat a rimmed baking sheet with butter, then line with parchment paper, leaving a little overhang on two sides.
In a heavy-bottomed saucepan, combine the butter, sugars, coffee, corn syrup and salt. Cook, stirring, until sugar is moistened and mixture comes to a boil. Insert a candy or deep-frying thermometer and boil, without stirring, until mixture reaches 280 degrees, about 30 minutes. Remove from heat and stir in the slivered almonds. Carefully pour mixture onto the prepared baking sheet and using a heat-safe rubber spatula, quickly spread it in an even layer. Let cool for about 30 minutes.
Using a double boiler or in the microwave, melt the chocolate, stirring until completely smooth. Pour melted chocolate over cooled toffee, spreading evenly with a heat-safe spatula. Sprinkle with finely chopped nuts, if using. Let stand until chocolate is set and toffee is completely cool. Lift toffee from pan using the parchment overhang. Break into pieces. Toffee will keep in an airtight container at room temperature for 2 weeks.
Recipe adapted from Holiday Cookies: Prize-Winning Family Recipes from the Chicago Tribune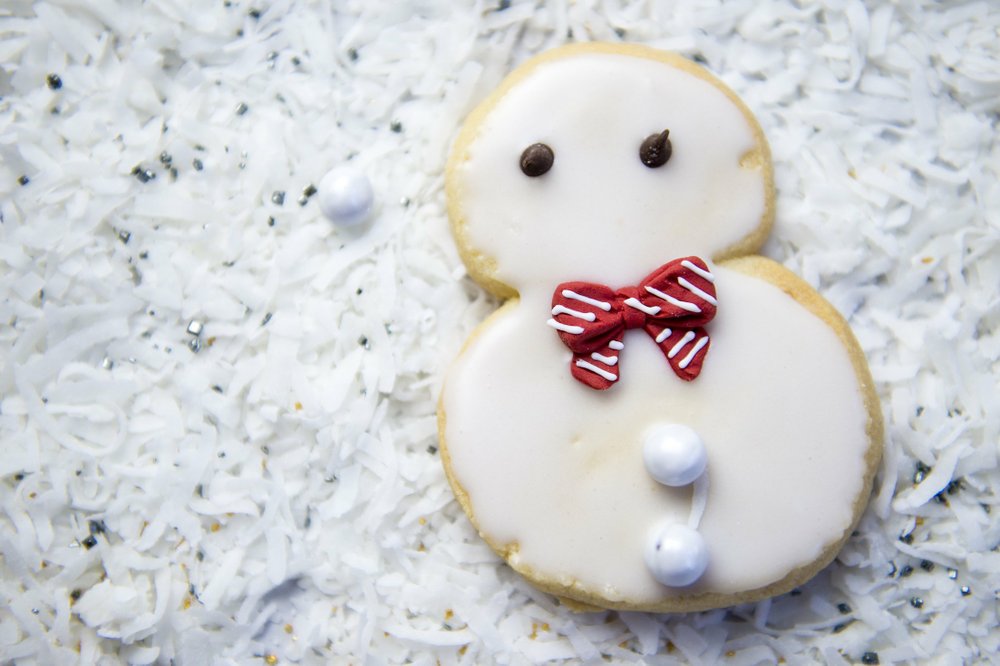 Arkansas Democrat-Gazette/Jeff Gammons Snowmen Cookies without coconut
This sugar cookie recipe stands out because it doesn't require a cookie cutter to create these cute little snow people. The trick is all in the baking process. The dough is shaped into two logs, one thicker than the other and, then sliced into rounds. By placing a large round and a small round just touching on the baking sheet, the dough bakes into a snowman shape. A simple confectioners' sugar glaze, shredded coconut (optional), mini chocolate chips and sugar bow ties do the rest.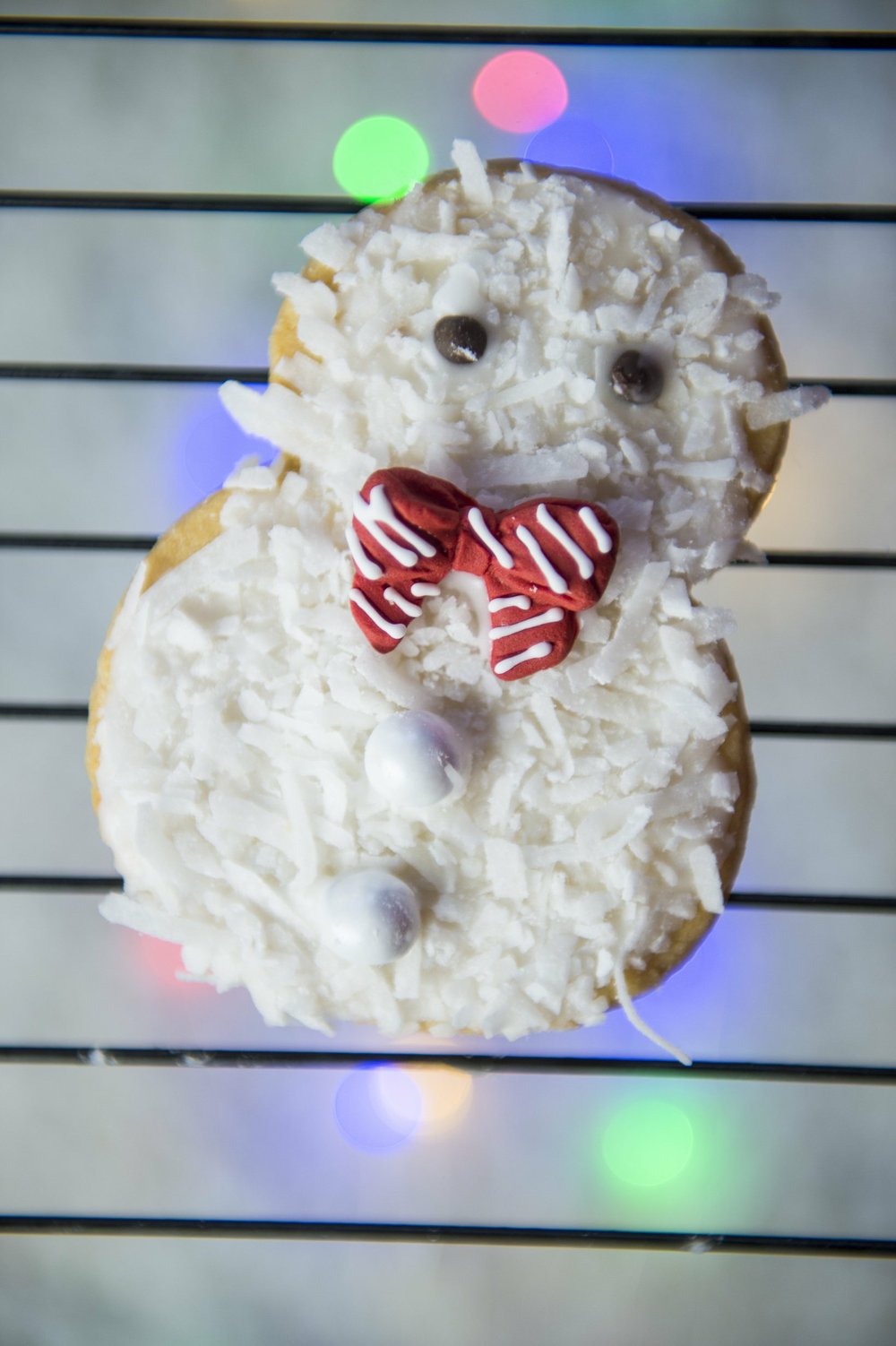 Arkansas Democrat-Gazette/Jeff Gammons Snowmen Cookies with coconut
Snowmen Cookies
5 tablespoons granulated sugar
2 tablespoons packed light brown sugar
½ teaspoon fine salt (see note)
12 tablespoons unsalted butter, cut into pieces, softened (see note)
1 egg yolk
1 ½ teaspoons vanilla extract
1 ½ cups all-purpose flour
1 cup confectioners' sugar, sifted
4 to 5 teaspoons milk
Shredded coconut, for decorating
Miniature chocolate chips, for decorating
Sugar bow ties, for decorating
Candy-coated chocolates, for decorating
In a food processor or large bowl, pulse or thoroughly whisk sugars and salt. Add the butter, egg yolk and vanilla; pulse or beat until smooth and creamy. Scrape down sides of bowl. Add flour and pulse or beat until mixture forms a dough. Transfer dough to a lightly floured surface and pat into a disc. Divide disc into two portions — one twice as large as the other. Roll the small portion into a 4-inch log. Wrap tightly in plastic wrap. Roll the large portion into a thicker 4-inch long. Wrap tightly in plastic wrap. Refrigerate both logs until firm, at least 2 hours or up to 3 days.
Heat oven to 350 degrees. Line two baking sheets with parchment paper.
Slice each log into 16 (¼-inch thick) rounds.
Arrange rounds in the shape of snowmen (1 large round and 1 small round with edges touching), spaced 1 ½ inches apart on the prepared baking sheets. Bake 17 to 19 minutes, rotating pans halfway through, or until cookies are set and edges are just golden. Let cookies cool on sheets for 10 minutes, then transfer to wire racks to cool completely.
In a small bowl, whisk together the confectioners' sugar and enough milk to create a smooth, spreadable glaze.
Working with 1 cookie at a time, spread glaze evenly on cookie, then sprinkle with coconut (if desired), and then decorate face and coat using the miniature chocolate chips, sugar bow ties and candy-coated chocolates. If necessary, use a small dab of glaze to "glue" the candies to the cookie. Repeat with remaining cookies, glaze and decorations. Let cookies dry for at least 30 minutes before serving. Store any leftover cookies in an airtight container.
Makes 16 cookies.
Note: Reduce salt to ¼ teaspoon if using salted butter.
Recipe adapted The Perfect Cookie from America's Test Kitchen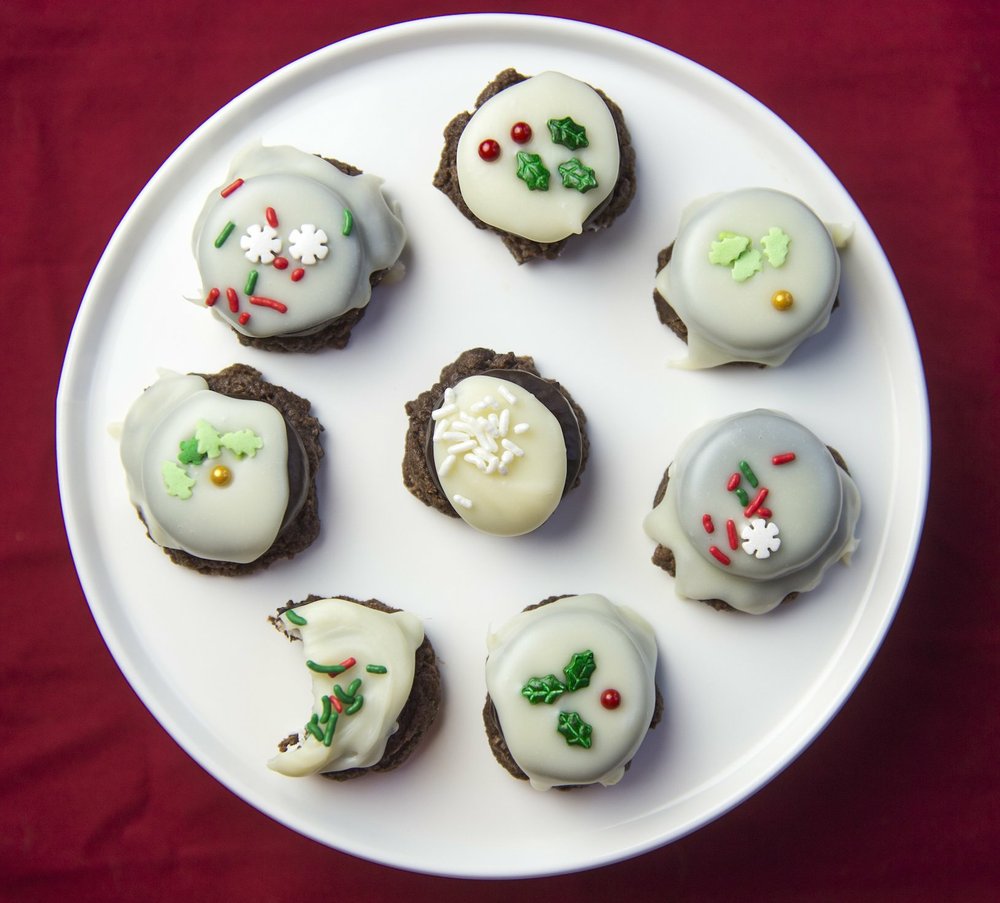 Arkansas Democrat-Gazette/Jeff Gammons Peppermint Pattie Snowdrifts
This sweet treat combines the ease of package cookie mix, the cooling sweetness of a peppermint patty and a drizzle of white chocolate ganache for a treat that looks fancy and complicated but comes together rather easily.
Peppermint Pattie Snowdrifts
1 pouch Betty Crocker Double Chocolate Chunk cookie mix
¼ cup butter, softened PLUS 2 tablespoons butter, cut into chunks, divided use
2 tablespoons water
1 egg
40 to 42 chocolate-covered peppermint patties (such as York), unwrapped
1 ¼ cups white chocolate chips
½ cup heavy whipping cream
Sprinkles, colored sugar or nonpareils for decorating
Heat oven to 375 degrees. Line two cookie sheets with parchment paper.
In a large bowl, combine the cookie mix, ¼ cup butter, water and egg. Stir or mix with your hands until a soft dough forms. Drop dough by rounded teaspoons spaced 2 inches apart onto the prepared baking sheets.
Bake 6 to 8 minutes or until the edges are set. Press 1 peppermint pattie onto each cookie, deflating the cookie slightly. Cool 2 to 5 minutes, then transfer the cookies to cooling racks (place the racks over something to catch drips such as wax paper or a rimmed baking sheet) to cool completely, at least 1 hour.
Place the white chocolate chips in a medium heat-safe bowl.
In a small saucepan or in the microwave, heat the heavy cream to a simmer. Pour the hot cream over the white chocolate chips and whisk until smooth. Whisk in the remaining butter, 1 chunk at a time, whisking until smooth. Let the ganache cool for 1 minute, then working quickly, spoon about a tablespoon of ganache over each cookie, letting the excess drip off. Decorate with sprinkles, colored sugar or nonpareils before ganache sets. Let cookies set for at 15 to 30 minutes before serving.
Makes 40 to 42 cookies.
Recipe adapted from Cookies: Irresistibly Easy Recipes for Any Occasion from Betty Crocker
Food on 12/11/2019