It's a Wednesday morning in mid-November and business is steady at GoodFellas Barbershop in Park Plaza Mall. ESPN is on the various televisions with the sound turned down as hip-hop songs play on the speakers.
Lorenzo Lewis is in a chair getting a trim. The bearded 31-year-old prefers a clean-shaven dome, and GoodFellas owner Matthew Dillion is restoring Lewis' scalp to its depilated state.
Lewis is the founder of the Confess Project, the Little Rock-based nonprofit that aims to help reduce the stigma surrounding mental health for men and boys of color and provide them better access to mental health care.
In October, he was one of 18 leaders from nonprofits across the country named a Roddenberry Fellow by the Roddenberry Foundation. The fellowship is a year-long program "for activists from across the country who are working to protect the most vulnerable and to make the U.S. a more inclusive and equitable place to live," according to the foundation. The group, founded by Rod Roddenberry, son of Star Trek creator Gene Roddenberry, also awarded the Confess Project $50,000 to continue its work.
"The goal is for men to enter treatment, if necessary, to be more aware of mental health, to decrease incarceration, decrease poverty and build sustainable, healthy families," Lewis says.
The Confess Project is a small program tackling big problems. Barbershops like GoodFellas are part of its mission.
TROUBLED KID
Lewis' mother was jailed in Newark, N.J., when she gave birth to him. He was raised in Little Rock by his aunt, Daisy Lee, and uncle, T. Royal Lee.
School never came easily and he was often in trouble. At 10 years old, he spent a couple of months attending alternative classes at the Joseph Pfeifer Kiwanis Camp.
"That was my only way of staying in school," he says on a bench outside GoodFellas as shoppers pass.
As a teen, Lewis was a gang member, and at 17 he was jailed as a juvenile on a gun charge.
"A lot of it was identity, wanting to fit in. It was part of the code of being a young man in Little Rock at the time," he says. "It was a way of life that made sense."
Looking back, he sees a lot of emotional trauma in his childhood.
"I didn't grow up with my parents, and there were a lot of emotional issues that came along with that disconnectedness from my parents. That developed into behavior issues. The childhood trauma ... unresolved grief, untreated depression."
Growing up, he spent a lot of time at Daisy Lee's beauty shop, Unique Hair Fashions, off Asher Avenue. It was there that a barber named Sylvester recommended Lewis look into counseling.
The shop was a hub, a place to talk and visit and where help was provided to those in need.
"I saw so much going on there," Lewis says. "They fed the homeless and did a lot for the community. It was a staple to help people."
STAGGERING STATISTICS
It took him seven years, but Lewis earned a degree in human services from Arkansas Baptist College.
While going to school he worked at Arkansas Juvenile Assessment and Treatment Center in Bryant and later worked for Rivendell Behavioral Health Services of Arkansas and other mental health providers.
"That's where I got my spark, where I got my passion for working with people with mental illness," he says.
It was through this experience, along with what he had gone through in his youth and as a therapy patient himself, that he was compelled to help other black men get access to mental health care. Recent figures on mental health in the black community are sobering.
A study published in November in the journal Pediatrics found that suicide attempts for black youths rose 73% between 1991-2017.
In a recent New York Times column, clinical psychologist Dr. Inger E. Burnett-Zeigler cited a Journal of Community Health study that showed the suicide rate by black boys ages 13-19 rose 60% from 2001-2017, and the rate for black girls jumped 182%.
In 2017, suicide was the second-leading cause of death for black people ages 15-24, according to the U.S. Department of Health and Human Services Office of Minority Health.
According to the National Alliance on Mental Illness, about 30% of black adults with mental illness receive treatment each year, compared to the U.S. average of 43%. And a study by Mental Health America ranks Arkansas 35th nationwide in access to mental health care.
Lewis found that in the black community there was "a lot of misunderstanding of the language and the technology" surrounding mental health. Economic factors also play a role in keeping people away, he says.
In 2016, he started the Confess Project with a workshop at Mt. Pleasant Baptist Church in Little Rock.
"We were talking about mental health education, increasing knowledge and the perception of mental health. We were talking about eliminating the stigma around mental health and trying to make people more aware of the signs and symptoms."
He tried holding mental health forums for black men in libraries, but no one showed up.
"It was dead," he says.
He needed to take his message to where people felt safe and comfortable.
COUNTRY CLUB BARBER SHOP
Lewis had approached several local barbershops asking if he could share his story and teach barbers about mental health care. No one was interested.
Enter Dillion, owner of GoodFellas, the Little Rock-based chain with five locations.
"I was cutting his hair, and he told me about this mental awareness thing," Dillion says. "I said, 'Man, a barbershop would be perfect.' Especially a black barbershop. This is our country club. There's fellowship, and it's an outlet for our culture, and there's that feeling when you're around guys that have been through what you're going through."
It was the start of the Confess Project's Barbershop Coalition.
Barbers are generally at ease talking with clients, Dillion says. It's as much a part of the business as the ability to craft a perfect fade.
"There are always guys coming in with something going on," he says. "They're looking for advice from a younger brother or an older brother."
Lewis came to GoodFellas and told his story to the barbers.
"I was nervous. Nobody had ever done anything like this," he says. "I took what I learned in the mental health-care industry and used my personal stories. I handed out pamphlets and that was the workshop. We kind of bootstrapped it."
SAFE PLACES
Luke Kramer is the executive director of the nonprofit STARR Coalition, which aims to promote cutting-edge mental health research. He is a friend of Lewis' and heard about the Confess Project in its earliest stages.
"I really feel that this concept he has of reaching men of color and accessing mental health services will fill a huge gap in the system of care," Kramer says. "I knew instantly, from the moment he mentioned this concept, that it would be too valuable for someone to not step forward and do something."
It's an issue that needs more attention, Kramer says.
"Stigma and discrimination play a large role in our view of mental health in our society. There are specific, unique challenges in minority communities in regards to access ... and the cultural perceptions around accessing mental health services. Those cultural barriers require individuals to go where people are to talk about mental health."
Like barbershops, which Dillion sees as safe places for men of color.
"We have this stigma of men having to be strong and we can't show emotions or feelings," he says. "This is where you can come get your hair cut, get a shave and open up, get some advice."
Laura Danforth is a licensed clinical social worker and an assistant professor in the University of Arkansas Little Rock's Department of Social Work. She is also one of the Confess Project's six advisory council members.
"It's been awesome working with him," she says of Lewis. "We in the school of social work really believe in what he is doing."
Only about 2% of psychiatrists in the U.S. are people of color, Danforth says.
"It's good to see someone trying to address that," she says. "And trying to give some opportunity for people of color, particularly men of color, be their own mental health advocates. The barber learning initiative, making those safe spaces to discuss mental health openly, is amazing. What he is doing is very needed and is filling a gap."
Mental health workers receive cultural training, she says, but the lack of shared experiences may make it difficult for people of color to share their feelings.
"What Lorenzo is saying is that if we're not going to find someone who shares our lived experiences in mental health ... we can at least train people in places like a barbershop to learn how to ask about those questions and get comfortable talking about things like anxiety and depression."
GETTING HELP
The Barbershop Coalition has developed over time. Lewis instructs barbers in active listening, communication and how to reduce stigma by being nonjudgmental. By using those skills, he says, they are able to allow their clients to open up.
"Our goal is not to train barbers to be mental health experts, but to train them to be mental health advocates," he says.
A University of Arkansas for Medical Sciences College of Public Health preliminary study of 73 participants in the project's barbershop work found that 29% of the 37 who reported not wanting to seek professional help at first said they would consider treatment after participating in the talk, and that 91% had a better understanding of mental health after taking part in the talk.
Lewis has taken the Confess Project, which has five staff members and 19 volunteers, to 35 barbershops in 13 other cities beyond Little Rock, including Memphis, Indianapolis, Atlanta and New Orleans. He also shares his story at schools and churches.
Cedric Smith heard Lewis speak about two years ago at Arkansas Baptist College, where he is studying business and sports management. Lewis' story inspired him to seek therapy, Smith says.
"He talked about his life. He talked to me one-on-one, and he sat down and encouraged me and told me he knew somebody who could help me, and I took the help."
Smith says therapy wasn't something he had thought about before meeting Lewis.
"It's been going good. It helps, and Lorenzo helped a lot, telling me where he came from and about the success he has now. He told me I could do the same thing."
Beyond the barbershop, the Project's Highlight the Healing effort works with pastors to help communicate the need for mental health services to church members.
"We talk about breaking the stigma around mental health to church and faith leaders and how to begin the conversation," Lewis says. "The Bible says: 'Faith without works is dead.' Getting emotional help is part of doing that work."
At theconfessproject.com there are links that connect visitors to local therapists, as well as directing them to therapyforblackgirls.com and to the website of the National Queer and Trans Therapists of Color Network. There are also videos of Lewis sharing his story.
Speaking about his friend, Kramer says:
"Lorenzo has always been a visionary. It takes a unique person to be both a visionary and someone who can actually implement the ideas. I think he has tremendous capability and desire to make change. He has his own powerful story of changing the trajectory of his own life, and that happened because he recognized he needed mental health services and he pursued those services."
GRABBING HEADLINES
The Confess Project has only been around for a little over three years but has gained a lot of attention. There was a story at huffpost.com about the Project in August, and Lewis says a documentary film crew from the University of California, Berkeley, will shoot footage of him in Jackson, Miss., where he has trained about 30 barbers.
"It feels crazy," he says when thinking back on the early days of the Project. "We got on the road and went to these big cities with no money. Our truck broke down in Atlanta and we had to take the bus back. But we are putting in the work, and we have found that what we are doing is working."
SELF PORTRAIT
• DATE AND PLACE OF BIRTH: May 8, 1988, Newark, N.J.
• MY FAVORITE TV SHOW IS: Martin
• THE LAST BOOK I READ WAS: Millionaires of the Genesis by Catherine Ponder
• MY FIRST VEHICLE WAS A: Ford Ranger pickup
• THE BEST ADVICE I'VE RECEIVED WAS: Put your trust in God and not man.
• I'M HAPPIEST WHEN I: Spend time with my daughter, Sareya, and girlfriend, Jordon Thompson.
• THE BEST CHRISTMAS GIFT I EVER RECEIVED WAS: Going on a cruise to the Bahamas.
• MY FAVORITE MEAL INCLUDES: Fried fish, spaghetti and okra
• ONE WORD TO SUM ME UP: Truth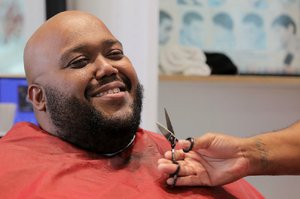 Photo by Arkansas Democrat-Gazette/John Sykes Jr.
"I didn't grow up with my parents, and there were a lot of emotional issues that came along with that disconnectedness from my parents. That developed into behavior issues. The childhood trauma ... unresolved grief, untreated depression." - Lorenzo Pierre Lewis
High Profile on 12/22/2019