2018 featured one of the most solid lineups in video-game history, with major releases that pushed the limits of technology. A tsunami of franchise sequels and remastered older games made self-improvement a recurrent theme, and the games just kept getting bigger, bolder and more beautifully rendered.
We can't even talk about the games of 2018 without mentioning the unstoppable rise of Fortnite, making it a household name and one of the most-played games in the world.
While it's by no means a definitive list, and there will be no statuettes for anybody involved, here are my picks among the games that made a big splash in 2018. We can call these the first ever Game On "Glad I Played That" Awards.
GAME OF THE YEAR
Let's get the big category out of the way first. God of War wove one of the most effective stories of 2018, a tale of a father learning to connect with his son over the death of the boy's mother — set against the backdrop of Norse mythology.
God of War featured stellar voice acting, especially by Christopher Judge in the role of Kratos, a demigod very good at fighting and not so good at parenting or being a role model. The antihero Kratos was a changed man from earlier iterations of the game.
God of War had engaging combat, entertaining puzzles and stunning visuals, but the real meat was the story of how Kratos, once a rage-fueled, god-killing womanizer, finds himself forced to reflect on his life and legacy as he tries to steer his son toward not only manhood, but also toward being a better man than his father.
BEST ROLE PLAYING GAME
Monster Hunter: World is kind of a weird game. It's a cooperative, open-world "RPG" where you play as a hunter, using weapons bigger than yourself, to hunt down fire-breathing T-Rexes and other fantastical dinosaurlike creatures with the assistance of your trusty companion, a talking, bipedal cat.
But all that is part of the allure.
Being a successful hunter requires strategy, cooperation with other players, and tactical button-mashing. Hunted monsters drop resources, such as bones or leather, that are used to upgrade weapons needed to tackle bigger, more dangerous prey. It's the circle of life, or something.
With seasonal events, crossovers and expansions on the horizon, Monster Hunter: World is locked onto its target audience.
BEST SPORTS GAME
Hockey is far from the most popular sport in Arkansas, but that's precisely why I like NHL 19. Football, basketball, baseball, etc., are sports I know and love, but video games are the only place I'll get to play hockey — and NHL 19 makes me feel like I'm the real deal.
My brother and I competed endlessly with Ice Hockey and its pixelated, 8-bit graphics for the Nintendo Entertainment System back in the late 1980s, but NHL 19's graphics are so advanced you sometimes can forget you're playing a video game.
You don't need to be a hockey expert to enjoy NHL 19 — right off the bat, the game asks your hockey skill level, making it easy for even novices to jump in and play. But it also has training tutorials to teach every aspect of the game, right down to between-the-legs goal shots.
With solo, co-op and "versus" options and a variety of game modes, including a single-player franchise storyline, NHL 19 has virtually unlimited replayability.
Getting to play as a mascot? That's the icing on the cake.
BEST FAMILY GAME
Super Mario Party for the Nintendo Switch is a collection of virtual board games and mini-games for up to four players. It features well-known Nintendo characters, such as Mario, Luigi, Bowser and Princess Peach, and players will take turns rolling dice to move across a game board and challenge each other on up to 80 different mini-games.
There are various game modes, including the rhythm game Sound Stage, a two-versus-two Partner Play mode, and a River Survival mode, which sees players paddling a canoe down a river. Nintendo has long had a focus on making games that can appeal to the whole family and can be enjoyed with friends, and Super Mario Party fills that niche well.
BEST ONGOING GAME
Fortnite premiered in 2017 to quite a bit of popularity, but it was the release of the free-to-play, ever-evolving Fortnite Battle Royale mode that turned the game into a global juggernaut with 125 million players in 2018. According to SuperData, a digital game research company, Fortnite earned more digital revenue than any other game last year, taking in $2.4 billion dollars.
How does a free game earn so much money? The secret lies in selling its V-Bucks — digital currency used to buy cosmetic items, such as character and weapon skins, dance animations and emotes. None of it affects game play; it all just makes people look cool, and somehow that's enough.
Fortnite's other success secret was piggybacking off PlayerUnknown's Battlegrounds, which first popularized the 100-player king-of-the-hill combat mode both games use. Not that PUBG, as it's known, did poorly — it made more than $1 billion last year and was the worldwide top-grossing premium game.
BEST VIRTUAL REALITY GAME
Most players still haven't jumped onto the virtual reality game bandwagon, but 2018 was a year that saw real progress in making converts, and a large part of that comes from Beat Saber, a musical rhythm game that is sort of a cross between Guitar Hero and Dance Dance Revolution.
Players wield dual lightsabers as glowing blocks hurl toward them. They slash through the blocks to the beat of a techno-heavy soundtrack and trippy visual effects. It's not an especially complicated game at the easier levels, but it's also not a game you can sit down and play passively.
With Beat Saber, you're up on your feet, swinging your arms and moving from side to side while dodging projectiles. It's the perfect game for someone worried about a sedentary lifestyle — plus it's just really fun.
BEST PUZZLE GAME
Close on the heels of Beat Saber comes puzzle-game Tetris Effect, which has a virtual reality and a non-VR mode. Tetris came out in 1984, and there have been loads of versions since — so what's different about this game? Well, you've definitely never played a Tetris game like this one: It combines Tetris with music, sounds, visuals and vibrations into a psychedelic masterpiece.
Brightly colored particles and sound effects trigger with every spin or nudge of the falling blocks. The game has constant explosions of light and sound and images, and everything is connected to every button press.
It's also more than just the traditional Tetris game — each level has its own rules, with the speed of falling blocks increasing or decreasing, and as the game progresses, different visual themes are splayed across the background.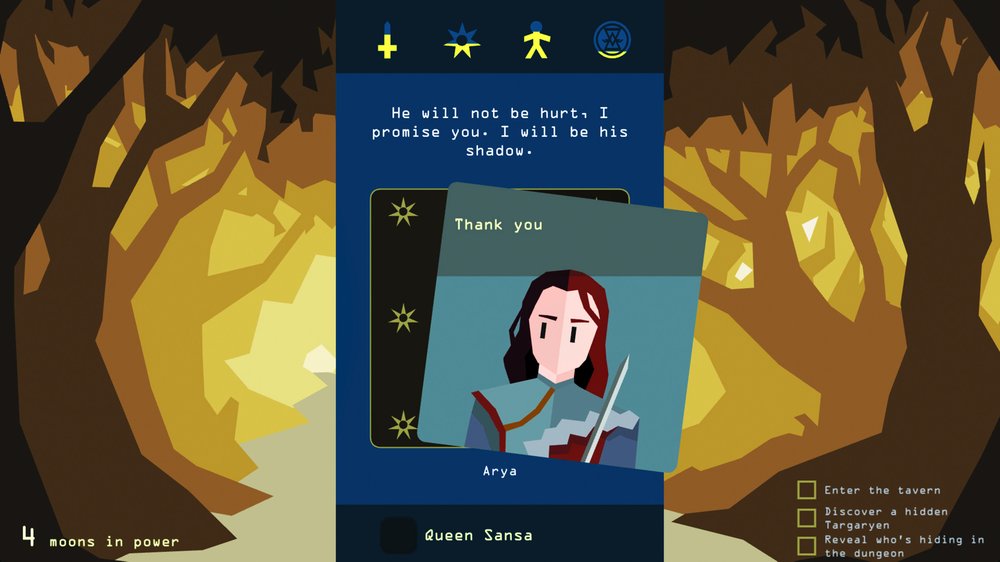 Reigns: Game of Thrones is a strategy role-playing mobile game in which the player sets scenarios — and their consequences — by swiping right or left. (Nerial/Devolver Digital)
BEST MOBILE GAME
It's only a few more months until Game of Thrones' final season begins airing in April, but if it's hard to wait that long, there's a mobile game that might tide you over. It's a strange mashup of Westeros meets Tinder, but Reigns: Game of Thrones is an enjoyable if grim monarchy simulator.
Take command as Daenerys Targaryen, Cersei Lannister, Jon Stark or others from the best-selling book series and HBO television show, and try to rule — or at least survive — as long as possible.
The controls are simple — players will swipe left or right on various decisions, such as what to do about an invasion of undead or guards' wanting more money. Each decision has an effect on military strength, religious favour, domestic popularity or state wealth, but you don't know whether that effect is positive or negative until after the die has been cast. Anger the populace too much and, oops, it's off with her — or his — head.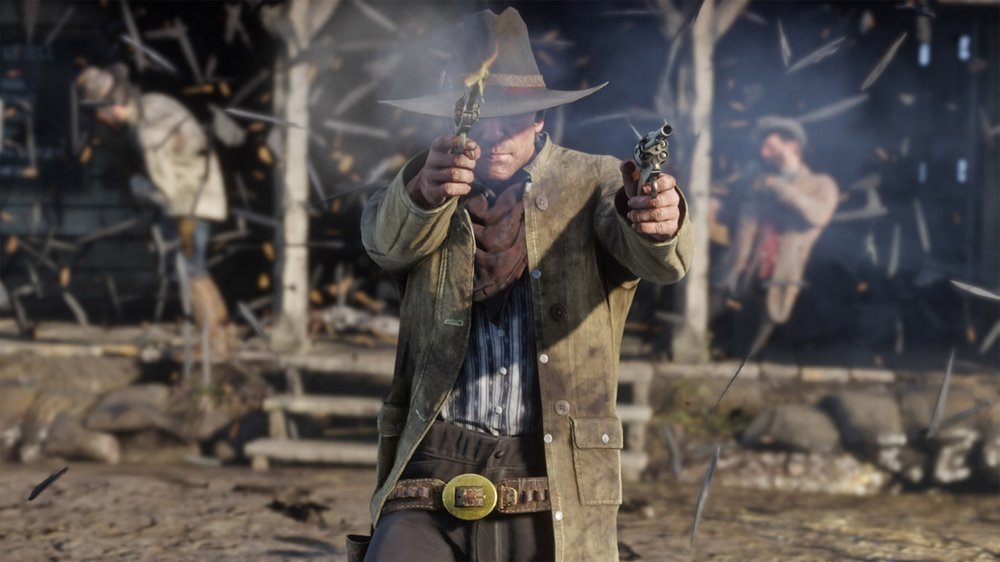 Red Dead Redemption 2 is a prequel to a Western action-adventure game released in 2010, but it's more than just a video game — it's an epic narrative traversing an immersive world full of vivid realistic detail. (Rockstar Games)
BEST OPEN WORLD GAME
Red Dead Redemption 2 was more than just a video game, it was an epic narrative traversing time and space to draw players back to the late 1800s.
The game's meticulous attention to detail in every regard, from singing folk songs around a campfire to watching wild animals interact with each other in the wild, makes this game seem like a frontier-life simulator.
It boasts a massive but detailed world, with multiple biomes, like grassy expanses of open fields, sprawling forests, gator-filled swamps, starlit desert landscapes and snow-covered mountain peaks. Hundreds of animal species, from tiny frogs to massive buffalo, fill the world and make it seem alive.
People, too, are part of the story, inhabiting structures from rustic farmhouses and small towns to bustling major cities. The storyline — about the end of the Old West way of life and the inevitability of the modern world — is compelling, and a multiplayer option lets you play with or against friends, but just patiently exploring that frontier paradise on horseback is a treat in itself.
BEST-SELLING GAME
Call of Duty: Black Ops 4 has the dubious honor of not really being the standout game in any particular category, but also being the top-selling video game of 2018.
The single-player campaign was abandoned entirely for Black Ops 4, but instead we got a new mode: Blackout, which is the franchise's first 100-player Battle Royale mode, letting it compete directly with Fortnite and PUBG. It's not going to dethrone Fortnite, but it does offer something unique: split-screen couch co-op mode, so you and a friend can fight 98 other players together.
Other modes include the traditional multiplayer offerings plus a zombie-fighting cooperative mode.
There are some interesting maps to battle on, such as the RMS Titanic, Alcatraz and an arena in ancient Rome.
I don't think Black Ops 4 loses too much from dropping the single-player campaign — Call of Duty's forte has always been its multiplayer prowess, and the gameplay and graphics far surpass PUBG in Battle Royale.
There you have it, the 2018 GIPT Awards! I'm thankful for the great games we got to see in 2018, and I'm predicting that 2019 is going to be even bigger.
Jason Bennett's video-game review column Game On appears every other Monday in Style.
Style on 02/11/2019