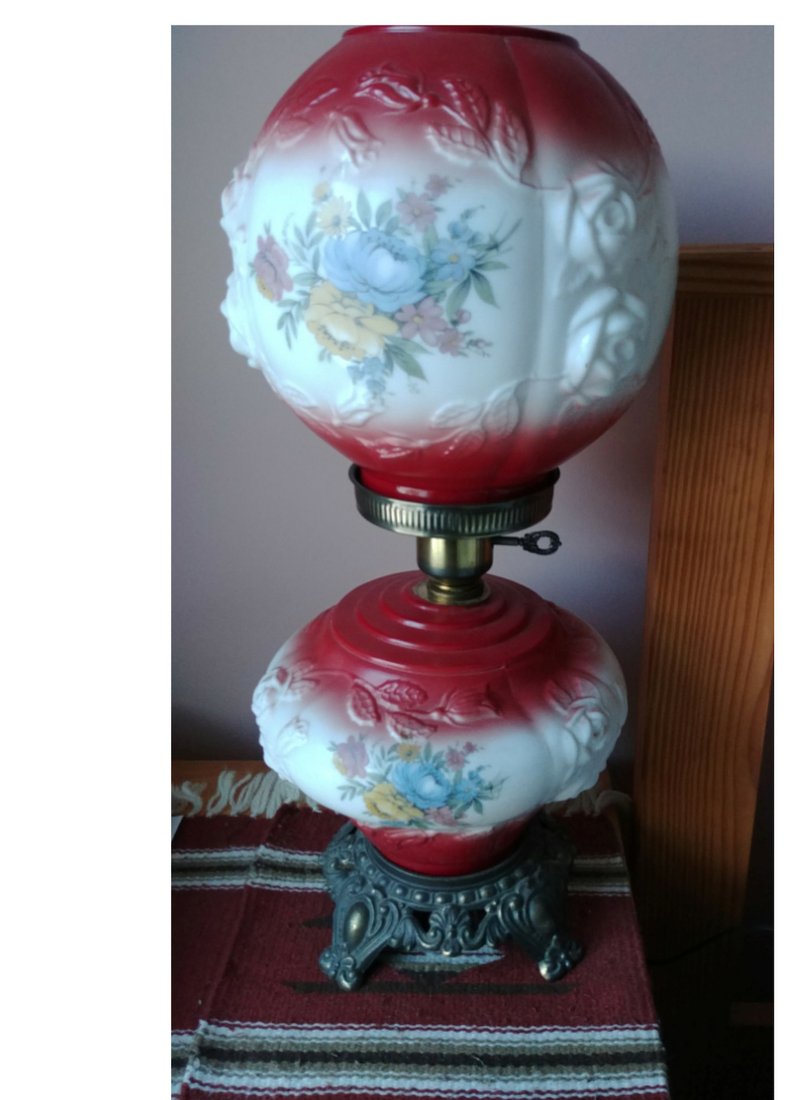 Scarlett O'Hara and Rhett Butler never courted in the light of this lamp. TNS photo
DEAR HELAINE AND JOE: I have a lamp I inherited from my grandmother. I always remember it being in her home so I do not know when or where she got it. It has a nightlight and is stamped "Accurate Casting" in the metal base. Any information would be helpful.
— T. H.
DEAR T.H.: There was a lot of useful information left out of this letter. But the phrase "it has a nightlight" made the lightbulb go on over our heads.
We looked at the photographs and saw a ball shaded lamp some people erroneously refer to as a "Gone with the Wind" (or "GWTW") lamp. But if it has a nightlight in the base, it has to be electric and way later than Scarlett O'Hara's era.
Then we looked up "Accurate Casting" and found a variety of stories available about this particular company, all of which put the lamp's manufacturing into the years significantly after the end of World War II.
One story maintains Accurate Casting was located in Taiwan and made metal parts for three major Taiwanese lamp manufacturers from 1972 to 1986-87. Another source attributes Accurate Casting to Carl Falkenstein and the Falkenstein Lamp Factory, which made lamps and lamp parts in the Philadelphia area in the 1940s through the '60s.
The third possibility is a company named Accurate Castings that was located first in Manhattan, then in Long Island, N.Y., from the late 1940s to the late '80s. The owner's son states they marked their metal parts "ACC Co," so this may not be the company that manufactured the lamp.
Whichever company was responsible for the lamp, we think it was probably made and purchased when early American furniture was a craze in the late 1950s to early '60s.
Lamps of this type with this kind of marking are not rare and dozens can be found online for sale. T.H.'s lamp appears to be attractive in the photograph with its mahogany red top and bottom bracketing a white center section decorated with transfer-printed flowers in shades of blue, gold and pink.
The glass is also embossed with 3-D roses. Originally the lamp might have been one of a pair, and its single status keeps its value down just a bit. For insurance replacement purposes, this vintage lamp should be valued in the $75 to $125 range.
Helaine Fendelman and Joe Rosson have written a number of books on antiques. Do you have an item you'd like to know more about? Contact them at Joe Rosson, 2504 Seymour Ave., Knoxville, TN 37917, or email them at treasures@knology.net. If you'd like your question to be considered for their column, please include a high-resolution photo of the subject, which must be in focus, with your inquiry.
HomeStyle on 02/16/2019
Print Headline: Treasure Hunt
Sponsor Content