'Cause when love is gone,
there's always justice.
Art
"Men of Steel, Women of Wonder"
Through April 22, Crystal Bridges Museum of American Art, 600 Museum Way, Bentonville.
Admission: $12 plus tax; free for museum members and ages 18 and younger. Regular museum admission is free.
Hours: 11 a.m.-6 p.m. Monday, Saturday-Sunday; 11 a.m.-9 p.m. Wednesday-
Friday.
Information: (479) 418-5700,
And when justice is gone, there's always force.
— Laurie Anderson, "O Superman"
Like the crash of thunder from the sky comes Wonder Woman, to save the world from the hatreds of men in a man-made world! ... Who is Wonder Woman? Why does she fight for America?
— opening lines of Sensation Comics No. 1, January 1942
BENTONVILLE — Think of Superman and Wonder Woman.
These are American products, national symbols of our projected virtue. Truth, justice and the American way. He was born in the Depression, she just before the attack on Pearl Harbor. American myths, a brand of spangled American gods, characters so ubiquitous as to seem ordinary and perhaps beneath serious consideration. Superman and Wonder Woman are mom and pop, savior symbols who do good and banish evil. They might seem even less interesting than the costumed crusaders they inspired.
Boy Scout-ish Superman especially seems a bit banal and square, the ultimate overdog. (Wonder Woman we'll get to later.) Maybe you find the psychological darkness of Batman, the third member of DC Comics' flagship trinity, more compelling. Maybe you prefer the method-actor angst of Spider-Man or other members of the Marvel Comics Universe. Fair enough.
So maybe you adjust expectations for the Crystal Bridges' exhibition "Men of Steel, Women of Wonder."
But in the first few eye-arresting images, some kind of switch is thrown. Siri Kaur's Christopher (Phone) appears to be a photograph of actor Christopher Reeve, who played the character in four films from 1978 to 1987, sitting on a sofa and talking on the phone while in his Superman costume. Maybe it's a snapshot taken on set, between scenes.
Yet there's something a little off — the photo is dated 2006, two years after Reeve's death and 11 years after an equestrian accident left the actor quadriplegic. The costume isn't studio grade; it sags a bit. The "Christopher" in the photograph is actually Christopher Dennis, a longtime Hollywood Boulevard street performer and aspiring actor who, in this photograph, bears an uncanny resemblance to Christopher Reeve as Superman, circa 1978.
Dennis claims to be the son of Oscar-winning Sandy Dennis but there's no evidence to support the claim; he grew up troubled, in the foster care system. He's had problems with drugs, he has been homeless. When Kaur met Dennis he'd been making his living for years by posing for pictures with tourists while dressed as Superman. A few years after Kaur took his photo he was brutally attacked by a man with a golf club who stole his costume. Fans raised money to buy him a new one and fix his broken teeth. There is rumored to be a documentary — American Superman — about him in the works.
This is one thing about superheroes — they are easily impersonated. In Kaur's 2013 photograph Wonder Woman, paired with Christopher, the superhero impersonator bears only a vague resemblance to her presumptive model, the Lynda Carter incarnation of the character, but she still registers as the DC Amazon. If Superman can recede into Everyman anonymity by putting on a pair of glasses, why can't we be special by tying a blanket around our neck as a cape?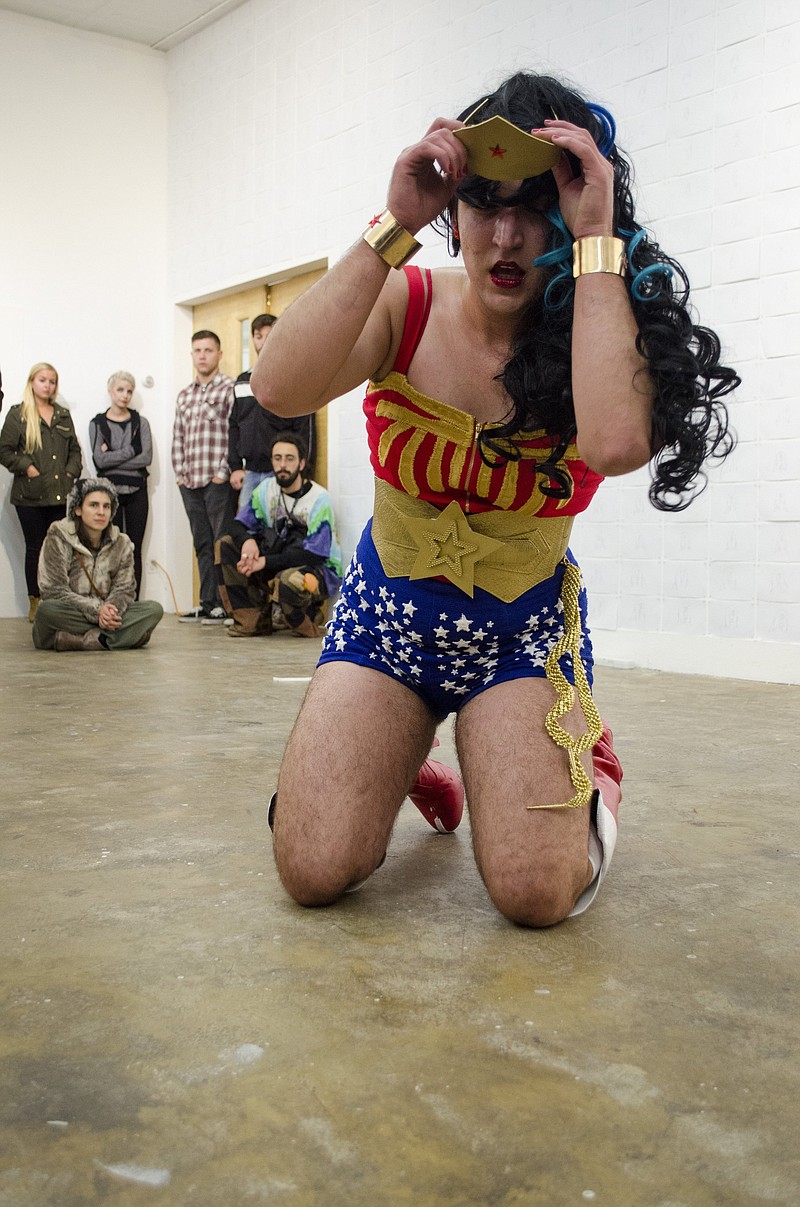 Courtesy Orange Contemporary, Houston Sarah Hill's "They Wonder"
"Superhero impersonators ... go out and this is their job," Alejo Benedetti, Crystal Bridges assistant curator and the exhibition's creator, says as he guides a group of journalists through the exhibit. "Don't we all have those same types of experiences when we dress up for Halloween or we go to the gym? These are some of the ways these characters exist within our daily world."
In other words, when does a costume become an identity?
Contrast Kaur's only seemingly straightforward approach with the way Fahamu Pecou honors one of his heroes, painter Barkley Hendricks, by quoting Hendricks' 1969 self-portrait Icon for My Man Superman (Superman Never Saved Any Black People — Bobby Seale) with his own 2011 self-portrait, Nunna My Heroes: After Barkley Hendricks' Icon for My Man Superman. Hendricks depicted himself wearing a blue T-shirt featuring Superman's trademark yellow and red S-symbol; Pecou paints himself ripping open the white dress shirt beneath his double-breasted jacket to reveal a stylized yellow and red PF symbol.
Along the top of the red, white and blue frame — another echo of Barkley's painting — is the scrawled legend "ain't nothing but a sandwich," a nullification of heroes with which Seale might agree. While anyone who invests in a costume can impersonate a hero, you can't look to Superman to save you; you've got to be about saving yourself.
Rochelle and Darren Leininger Family Collection Mel Ramos' "Wonder Woman", an oil on canvas, was painted in 1962.
Even the apparent earnestness of Mel Ramos' famous 1962 pop art paintings of the characters, images liberated from the pulp page to stand alongside Ed Ruscha's word paintings, Andy Warhol's repurposed commercial images and Roy Lichtenstein's high-impact cartoon frames, is more complicated than it at first seems.
Ramos' Superman is anything but an action figure: He's grounded, standing lonesome looking out of frame with a weary, pensive expression. It's Superman as Hamlet, or as Ramos suggested, as the 18th-century British portraitist Thomas Gainsborough might have painted him.
Superman was born in the Depression and "Men of Steel, Women of Wonder" astutely locates the character's roots in the political and economic tribulations of the times, offering a few examples of New Deal-era works of working-class men and women laboring heroically, such as Tyrone Comfort's dynamic Gold Is Where You Find It (1934) and James Edward Allen's 1932 etching The Skyman, which depicts a muscled iron worker hovering over a city skyline.
Superman first appeared in the pages and on the cover of Action Comics No. 1 which, in keeping with the conventions of comic books, bore a cover date of June even though it was actually published on April 18, 1938. (The exhibit features a rare copy of this issue, along with Sensation Comics No. 1, which marked Wonder Woman's debut. Though that title is dated January 1942, it actually hit the newsstands in October 1941, before the Japanese attack on Pearl Harbor.) But Jerry Siegel and Joe Shuster, classmates at Cleveland's Glenville High who became Superman's spiritual fathers, had been refining the character for years. Siegel's short story "The Reign of the Superman," illustrated by Shuster, was published in the January 1933 issue of Science Fiction: The Advance Guard of Future Civilization, a fanzine printed on the school's mimeograph machine.
The original Superman doesn't bear much resemblance to the familiar superhero — he is a villain picked out of a bread line by a scientist who promises him a "real meal and a new suit" in exchange for testing an experimental potion that gives him the power not only to read the thoughts of others but to control them with his mind. He kills the scientist and uses his new powers for evil until they wear off and he finds himself back in the bread line. As the story ends, the former Superman is pondering what might have been had he "worked for the good of humanity."
That dark Superman never took off. So Siegel and Shuster went back to the drawing board and created an icon, one that borrowed a bit from Doc Savage (the "Man of Bronze") and Philip Wylie's Hugo Danner and Edgar Rice Burroughs' John Carter, the Confederate officer who gained superpowers when he was transported to Mars. They gave him a costume with a cape and an S on his chest. They gave him a blue-black spit curl. They made him a refugee from a blown-apart planet with powers that were impressive though not quite unlimited.
At first, the reinvented Superman had the proportional strength of an ant — he could lift hundreds of times his own weight. He could vault a 20-story building or leap an eighth of a mile. (Planet-pulverizing power and flying came later.) His first story handled his origin myth in just three comic panels. Siegel and Shuster famously sold their rights to what was to become the most famous fictional character ever created for $130.
. . .
Superman is easy enough to deconstruct — he clearly seems a product of adolescent male wishfulness. He can't be hurt by earthly plights; he's strong, aloof and pure. He flies faster than light. He retreats to his Fortress of Solitude. His seemingly superfluous alter ego exists to demonstrate that within any apparent weakling a god may lurk. (So watch who you bully.)
His invulnerability posed a problem for the Silver Age writers who had to invent dozens of varieties of Kryptonite, each with its own specific and limited effect on our hero to hold our interest. (Superman has "died" at least 15 times in various comics; the first time was in 1966 when he was assassinated via Kryptonite radio waves. He was revived by a Superman android that, programmed to behave like Superman, sacrificed itself.)
Wonder Woman is a kinkier, more complicated creature.
"Wonder Woman was from the start a character founded in scholarship," her creator, Harvard-educated psychologist William Moulton Marston, wrote in a press release announcing her arrival. "The only hope for civilization is the greater freedom, development and equality of women.''
Marston, an expert on truth and deception who developed the systolic blood pressure test (which he used as a kind of rudimentary lie detector), may have been a good candidate for the most interesting man in the world, according to the research of his biographer Jill Lepore. Working from Marston's private papers, Lepore wrote "The Secret History of Wonder Woman" (2014), a portrait of a fascinating crackpot who often overreached and failed in almost every endeavor he attempted until he struck pop-culture gold with Wonder Woman. (Marston's story was also told in the 2017 film Professor Marston and the Wonder Women.)
Marston led a highly unconventional home life, having married editor Sadie Elizabeth Holloway in 1915 before taking a second "wife" — his student, Olive Byrne, niece of birth control advocate Margaret Sanger — in the 1920s. The arrangement had Holloway essentially supporting the family because Marston had trouble holding a job until 1933, when he was hired by pioneering comics publisher Max Gaines to help him respond to calls for comics bans. ("Ten million copies of these sex-horror serials are sold every month," thundered the Chicago Daily News in 1940.)
Marston's association with Gaines led directly to his pitching the character, which Lepore has convincingly demonstrated was based on Marston's relationships with his various lovers and his fondness for bondage scenarios:
"Not a comic book in which Wonder Woman appeared, and hardly a page, lacked a scene of bondage," Lepore writes in The Secret History of Wonder Woman. In episode after episode, Wonder Woman is chained, bound, gagged, lassoed, tied, fettered and manacled. She's locked in an electric cage. She's winched into a straitjacket from head to toe. Her eyes and mouth are taped shut. She's roped, then coffined in a glass box and dropped into the ocean. She's locked in a bank vault. She's tied to railroad tracks. She's pinned to a wall. Once, so that she can be both entirely bound and movable, her fettered feet are welded to roller skates. 'Great girdle of Aphrodite!' she cries. 'Am I tired of being tied up!' "
Wonder Woman draws a large part of her power from her sexuality, and so it's not just New Deal depictions of women doing their bit in the factories that show up in the Crystal Bridges exhibit — Norman Rockwell's iconic 1943 painting Rosie the Riveter is a given — but pinup artist Earl Moran's early 1930s pastel Golden Hours, which was once used as the cover of a large box of chocolates, and Gil "the Norman Rockwell of Cheesecake" Elvgren's Jill Needs Jack (1950).
...
While there's plenty of fun to be had with "Men of Steel, Women of Wonder," the deeper you go into the galleries, the darker the interrogations of the characters become. Peter Williams' Duck Soup, a Comedy (2016) considers how a character of color might be received if he practiced Superman-esque vigilantism. Mel Casas' 1970 painting Humanscape 70 (Comic Whitewash) considers the comic universe from the perspective of a "Chicano," which was the word Casas would have used. Vincent Ramos' drawing Barbed Wire, Chain Link and the Lasso of Truth (2016) puts the Amazon on the other side of the border looking in, a nod to the Mexican heritage of Lynda Carter.
Robert Pruitt's enigmatic pieces SUP (2018) and Heliocentrist (2013) play within the iconography of the Superman character. In the former, an otherwise serious-looking black man is seemingly infantilized by a makeshift cape. On his T-shirted chest is a stylized S; meanwhile the figure in the latter wears a reversed version of the Superman S rendered in red, while wearing what appears to be a native mask from the Pacific Northwest.
Richard Simmons posits Superman and Batman as lovers in Between the Capes (2014).
"He's saying, 'Look, it's Superman and Batman embracing, engaged in a passionate kiss,'" Benedetti, says, "But, you know what? It's still Superman. This sexual orientation changes nothing about that. And this is how we think more holistically about how, how sexual orientation truly does not change a single thing about that, about a person and how they do their jobs."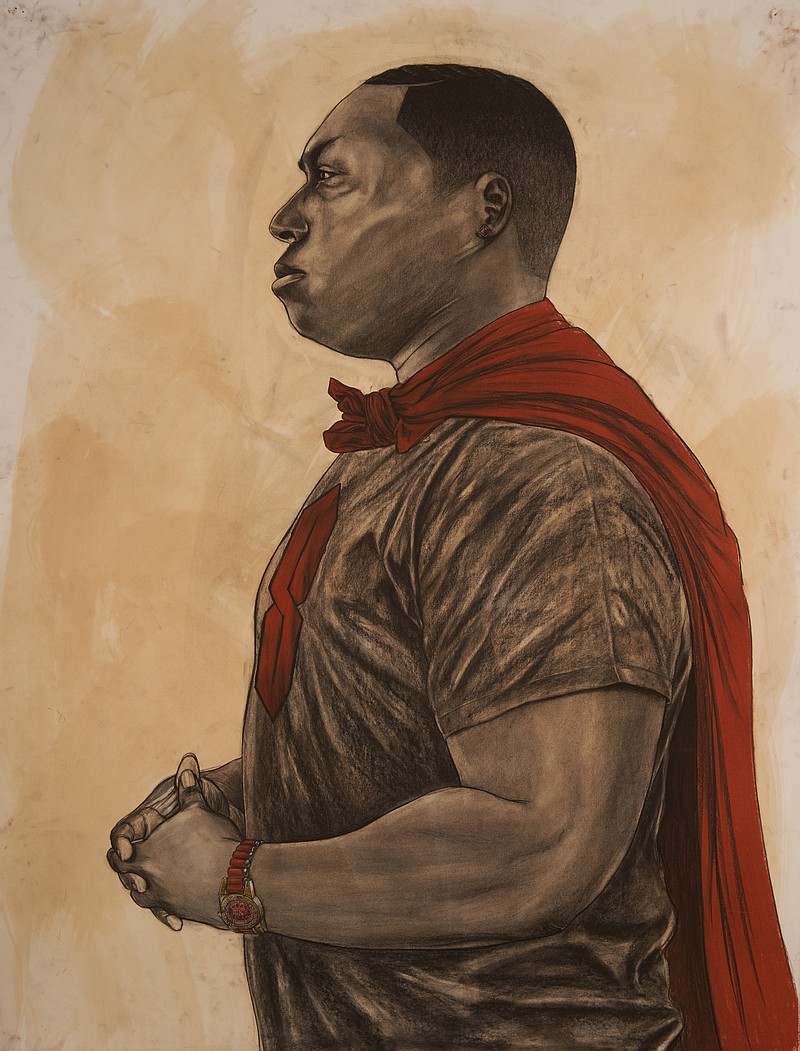 Courtesy of Robert Pruitt and Koplin Del Rio Gallery Robert Pruitt's SUP is a work of conte charcoal on coffee stained paper.
There are more than 70 pieces in this sprawling, eclectic and finally surprising exhibit.
Consider Jason Bard Yarmosky's Wintered Fields (2015), an oil on canvas triptych that depicts his 88-year-old Alzheimer's-afflicted grandmother, Elaine Bard, as an aged and battered but unbroken Wonder Woman. It is a remarkably executed, graceful monochrome hymn suffused with love.
Benedetti, in an essay in the exhibit's innovative five-volume catalog, has an amusing (and insightful) discussion on underwear and the should-have-been (but wasn't) obvious connection of Superman's costume to the tights worn by circus strongmen. Books might — and no doubt have — been written about the ways artists of different ethnicities have responded to the reflexive whiteness of these characters (even though it is often observed that Superman is an illegal alien and Wonder Woman hails from an island in the Mediterranean). Why do they fight for America?
Well, perhaps because America needed them. As the Laurie Anderson song "O Superman" (the video is also part of the exhibit) goes, "O Superman ... O Mom and Dad. Mom and Dad."
Surely she intended that line to be an allusion to Philip Larkin's "This Be the Verse"? Certainly she understood the ways a hero could become a master. We get the heroes we deserve, and sometimes we find them in unlikely places. Sometimes even inside ourselves.
Email:
pmartin@arkansasonline.com
blooddirtangels.com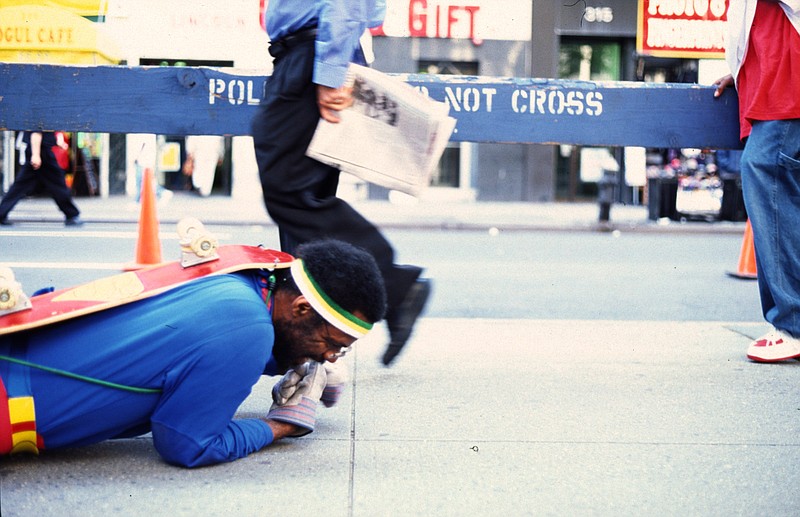 Courtesy of Pope L and Mitchell-Innes & Nash, New York This image is from "The Great White Way: 22 Miles, 5 Years, 1 Street: by Pope L.
Style on 02/17/2019