A bill that would have allowed optometrists to perform certain kinds of surgeries failed to clear a legislative committee on Tuesday.
Rep. Jon Eubanks, R-Paris, the sponsor of House Bill 1251, told the House Committee on Public Health, Welfare and Labor that the bill is designed to allow optometrists to give injections, remove benign lesions and perform certain types of laser surgeries.
He and the bill's other supporters said it would allow optometrists to use more of the training they receive while reducing the distance patients must drive for such procedures.
Opponents of the bill, including representatives of the Arkansas Medical Society and Arkansas Ophthalmological Society, said it would put patients at risk by allowing optometrists to perform procedures currently performed by ophthalmologists.
Optometrists complete a four-year program on eye care after graduating from college and are licensed by the Arkansas Board of Optometry.
[RELATED: Complete Democrat-Gazette coverage of the Arkansas Legislature]
Ophthalmologists, who are physicians licensed by the state Medical Board, are medical school graduates who complete a yearlong hospital internship and at least three years of residency.
"A 32-hour workshop does not make you a surgeon," said Monica Hall, a Little Rock ophthalmologist. "They're asking to use needles, knives, scalpels and lasers."
Arkansas law currently allows optometrists to remove foreign objects from the surface of the eye, but bars them from performing other surgical procedures.
Oklahoma, Kentucky and Louisiana allow optometrists to perform certain surgeries, and Alaska is developing regulations for it, Eubanks said.
Fourteen other states allow optometrists to perform injections, remove lesions, or both, he said.
"I don't think there's any evidence out there that the optometrists are not being able to perform these procedures in a safe, professional manner," Eubanks said.
The bill fell two votes short of the 11 it needed to clear the 20-member committee.
Ten members voted against it and the chairman, Rep. Jack Ladyman, R-Jonesboro, didn't vote.
Eubanks said after the meeting that he hadn't decided whether to present the bill to the committee again.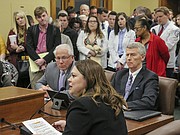 Metro on 02/20/2019