Four history-making Arkansas mayors talked race, representation and unity at the Clinton Presidential Center on Monday.
Little Rock Mayor Frank Scott Jr., Fort Smith Mayor George McGill, Pine Bluff Mayor Shirley Washington and El Dorado Mayor Veronica Smith-Creer shared reflections and stories from their campaigns and their terms so far.
It was a "banner year," for black people being elected to public office throughout Arkansas, the event's moderator, former Little Rock Mayor Lottie Shackelford said.
All four mayors are in their first terms. The three elected in 2018 -- Scott, McGill and Smith-Creer -- are the first popularly elected black mayors of their cities.
Smith-Creer is also the first female mayor of El Dorado. Washington is the first black woman to serve as mayor of Pine Bluff. She was elected in 2016.
Washington said the lack of unity she saw in Pine Bluff was the driving force in her bid for mayor.
"There was a lot of discord that took place every month, twice a month at our City Council meetings," the former educator said. "I saw a need in my city to bridge that gap, and I just jumped forward and said, 'I have to do this.'"
Shackelford pointed out that all four ran on themes of unity and bridging the gaps in divided cities. Scott added that he also ran out of frustration that not all voices were being heard.
"I was being invited to the table and asked for my opinion and perspective, and then I quickly realized that my opinion and perspective were just to check a box," he said. "After three or four pretty huge occasions of realizing that I wasn't being listened to, it became frustration, and so then it was, why not?"
Little Rock has had two black mayors before, both of whom were elected as city directors who later were chosen for the post by fellow board members. The city of nearly 200,000 is about 42 percent black.
McGill, a former state legislator, said his campaign began with people across the city asking if he would be willing to run. He credited his victory to people looking for the leadership Fort Smith needed, regardless of race. McGill garnered about 57 percent of the vote in a city of about 88,000 people that's less than 10 percent black.
"People were ready for a change, and they made a decision to cover up the names. They made a decision to cover up the race, culture or religion, and they looked at qualifications and credentials," he said.
El Dorado's population is about half black, and Pine Bluff's is about 78 percent.
After the election results were in, McGill said he remembers looking at the excited expressions on the faces of people of all races.
"It was the most beautiful mosaic I ever laid eyes on," he said. "It's very humbling to be the face and voice of a city ... They gave this little African-American kid the keys to the city. I watched the city mature to a point where they would give me the keys to the city."
Smith-Creer said she still found the idea of having made history overwhelming.
"The odds were not in my favor, but God was on my side," she said.
She said visibility was important. During the campaign, she was disheartened to find out that many people in the city didn't know who the current mayor was. Then she shared a story about visiting a third-grade class after the election and one of the girls knowing who she was as soon as she walked into the room.
"I think about my daughter, I think about what it does for her," Smith-Creer said. "Now I get to be the inspiration for the next generation, so it's huge."
Scott said he was touched by seeing children dress up like him the day after the inauguration, and by their excitement about having a mayor from southwest Little Rock, an area that encompasses some of the city's poorest neighborhoods.
Washington recalled visiting schools and seeing young girls who asked permission to hug her, saying they had never hugged a mayor before.
"I have to be the very best mayor that I can be, and let them know that they can be successful. I have to be that role model," Washington said. "When I was running, I didn't take gender, being the first black female, into account at all. It was about the job that was before me and what I had to do. It just so happened that at the end of the day, I was a pioneer."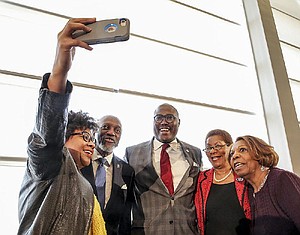 Photo by Arkansas Democrat-Gazette/JOHN SYKES JR.
Arkansas mayors (from left) Veronica Smith-Creer of El Dorado, George McGill of Fort Smith, Frank Scott Jr. of Little Rock, and Shirley Washington of Pine Bluff take turns answering questions during a program called "Making History: African-American Mayors in Arkansas" at the Clinton Presidential Center on Monday afternoon. The event was moderated by former Little Rock Mayor Lottie Shackelford.
Metro on 02/26/2019