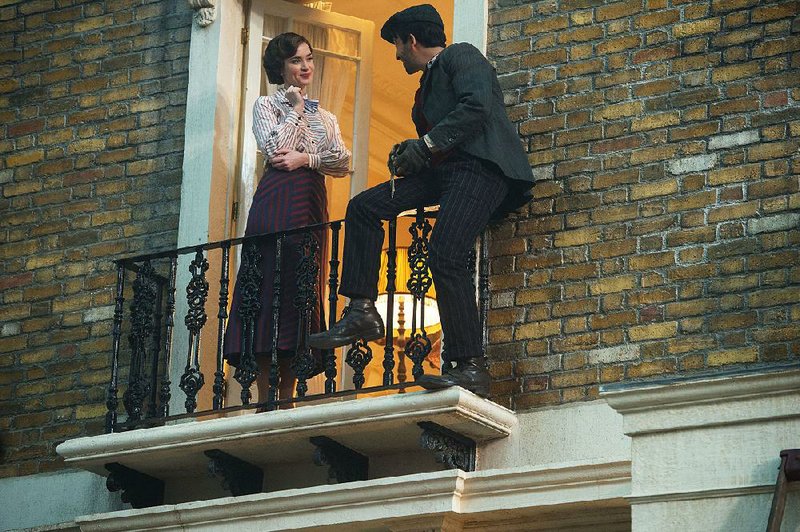 Emily Blunt stars as Mary Poppins and Lin-Manuel Miranda is Jack in Disney's Mary Poppins Returns. The film came in second behind Aquaman at last weekend's box office and made about $28 million.
More than Spider-Man or a transforming Volkswagen -- more even than a magical nanny -- an underwater escape with Jason Momoa as Aquaman proved itself to be the most appealing diversion for audiences over the post-holiday weekend.
Aquaman, which marked the arrival of a moneymaking superhero for Warner Bros. when it debuted Dec. 21, sold an estimated $51.6 million in tickets in North America between Friday and Sunday. The film also continues to do well overseas, where it made $85.4 million last weekend for a foreign total of $560 million, according to the studio.
Disney's Mary Poppins Returns, the family musical sequel, actually did better last weekend than when it opened the weekend before, presumably bolstered by families looking for something that would excite kids (uplifting music) and adults (Lin-Manuel Miranda and Emily Blunt in 1930s garb). The film was last weekend's No. 2 performer at the box office and brought in about $28 million domestically, a 19 percent increase from its opening weekend.
Other movies that benefited from a post-holiday bump included Columbia's critically lauded Spider-Man: Into the Spider-Verse, which made $18.3 million last weekend (11 percent more than the previous weekend), and Warner Bros.' The Mule, a Clint Eastwood film that made $11.8 million last weekend for a 24 percent increase, according to Comscore, which compiles box-office data. Disney's Ralph Breaks the Internet, an animated sequel with a title character voiced by John C. Reilly, made $6.5 million in its sixth weekend, a 39 percent increase.
Less jolly news for Reilly was the performance of Columbia's Holmes & Watson, which was released Christmas Day. The critically lambasted Etan Cohen-directed comedy, with Reilly playing the sidekick to Will Ferrell's Sherlock Holmes, earned just $7.3 million over the weekend for an estimated total of $19.7 million in ticket sales since its midweek release -- a disappointing result for a film that cost Columbia $42 million to make.
"There is a bit of a lull on the weekend leading into Christmas. People are busy and distracted," said Comscore's senior media analyst Paul Dergarabedian. "But the weekend after, most of these films in the top 10 got a bounce."
Another Christmas Day release -- Annapurna's Vice, with Christian Bale as Dick Cheney -- performed comparably, bringing in $7.8 million over the weekend and $17.7 million over the course of the week.
A leading contender at the Golden Globe Awards this coming Sunday, the film earned mixed reviews from critics and a C+ CinemaScore from audiences.
"That a movie with that subject matter can ride a wave to sixth place is really indicative of how interested people are in this movie," Dergarabedian said. "This is required viewing for anyone studying the awards season race."
Bumblebee, Paramount's very well-reviewed Transformers prequel, made $20.5 million over the weekend to take the No. 3 spot.
The Jennifer Lopez-led Second Act, which got off to a slow start Dec. 21, also found itself up 11 percent, with $7.2 million in seventh place.
And in limited release, the Ruth Bader Ginsburg film On the Basis of Sex -- starring Felicity Jones -- grossed $690,000 from 33 locations, for a total of $1.5 million since its debut. The Laurel and Hardy film Stan & Ollie, also with John C. Reilly, opened on five screens to $79,674, and Destroyer, with Nicole Kidman, earned $58,472 from three locations.
The box office year as a whole is barreling toward a record $11.9 billion in returns, although final numbers won't be in from all the studios until next week.
"This is the perfect way to end a record box office year," Dergarabedian said. "This weekend represented everything that this year was about: Diversity, escapism and the movie-going experience in the theater, once again proving that the movie theater can take on all competition and come out a winner."
MovieStyle on 01/04/2019
Print Headline: Aquaman makes another big splash over holiday
Sponsor Content