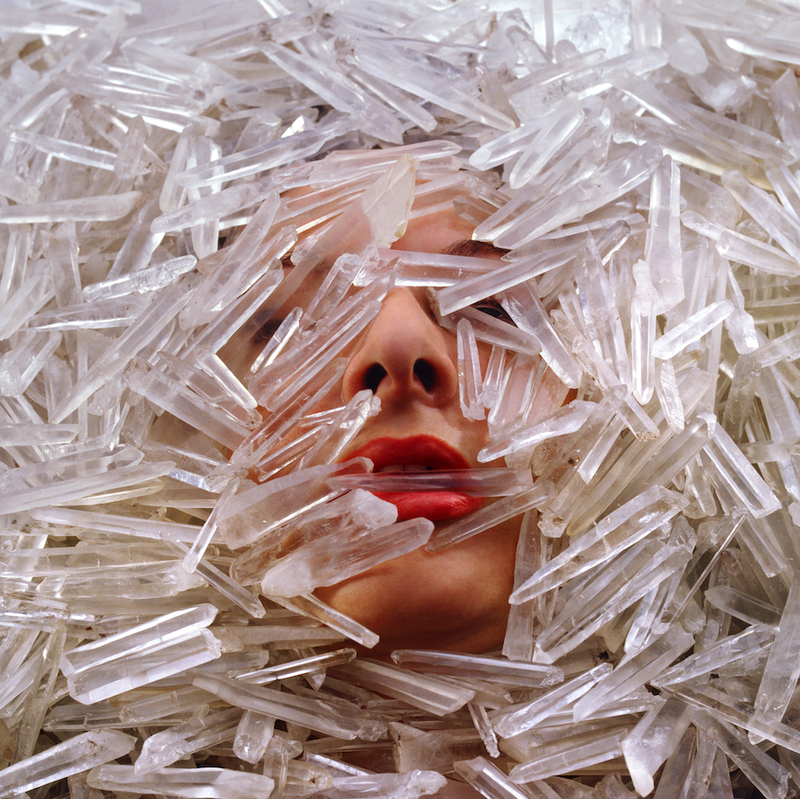 This image is from Dozing Consciousness, a performance for video by Marina Abramovic cq. It is part of an exhibition tentatively titled "Crystal: Visible and Invisible." It opens Oct. 12 at Crystal Bridges Museum of American Art.
This past year brought memorable exhibitions to our state, from the astounding "Becoming John Marin: Modernist at Work" at the Arkansas Arts Center to the impressive "Soul of a Nation" and "Art for a New Understanding: Native Voices, 1950s to Now" (which closes Monday) at Crystal Bridges Museum of American Art, to the historic and contemporary insight of "Respect: 50 Years of AFRICobra" at Mosaic Templars Cultural Center.
In addition, the Butler Center for Arkansas Studies wrapped up an impressive and moving two-year examination of the Japanese World War II internment camps in Arkansas with "A Matter of Mind and Heart: Portraits of Japanese American Identity." The center also shed light on Arkansas' prolific Brewer family -- Adrian Brewer, his son, Edwin, and his father, Nicholas -- with "A Legacy of Brewers."
Other 2018 highlights: the new Windgate Center for Art + Design opened at the University of Arkansas at Little Rock with a superb exhibition -- "Building a Collection: Recent Acquisitions Made Possible by the Windgate Foundation" -- accompanied by a beautiful catalog; both curated by gallery director Brad Cushman.
The University of Arkansas-Pulaski Technical College presented a fine touring show, "American Perspectives on Modernism" in its Windgate Gallery, one of several insightful exhibits in the state that explored the richness of modernism.
But what are these arts institutions doing for us this year?
Here's a look at some of 2019's likely high points at Arkansas museums.
CRYSTAL BRIDGES
Crystal Bridges Museum of American Art in Bentonville has organized two of its three major exhibitions for the year -- "Men of Steel, Women of Wonder" and "Crystal: Visible and Invisible."
• "Men of Steel, Women of Wonder," Feb. 9-April 22
An exploration of national identity, social politics and American values reflected in images of icons such as Superman and Wonder Woman in works ranging from the Great Depression to today. Developed by Crystal Bridges, it features more than 70 paintings, photographs, installations, videos and more.
• "Nature's Nation: American Art and Environment," May 25-Sept. 9
The connection between art and nature is the guiding idea behind "Nature's Nation." In 100 works of art from 70 American collections, this exhibition explores our changing ideas about the natural world and our place within it. Artists featured include Thomas Moran, Frank Lloyd Wright and Dorothea Lange.
• "Crystal: Visible and Invisible" (working title), Oct. 12-Jan. 6, 2020
Organized by Crystal Bridges with guest curator Joachim Pissarro, this exhibition seeks to examine connections between crystal and art throughout the world and its history, through more than 75 works. In a news release, the museum states that "all of these precious objects illustrate how crystal has bridged the gap between things we can see and things we can't: science and art, fact and faith, medicine and magic -- the visible and the invisible."
ARKANSAS ARTS CENTER
Construction is expected to begin on the Arkansas Arts Center's renovation this fall. Here's what's on the schedule up to that point: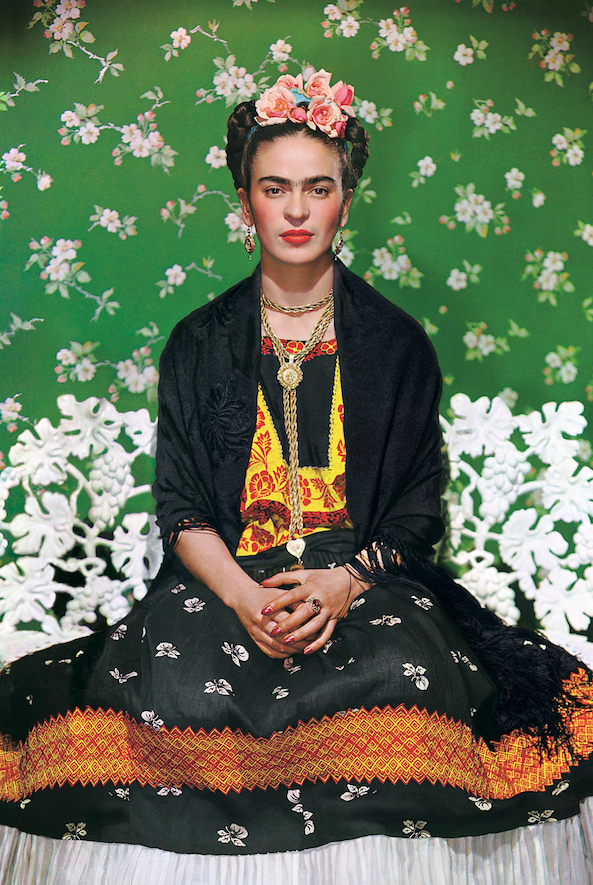 Frida Khalo on White Bench, New York, a color carbon print, was taken in 1939 by Nickolas Muray cq. It will hang in "Photographing Frida: Portraits of Frida Kahlo/Fotografiando Frida: Retratos de Frida Kahlo," which opens Feb. 1 at the Arkansas Arts Center. (Throckmorton Fine Art, New York)
• "Photographing Frida: Portraits of Frida Kahlo/Fotografiando Frida: Retratos de Frida Kahlo," Feb. 1-April 14
The first exhibition about artist Frida Kahlo to appear at the Arkansas Arts Center, "Photographing Frida" has 65 images of the Mexican artist by some of the 20th century's most important photographers, including Lola and Manuel Alvarez Bravo, Imogen Cunningham, Edward Weston and Graciela Iturbide.
• "POP! Out of the Vault," Feb. 19-July 7
Pop art from the Arts Center Foundation Collection includes works on paper and craft objects such as Andy Warhol's Little Red Book, 9, the book of 16 Polaroids Warhol shot in 1975 as source material for Print 1 in the portfolio "Ladies and Gentlemen."
• "61st Annual Delta Exhibition," May 3-June 30
Founded in 1958, the exhibition provides a snapshot of contemporary artists who have roots in Arkansas and its border states. A guest juror will select the artworks to be exhibited and award a $2,500 Grand Award and two $750 Delta Awards. Additionally, a $250 award will be selected by the Contemporaries, an auxiliary membership group of the Arkansas Arts Center.
• "58th Young Arkansas Artists Exhibition," April 30-June 30
This children's art exhibition presents artwork by students in kindergarten through 12th-grade from across the state. Selections from the exhibit travel to schools and other venues in the state.
WINDGATE GALLERY, PULASKI TECH
• "Women of a New Tribe," Jan. 14-Feb. 23
A photographic exhibition focused on the physical and spiritual beauty of black American women. The subjects are from all walks of life and were photographed in a style reminiscent of the photography of 1930s and '40s Hollywood.
• "The Creative Mind," Jan. 14-April 1
This exhibit is focused on the contributions of black Americans to medicine, mathematics, engineering and science. Its first showing was at the Franklin Institute in Philadelphia in 2012.
• "Arkansas Arts Council's Small Works on Paper," March 1-April 13
Artists from around the state are featured in this annual touring exhibition.
• "Anne Frank -- A Private Photo Album," May 24-July 6
Some 71 reproduced photographs taken by Otto Frank, Anne's father, are featured. Anne Frank's birthday is June 12. She would have turned 90.
• "Wandering Spirit -- African Wax Prints," July 19-Oct. 5
BUTLER CENTER
In 2018, the Butler Center for Arkansas Studies, including the Cox Building, grouped its galleries under the new name The Galleries at Library Square.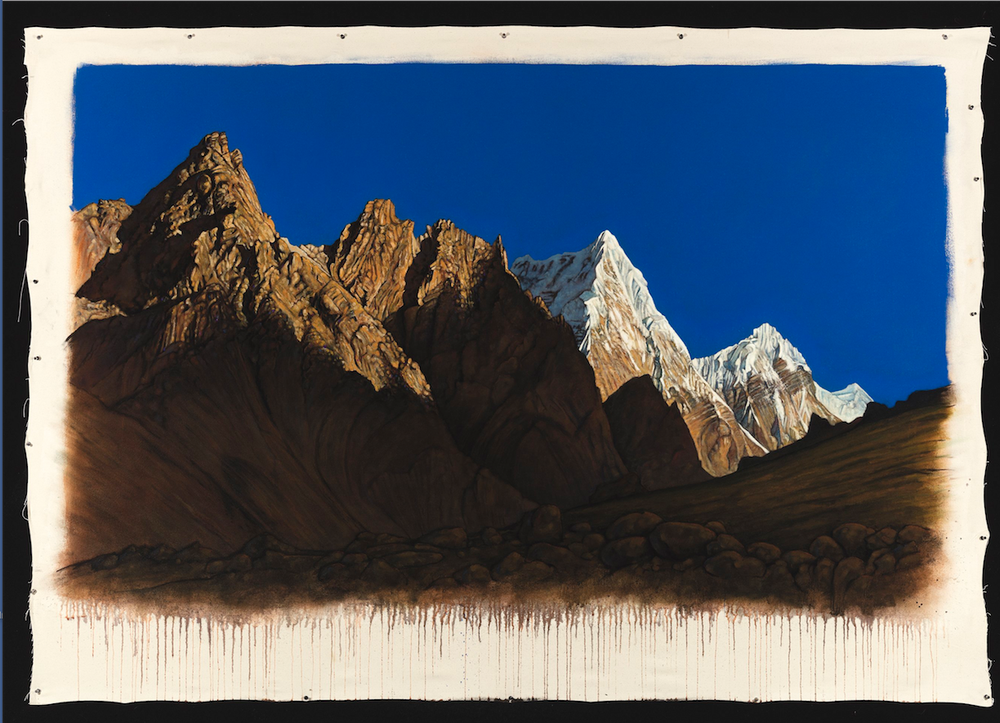 This oil on canvas by Terry Brewer is titled Tengi Ragi Tau 2 cq; it hangs as part of his show of paintings and photographs at the Butler Center for Arkansas Studies' Underground Gallery.
• "Paintings by Terry Brewer: Nepal Maa Dui Barsa Base (Two Years in Nepal, 2008-2010)," through March 30, Galleries at Library Square's Underground Gallery
Through painting and photographs, Little Rock resident Terry Brewer creates work inspired by his time in Nepal as a volunteer with Habitat for Humanity International.
• "Paintings by Charles Henry James: Back to the Garden," Feb. 8-April 27, Galleries at Library Square's Concordia Hall Gallery
Artist and musician Charles Henry James uses humor in his free-wheeling approach to social and political engagement, influenced by pop culture tropes, op art, surrealism and psychedelia.
• "Made in America: Vintage Film Posters From the Ron Robinson Collection," Feb. 8--May 25, Galleries at Library Square's Loft Gallery
WINDGATE CENTER OF ART + DESIGN, UALR
• "On Their Own Terms," Jan. 17-March 10, Brad Cushman Gallery and Small Gallery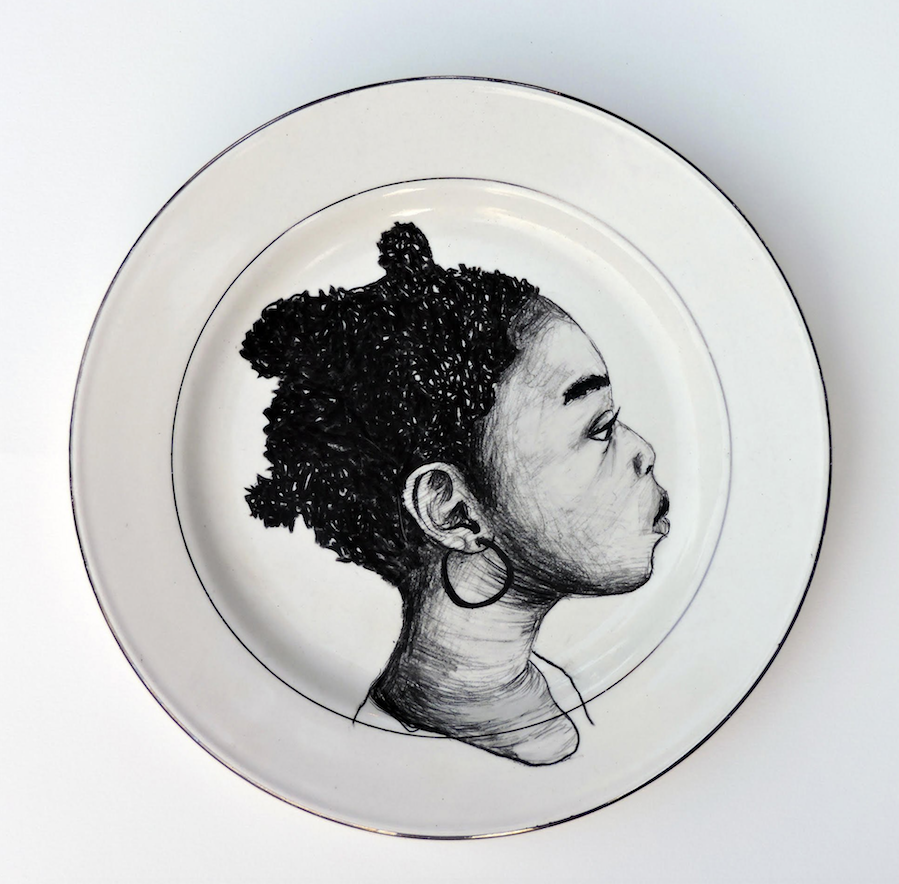 This plate is one of 200 plates painted by Delita Martin for her installation The Dinner Table, which is featured in "On Their Own Terms" at the Windgate Center of Art + Design at the University of Arkansas at Little Rock. It opens Jan. 17.
A survey of African American Art from the mid-1800s to the present, "On Their Own Terms" presents art created by modern and contemporary artists such as Delita Martin, Elizabeth Catlett, Romare Bearden, Sam Gilliam, Amy Sherald, Kehinde Wiley, Aj Smith and Marjorie Williams-Smith.
The exhibit examines how artists influence each other directly and indirectly, says Cushman, who curated the exhibition.
• Arthur Hash, "The Daily Carry in a post-digital age," April 1-May 15, Small Gallery (Level 1)
Arthur Hash's "daily carry" includes good luck charms, river stones, small folding knives and more. He takes an object from each of two pockets and makes a single wearable metalsmithing fabrication using 3-D modeling and printing. This digital approach blends with traditional bench jewelry techniques such as enameling and stone setting.
CLINTON PRESIDENTIAL CENTER
• "The White House Collection of American Crafts: 25th Anniversary Exhibit," though March 3.
• "Cultural Heroes," March 1-May 5
Seven larger-than-life clay sculptures created by Nashville, Tenn., artist Alan LeQuire represent musicians who shaped the soundtrack of the civil rights movement: Bessie Smith, Billie Holiday, Lead Belly, Paul Robeson, Woody Guthrie, Marian Anderson and Josh White.
• "Washed Ashore: Art to Save the Sea," April 27-Oct. 27
The 18 giant sea life sculptures in this exhibit are made of trash and debris collected from beaches to illustrate the toll pollution takes on oceans and waterways.
HISTORIC ARKANSAS MUSEUM
• "Arkansas Arts Council presents Flourish: Jessica Mongeon and Cara Sullivan," Feb. 8-April 7
• "Arkansas Territory Bicentennial exhibit," March 8-April 2020
• "Mid-Southern Watercolorists 49th Annual Juried Exhibition," April 12-July 7
• "Arkansas Maps: From Territory to Statehood," May 10-Jan. 2020
• "Stitched Together: Arkansas Quilts From the Permanent Collection," June 14 (tentative)-August 2020
• "Arkansas Territory Bicentennial Art Exhibition," presented by the Heart of America Artists Association, July 12-Sept. 8
OLD STATE HOUSE MUSEUM
There are two exhibitions in development at the Old State House, Arkansas' original state Capitol building. Both are expected to open in the fall.
One is a show of artifacts covering the history of the Arkansas State Fair from the early 20th century to today; the other will be a reworking of the Arkansas Governors Exhibit, which will be shown in the original governor's office in the Old State House.
ARTS & SCIENCE CENTER FOR SOUTHEAST ARKANSAS
In Pine Bluff, the center's plans include:
• "Era of Activism," through Aug. 31
Works from the permanent collection
• "Complex Shapes and Empty Space," Dustyn Bork, Jan. 24-April-13
The painter and printmaker teaches art at Lyon College in Batesville.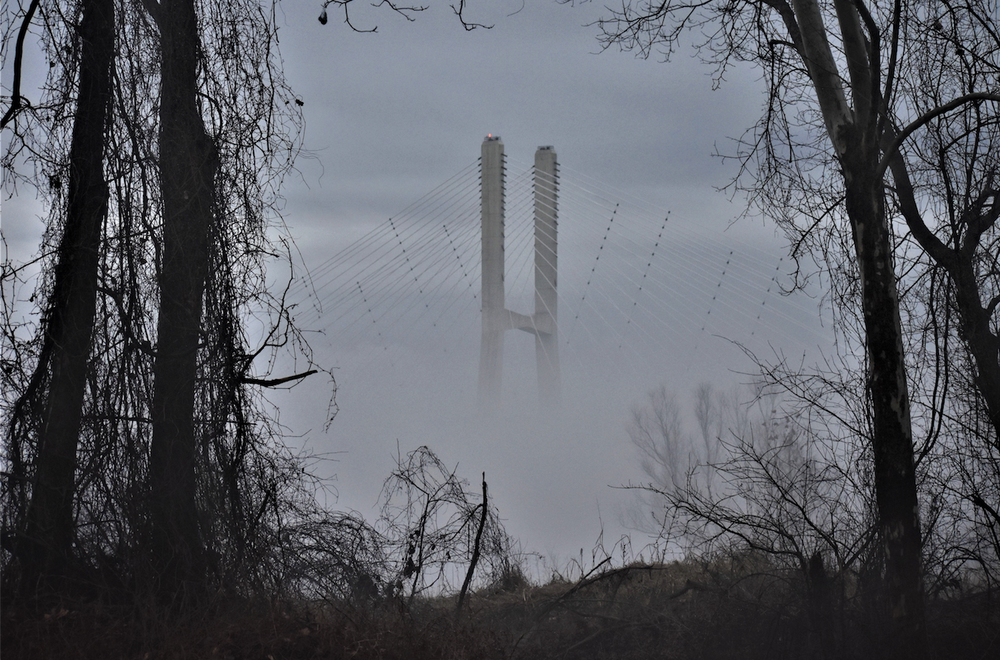 Ken Lambert's photograph, Mississippi Bridge, 2018, is included in the exhibition "Scenes Along Rhythm & Bayous Highway." It opens Feb. 7 at the Arts & Science Center for Southeast Arkansas in Pine Bluff.
• "Scenes Along Rhythm & Bayous Highway" and "Women of the Arkansas Delta," circa 1975; Feb. 7-April 20
• "Heavy Metal," April 20-June 22
Jewelry maker Michele Fox, sculptor Amanda Heinbockel, sculptor Robyn Horn and mixed media artist Holly Laws are featured in this exhibit organized by the Arkansas State Committee, National Museum of Women in the Arts.
• "Eviction Quilts," James Matthews, June 27-Sept. 28
Each quilt -- made from clothes and bedding left curbside after evictions -- represents a single eviction in Little Rock. He washed the material, pieced it and sewed it into quilt tops, which he backed and hand-tied with cotton yarn. It represents the personal and physical loss of eviction.
MOSAIC TEMPLARS CULTURAL CENTER
Dates are not final, but these exhibits are scheduled at the Mosaic Templars Cultural Center:
• "Women Without Words," March-May
The exhibit presents the ways in which black women have been publicly presented in various mediums, inviting visitors to consider what museum labels tell us and how preconceptions change the way we see a work of art.
• "Finding Freedom in the Forest: Opportunities and Challenges for African Americans in the Timber Industry," June-August
• "Hateful Things," September-November
"Hateful Things" is a touring exhibit from the Jim Crow Museum of Racist Memorabilia, Big Rapids, Mich.
BRADBURY ART MUSEUM
In Jonesboro, the Bradbury Art Museum at Arkansas State University plans:
• Tim Hursley, "The Business of Dying" and "2019 Delta National Small Prints Exhibition," Jan. 24-Feb. 20
Hursley, who won the Arkansas Arts Center's Delta Grand Award in 2016, is a photographer who has worked with several of the world's most important architects.
• "Salvador Dali's Stairway to Heaven," March 7-April 11
The surrealist artist's publishing projects, including his art for Dante's The Divine Comedy, are the focus of this touring exhibition.
FORT SMITH REGIONAL ART MUSEUM
• "Bold Improvisation: Searching for African-American Quilts, the Heffley Collection," Feb. 1-May 5
Scott Heffley, retired head of the painting conservation department at the Nelson-Atkins Museum of Art in Kansas City, has been collecting quilts for more than 30 years. At 6 p.m. Feb. 1, Heffley will lead a guided tour of the exhibit.
• "RAM Annual Invitational: The Pulse of a Nation," April 5-July 28
• "Edward Robison III: Ozark Landscapes," May 10-Sept. 1
The Missouri-born photographer owns Sacred Earth Gallery in Eureka Springs.
• "David Mudrinich," Aug. 2-Nov. 24
Mudrinich, a painter of landscapes, is professor of art at Arkansas Tech University.
WALTON ARTS CENTER
In Fayetteville, the Walton Arts Center plans:
• "Of Legends and Lore," through Saturday
• "On Paper: Collaborations in Print and Pulp From Wildwood Press," Jan. 26-May 4.
Style on 01/06/2019
Print Headline: State of the arts
Sponsor Content