Everyone wants to know if season three of HBO's True Detective, which premieres this evening after taking 3 1/2 years off, is any good.
Is it good enough to "watch watch"? Or should we only see it for the thrill of viewing Arkansas and Arkansans in a prestige serial drama? Is it as good as season one was (although not everyone liked season one)? Or is it bad as season two (although some people, myself included, didn't dislike season two)?
Is it better than Ozark?
After watching five episodes, I can't offer definitive answers. (And those episodes weren't quite finished; there were some green screens to be filled in later.) But I'll be watching, and will start over at the beginning tonight along with everyone else. I'm intrigued by what I've seen, because of a certain level of care the showmakers have taken.
The story concerns a child murder informed, if not directly inspired, by the West Memphis Three case. The child's body is found in Devil's Den State Park; the victim lived in the fictional town of West Finger, which bears a marked resemblance to West Fork.
The narrative unfolds along three timelines: in 1980 when the crime was initially investigated; in 1990 when new revelations cause the case to be reopened and 2015 when a young journalist interviews Wayne "Purple" Hays (Mahershala Ali), the Arkansas State Police lead detective in the original investigation, for a true crime documentary about the case.
[RELATED: Detecting Arkansas faces in 'True Detective']
Hays is an interesting cat, if a difficult interviewee. He's suffering from dementia, and though haunted by the case, he's not sure he remembers it all. Some things are clear: It was on the day Steve McQueen died that the two Purcell children (a girl and a boy) set out on their bikes. They tell their father Tom (Scoot McNairy) they are going to the home of a schoolmate; he tells them to be back before dark.
They aren't. Police become involved. At first, the most likely scenario is that their mother Lucy (Mamie Gummer) has run off with them. The Purcell home is unhappy; poverty keeps Tom and Lucy from divorcing.
It turns out the children ride their bikes to Devil's Den State Park, where they may have met someone. Or a couple of someones who provided them with toys.
Hays finds the boy's body after he breaks off from the ranks of the organized search party and goes off on a frolic of his own. "He's got his own thing," his partner Roland West (Steven Dorff) shrugs. He has seen it before.
He wants to keep searching. West protests that "it's too dark." This being True Detective, Hays allows he doesn't care.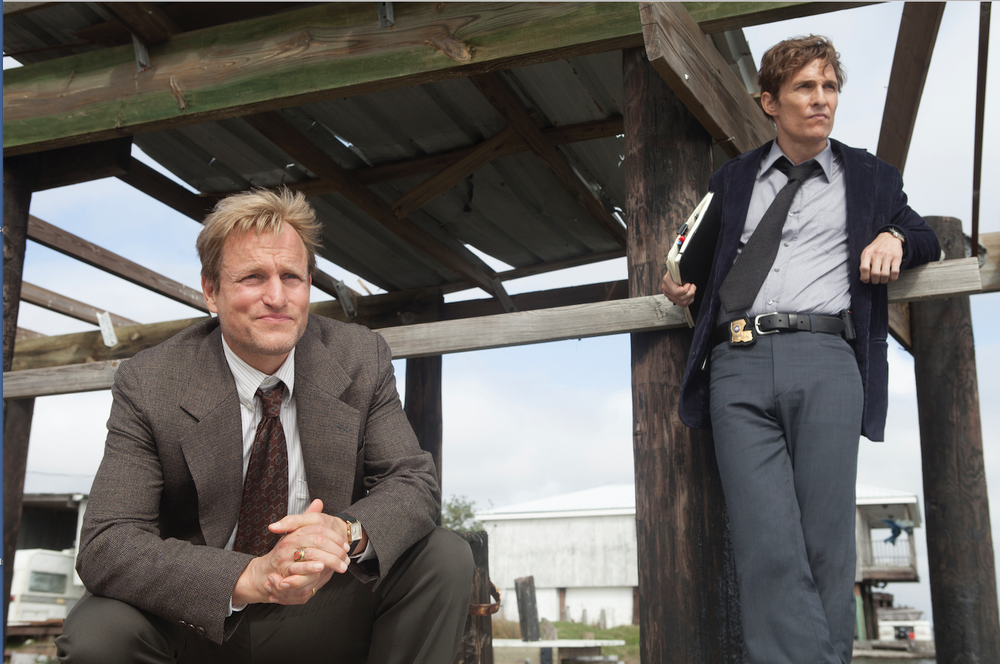 Woody Harrelson (left) and Matthew McConaughey starred in season one of "True Detective"
Hays vibrates sympathetically with Matthew McConaughey's Rust Cohle from season one. He's a Vietnam vet, a former LRRP ("lurp," part of a long range reconnaissance patrol) working deep behind enemy lines, dropped into the jungle to operate alone for weeks at a time. His idea of fun is to track wild boar with a single-shot muzzle loader. Having only one shot at the animal is more sporting than conventional hunting.
While Hays might have a touch of a death wish commingled with survivors' guilt, he's not quite so fatalistic as the philosophical Cohle, who was just trying to put things in order so he could "tie it off."
Hays still has an appetite for life, as evidenced when he meets the boy's teacher Amelia Reardon (Carmen Ejogo). She's bright, ambitious and, as a black professional serving a mostly white clientele in Arkansas, alert to cultural nuance. Meeting her, Hays recognizes a fellow traveler. He asks, "How is it for you?"
Fine, she says. Sometimes she overhears a word in the hall, but mostly the people take pains to show that they're not "that way." Though some are. Later, Hays asks an older citizen -- played by Little Rock's Candyce Hinkle, one of at least 17 local actors who has a speaking part in the series -- to describe a black suspect and she looks perplexed when he asks if he was handsome. For her, he simply registers as black.
When Hays terrorizes suspects, he brings up the spectre of prison rape by brutal black men. While this season of True Detective cannot claim to address the racial dynamics of Northwest Arkansas in 1980 in a subtle way, it feels accurate: I've heard black detectives in Louisiana use precisely the same gambit around the same time.
It's no spoiler to say that in the 1990 timeline, Hays and Amelia are married, parents of two young children. He has been moved on from homicide to a desk job in media relations (which has to be about as low as a murder cop can fall). She has just written a book about the case and feels some ownership in it, to the point of conducting her own parallel investigation and sharing information with her husband. This introduces interesting textures of professional and sexual jealousy.
And in 2015, she's gone -- and Hays is having trouble remembering her face.
In a way, season three feels like a stripped-down version of season one as it returns to the themes of possibly ritualized pedophilia and features two detectives working a mostly rural territory. A cynic could charge that the show's creator, Nic Pizzolatto, having taken notes from the audience and critics over the first two series, determined to deliver us the focus-grouped True Detective we deserve. It preserves the buddy cop dynamic of season one while toning down the metaphysical banter. Hays may be a little gnomic, but he doesn't carry on about yellow kings and flat circles or smell "psychospheres."
And it seems determined to make us forget everything about the overstuffed season two, which was enjoyable primarily in a what-the-bleep? way. (It was great right up until the moment when Colin Farrell, apparently killed in a shotgun blast by a man in a raven mask at the end of that season's second episode, was revealed to be wearing a bullet-proof vest in episode three.) In a way, season three even reprises Carcosa, the Wicker Man-style stick sculptures that populated the staged crime scenes with creepy handmade dolls.
An easy analogy is to the singer-songwriter who puts everything he has ever thought of into his debut album, then tries to cobble together a second one from gestures and noise. If he ever gets a chance at a third one, he's likely to go back to the themes that brung him to the dance. With the break, Pizzolato (a product of the University of Arkansas writing program) obviously had more time to consider what he wanted to do, and it's never a mistake for an artist working in the television medium to lean on his strengths.
Looking back on the first season, it's clear that the contributions of Cary Joji Fukunaga, who directed all eight of the first-season episodes, was critical. Fukunaga's visual instincts (in combination with the music director T Bone Burnett, who has remained a constant through three seasons) manufactured and sustained an atmosphere that supported even the wooliest Rust Cohle koans. You just got the feeling that, OK, the dude's a little off.
Plenty of police detectives are. It comes with the psychosphere.
. . .
Maybe because homicide detectives fail a lot of the time.
Most murders that are solved are simple. The murderer is the one standing over the body, crying about how she made him do it. Or the murderer is the other body, the one with the gun still in his hand.
If the murderer isn't on hand when the police arrive, it becomes much harder to clear a murder case. Even including all the layups, the national clearance rate for murder cases is a tick under 60 percent. A lot of people get away with murder. But the police take some consolation in knowing most of those people will live most of their lives in cages anyway. Like most of us, police do the best they can.
Some of them take the job home with them. Some of them are deeply disturbed by the things they have had to see. As a cop reporter I saw some of those things, but they would have bothered me as much as some of the phone calls they had to make, late at night, a victim's driver's license in their hand, the billfold that held it splayed out on their desks.
Wayne Hays and Roland West are credible examples; they are close to some real detectives I've known.
It goes without saying that any television show that attempts to portray any profession with accuracy would bore us; so the makers of cop shows compress time and crank up contrasts; they filter out the bits that don't contribute to the feeling they are trying to sustain. They cast better-looking people, dress them carefully, and unlike actual murder scenes, attempt to banish all that is random and extraneous and might distract the engaged audience from the story that they want to tell.
A real murder is usually a dull story; desperate, stupid and instantly regrettable. It flares. A cinematic murder story must offer us something deeper, or at least more interesting than Cain-Abel banality. It can't be so much about the criminal act as it is about uncovering the motives and compulsions behind the act.
It is not so much about what has happened as the how and why it happened, and what the detectives discover as they rummage through details their subjects of interest would prefer not to disclose. A murder mystery is a way to examine the ways human beings court favor and attention, how they deal with loss and the discovery of what is monstrous within us all. It's a way to poke around and stir up spooky stuff.
. . .
Ali is having a moment -- he won a best supporting actor Oscar for his work in 2016's Moonlight and seems to be assured of another nomination for his work in this year's Green Book. (He won a Golden Globe last Sunday for the True Detective role.) He's a reliable performer who brings good will to the table, maybe enough that some of those people who actively hated the second season of True Detective will be willing to give this season a chance. He doesn't look ridiculous in old age makeup, and does something to differentiate his voice in all three timelines.
Dorff is excellent as well, and I hope that in the season's back end his character gets a little more play -- I don't know much about Detective West at this point. Only that he was in the war too, working in the motor pool, not as some long-shadow assassin or anything. He likes dogs. He apparently has trouble keeping relationships together.
The rest of the show is well cast, and if you know some of the faces and places onscreen it's an extra kick. (Hey, there's Gary Newton in the role of straight edge detective No. 2!) Pizzolato uses the state and its resources well, and I don't imagine anyone will be upset with the way the everyday people in the show are portrayed. There's a really honest scene when the grieving father makes a racial slur and West calls him out, then forgives him -- saying, "He's been called a lot worse by people who meant it a lot more."
Unlike a lot of the streaming shows that are released all at once in binge-able fashion, True Detective unfolds relatively leisurely; you don't get the abrupt bursts of action some of those shows seed in as rewards every 15 minutes. (Though there is at least one very visceral gunfight scene -- a backwoods echo of season two's epic urban shootout.)
Unlike the previous seasons, this one is very accessible -- you might not be able to tell where it's going but you won't feel lost. The timelines don't tangle nastily; you can tell where you are by Steven Dorff's hairstyle. I don't expect many people to complain that it's difficult to follow -- even the fourth episode, co-written by David Milch and Pizzolato, feels taut and disciplined (though we haven't gotten to the sixth episode written by Milch and Arkansas' Graham Gordy yet).
It feels like a solid procedural, and Hays is a character we can live with for a while -- though I don't know that Northwest Arkansas could support a long-running series playing out over a decade or so like The Wire. Child murder is still something in these hills, an event uncommon and shocking.
At one point Wayne Hays says that he'd felt like Vietnam had divided his life into a before and after. But that was before the Purcell case superseded it as the signal event. There's a certain poignancy available in his unreliable memory of it, and the first two episodes, directed by Jeremy Saulnier (Green Room), have a misty quality that suggests the scenes of the 1980 investigation may be filtered through Hays' recollection rather than literal representations of reality.
Which it is not, though it acknowledges the essential boredom that marks most police investigations. What seems remarkable is the quickness with which some suspects are dismissed -- some procedurals push forward potential villains in such an obvious way we know that they can't be the real killer. Five episodes in, I'm not sure we've seen the ultimate suspect on screen yet.
Here the Damien Echols-esque character doesn't get railroaded -- though there's a sense that had things broken differently he could have been.
So yeah, see it if you have access to HBO. I will; I want to know whodidit. And how we got here.
Email:
pmartin@arkansasonline.com
blooddirtangels.com
Style on 01/13/2019