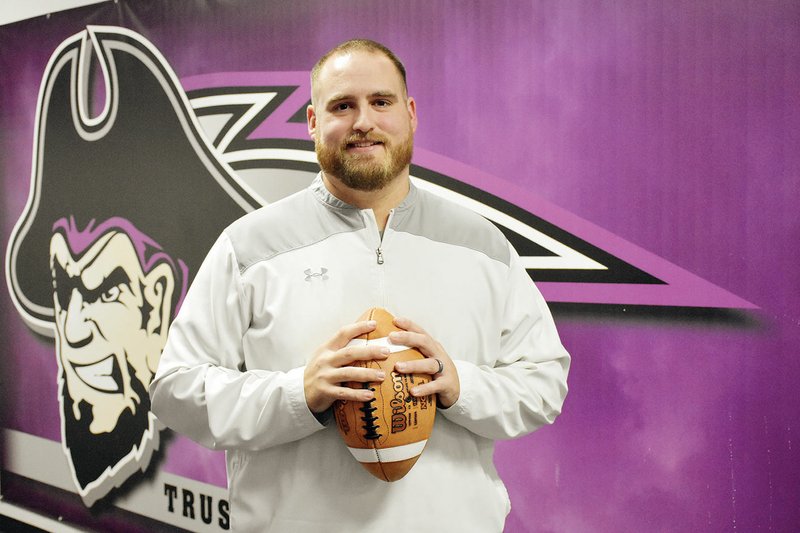 New Riverview football coach Drake Widener stands inside the field house on the high school campus. Widener was hired to replace Mike McCain, who resigned for health reasons before the start of the 2018 season. Widener was the head coach at Des Arc the previous four seasons.
SEARCY — After a successful four-year run as head football coach at Des Arc, Drake Widener is taking on the challenge of rebuilding the Riverview Raiders.
Widener was hired by the Riverview School Board on Jan. 10 to replace Mike McCain, who compiled a 23-29 record in five seasons at the White County school. He had two playoff appearances, going 6-5 in 2013 and 7-4 in 2017. He resigned prior to the 2018 season because of health concerns. Interim coach Larry Davidson coached the Raiders to a 2-8 mark.
"It was really hard to leave Des Arc," Widener said. "We've got a good core group coming back there. The decision didn't come easy."
Widener said he was contacted by Riverview Athletic Director Stuart Hill about the opening.
"He asked what I thought it would take to make Riverview a quality program, and I told him, and he agreed," Widener said. "He thought we would be a good fit here. The location is great. The facilities are top-notch. They pay really well. That means you're going to be able to get a great staff, and you're going to be able to lure kids in because of facilities. The numbers are probably going to grow because of location.
"To me, the ceiling is really high. The floor is not really low. I feel that there is a chance to be really good here."
Riverview School District Superintendent David Rutledge said he's excited to have Widener coaching the football program.
"Obviously, he's had a good amount of success at Des Arc," Rutledge said. "We felt like when we interviewed him, we had good conversations about his vision for where our football program is and his ability to relate to our kids and take our program to the next level.
"His experience and his success have been a bonus for us, for him to come in and take our football program and move it to the next level."
The Raiders will run the Spread offense, the coach said.
"I feel like Riverview typically has some speed and some talent at the skill positions," Widener said. "I feel like we're going to run the Spread. In my mind, I think it's going to fit these kids more. It is something that these kids will buy into, the idea of playing fast and getting people in space.
"I had been a Spread guy my whole life until I got to Des Arc, so I'll be making my way back to my roots and getting in the Spread."
Defensively, the Raiders will run a 4-2-5 alignment, which Widener used as defensive coordinator at Lonoke before becoming head coach at Des Arc.
"We're going to be sound fundamentally and be really good at what we do," Widener said.
The coach said he plans to stay at Riverview for a while.
"People were surprised at how long I was at Des Arc," he said. "I think a lot of people didn't expect me to stay, especially after that second year when we won our conference championship. I just thought it was just a great community, and I was happy. I loved it there. It was really hard to leave there.
"I get vested because I build a really close relationship with our kids. I'm going to do the same thing here at Riverview. My plan is to be here and build this thing into a juggernaut. Then we'll see what happens from there. I think it's got the tools and ability to be a really big powerhouse football program with the right work and the right focus."
Widener is a 2007 graduate of Beebe High School. He played football at Arkansas Tech University in Russellville, graduating in 2011 with a Bachelors of Science degree in health and physical education. He also holds a master's degree in educational leadership from Arkansas State University.
He and his wife, Laura, have two daughters, Maggie, 16 months; and Ella, 1 month.
Staff writer Mark Buffalo can be reached at (501) 399-3676 or mbuffalo@arkansasonline.com.
Sponsor Content