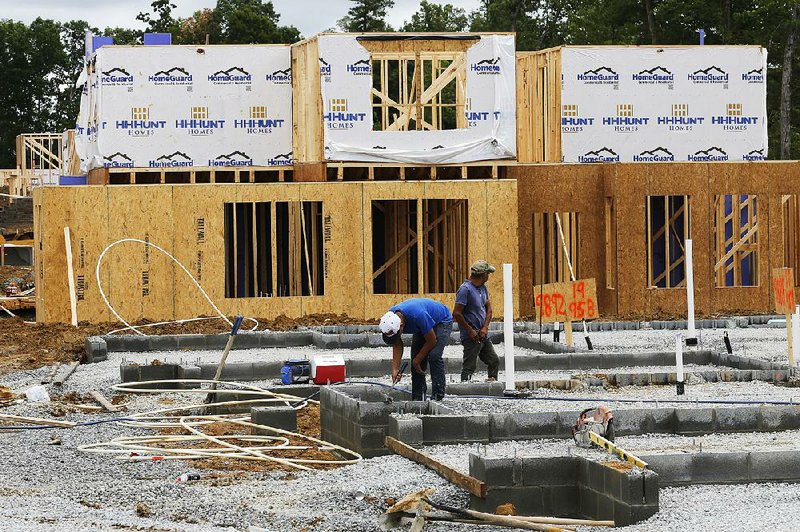 Work continues last month on a townhouse in Mechanicsville, Va. Spending on residential construction declined in May, according to the Commerce Department.
WASHINGTON -- Spending on U.S. construction projects fell in May, the first drop in six months, as home-building fell for a fifth-straight month.
The Commerce Department reported Monday that spending fell 0.8% in May, the first decline since a 1.3% drop in November, to a seasonally adjusted annual rate of $1.29 trillion. Spending In April was revised up from a flat reading to a small gain of 0.4%.
The weakness in May was widespread with spending on single-family homes and apartments down 0.6%, while nonresidential construction fell 0.9%. Spending on government projects also dropped 0.9%, led by a decline in construction spending by the federal government.
Spending on residential construction has been weak for a number of months, but builders are hopeful that declining mortgage rates will spur a rebound.
The decline in residential construction reflected a 0.8% fall in spending on new single-family homes partially offset by a 1.9% rise in the smaller apartment sector.
The drop in nonresidential construction followed a 1.4% decline in April. The May weakness reflected declines in a number of areas, including office buildings and the category that covers shopping centers.
The 0 drop in government construction projects was the first decline in five months. Spending by state and local governments fell 0.6% while construction spending by the federal government was down a larger 5.2%.
In a separate report, U.S. factory activity grew at a slower pace in June for the third-straight month as measures of new orders and inventories fell.
The Institute for Supply Management index dropped to 51.7, the third-straight decline and the weakest level since October 2016, the group's data showed Monday. Still, that topped the median estimate of 51 in a Bloomberg survey of economists. The measure of new orders fell to 50, the lowest since December 2015 and straddling the dividing line between growth and contraction.
The data are consistent with other reports showing widespread weakness in manufacturing from Europe to Asia. While a trade truce announced by President Donald Trump and Chinese leader Xi Jinping at this weekend's Group of 20 meetings could help stabilize the industry, a sluggish global economy will remain a pressing concern for producers.
The U.S. factory gauge, while still signaling expansion, has cooled in the past year as tariffs have forced domestic producers to examine alternative supply chains and delay big spending decisions. In June, the institute's gauge of exports barely expanded, while an index of imports stagnated.
Other issues are also weighing on American manufacturers. The strength of the dollar has made domestic goods less competitive abroad, while U.S. factory orders have been depressed.
On the positive side, the institute's production gauge recovered in June from an almost three-year low, which may explain a second-straight month of improvement in the group's employment index. Those two gains helped support the above-forecast reading in the main factory index.
A separate factory index from IHS Markit on Monday came in at 50.6 for June, which was up from a preliminary reading of 50.1 and the May level of 50.5. It's still near the lowest level in a decade, though.
In the Institute for Supply Management report, order backlogs contracted for a second month, indicating demand for goods remains weak. A gauge of factory inventories declined below 50, suggesting companies are starting to shrink bloated stockpiles.
Prices paid by factories for materials dropped to 47.9 in June, the lowest since February 2016, from 53.2. That may partly reflect a recent decline in oil and highlights a lack of inflation pressures in the economy.
Information for this article was contributed by Martin Crutsinger of The Associated Press, and by Katia Dmitrieva and Chris Middleton of Bloomberg News.
Business on 07/02/2019
Print Headline: U.S. construction spending drops
Sponsor Content