Steve Haaser recalls there were at least a few who doubted Wendy Scholtens-Wood could translate the success she had on the basketball floor in high school to the hardwood at a Division I college.
"They thought she was too weak and frail," said Haaser, who coached Scholtens-Wood at Fort Smith Southside where she helped the then Confederettes (now Lady Mavericks) to three straight state titles and two state Overall crowns. "A college coach I was talking to said 'Don't you think she'll get pushed around?'"
BEST EVER!
Who was the best athlete ever at your school? The sports staff of the Northwest Arkansas Democrat-Gazette will highlight 14 former prep standouts over the next two weeks
WENDY SCHOLTENS-WOOD
SCHOOL Fort Smith Southside
YEAR GRADUATED 1987
SPORTS PLAYED Basketball, Volleyball, Track and Field
WHY HER? Scholtens-Wood is one of the top girls basketball players in Arkansas history. She helped the Confederettes to a 95-5 record and three consecutive state titles along with two Overall state basketball championships and went on to a standout career at Vanderbilt. … Earned three state tournament MVP honors. … Held to single digits in scoring (8) just once in 35 games her senior year as her team finished 35-0. … Earned all-state honors in volleyball and led Confederettes to the state tournament. … Named Parade All-American as a high school senior after averaging more than 25 points and 10 rebounds per game and Arkansas Athlete of the Decade for the 1980s. … Broke 19 school records at Vanderbilt and still holds 15. … Ranks second at Vanderbilt in career scoring with 2,602 points and is the career leader in rebounds with 1,272. … Earned All-Southeastern Conference three times, SEC Freshman of the Year and Kodak All-American as a senior. …. Led SEC in scoring and rebounding each of her final three seasons at Vanderbilt. … Inducted into the Tennessee Sports Hall of Fame in 1999. …Played professional basketball for one season in Japan. … Became first female player at Vanderbilt to have her jersey retired.
Those people couldn't have been more wrong.
The Parade All-American, who averaged more than 25 points, 10 rebounds and 4.5 blocked shots as a senior in high school, became a Kodak All-American during her stellar college career at Vanderbilt.
The 6-foot-4 center went on to be tabbed as one of the top players in America by USA Today as a senior with the Commodores and eventually was enshrined in the Tennessee Sports Hall of Fame.
She scored 2,602 points, which currently ranks second in Vanderbilt women's basketball history, and grabbed 1,272 rebounds -- still tops in the school record book.
"She was a once-in-a-lifetime type player to get to coach and have on your team," Haaser said. "What I remember is she had great hands. Any ball you threw to her -- if you got it close, she was going to catch it. And she shot 85 percent from the free-throw line as a senior.
"That was big because she got double- and triple-teamed a lot and they would just hammer her. So she got a lot of opportunities."
Even current Arkansas women's basketball coach Mike Neighbors was impressed as a teenager living in Greenwood when he saw Scholtens-Wood play.
"I saw it from the eyes of somebody who was her age and in awe of going to watch her play," Neighbors said. "We would drive from Greenwood to Fort Smith just to watch her play. Because back then we didn't have social media. We weren't sure any of us had a car that was gonna get us those 22 miles and back."
Neighbors said she was better than advertised.
"She earned my respect when I didn't know anything about women's basketball," he said. "She had that wow factor with the way she performed collegiately and the way she's carried herself in life after basketball. That sums up the total experience."
Scholtens-Wood will turn 50 this year and is long past her playing days, but she reflects fondly upon those many memories.
"We kind of came out of nowhere my sophomore year and won the state tournament and then go undefeated," Scholtens-Wood said. "The older I get the more I think 'Oh my gosh' that's hard to do."
Her love for basketball carried over to her career at Vanderbilt, where 30 years later she remains one of the faces of the program.
"I loved Vanderbilt like crazy. I'm so thankful for that education. It was a phenomenal experience. I loved Nashville and playing in the SEC. It was really a perfect experience for me. I would go back and do it every day if I could."
Now a Little Rock attorney for 23 years, she has two daughters, who both chose volleyball over basketball. But Madeline decided not to play in college and will begin life as a freshman at the University of Arkansas in the fall. Younger sister Anna will be a freshman at Little Rock Central.
Scholtens-Wood enjoys watching women's college basketball today but believes the game has advanced significantly since she played.
However, Neighbors thinks her athleticism and skill would translate well to today's more wide-open game.
"I think she would have been even a better player in today's game," Neighbors said. "The game had not evolved enough to allow some of the things she was capable of doing to be highlighted or appreciated."
Scholtens-Wood played one season of professional basketball in Japan, an experience she said she won't forget, and a goal she set when she was young. Being a 21-year-old alone in Tokyo, she learned many valuable lessons, but moved on to attend law school after only a year of pro ball.
"The culture was a fascinating experience," Scholtens-Wood said. "It was hard because I didn't speak Japanese. I learned very quickly one of the reasons I enjoyed playing was the teamwork aspect of it. I couldn't communicate with my teammates. That was a huge component that didn't feel right.
"I guess it wasn't as fun in basic words. I did grow up, but I was ready to come back home to my peeps."
She's still got one childhood goal left to attain. That's becoming a judge. With more than 20 years under her belt as an attorney, that goal now seems within her significant reach, too.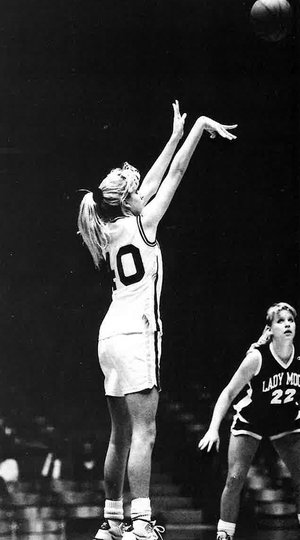 VANDERBILT SID -- Fort Smith Southside graduate Wendy Scholtens-Wood led the Confederettes to three state basketball titles and went on to earn Kodak All-American honors at Vanderbilt as one of the top women's basketball players ever to come out of Arkansas.
Sports on 07/07/2019